For Independence Day enjoy these 3 investing lessons from American Presidents:
When Martin Van Buren wrote his autobiography after serving as president from 1837-1841, he didn't mention his wife of 12 years. Not even once.
That's the kind of laser focus you need when you are Martin Van Buren. Van Buren, you will undoubtedly recall, presided over the Panic of 1837 which sent America into the Long Depression.
In 1837 the panic began. Hundreds of banks and businesses failed. Thousands lost their lands. For about five years the United States was wracked by the worst depression thus far in its history.

Programs applied decades later to alleviate economic crisis eluded both Van Buren and his opponents. Van Buren's remedy--continuing Jackson's deflationary policies--only deepened and prolonged the depression.
I'll contrast this type of management with the major integrated energy companies. Van Buren wants a better economy and Exxon (NYSE:XOM) wants more money. Van Buren's solution is to wear blinders to everything around him and focus in on what he thinks is the solution, banging his head into a wall instead of seeing alternatives.
Exxon could have done this in the 90s and 00s. They could have said "we sell oil" and spent all of their energy concentrating on how best to sell oil.
But unlike Van Buren, Exxon is much too observant to miss the writing on the wall. Whereas Van Buren could not even notice his wife of 12 years in front of him, Exxon noticed that natural gas, and not oil, was the key to its future. It also invested in futuristic energy technologies, so that it can be at the forefront if there is a breakthrough. And it's not alone:
Exxon's heavy investment appeared to have given credence to industry. Within a month oil rivals Chevron (NYSE:CVX) and BP (NYSE:BP) entered into their own research agreements in the field. Chevron invested in Solazyme (NASDAQ:SZYM). BP invested in Martek Biosciences, now a subsidiary of Royal DSM N.V. Even Royal Dutch Shell (NYSE:RDS.A) had an algae play through its joint venture Cellana, which it had initiated in 2007.
The lesson for investors:
The wrong solution is the wrong solution no matter how much you ignore your wife. Evaluating management is one of the hardest things for individual investors to do. Look for management teams that are flexible, willing to shift their business model, and are preparing for an unknowable future.
Herbert Hoover was an orphan whose first job was picking bugs off potato plants, for which he was paid a dollar per hundred bugs. He also was a mine worker.
This is a touching story. A young bug-picking miner never stops believing in himself. Thirty years of hard work and determination later he gets elected President of the United States and obliterates the economy.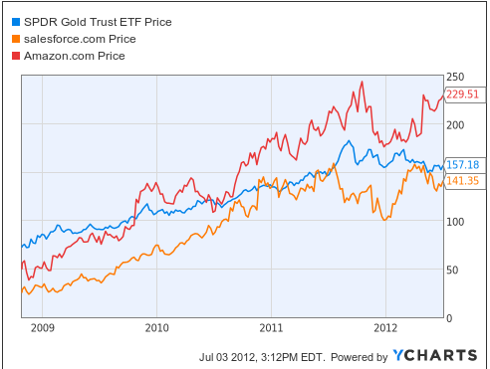 Click to enlarge
Could these stocks have "made a Hoover?" The enterprises that are Salseforce.com (NYSE:CRM), Amazon (NASDAQ:AMZN), and gold (NYSEARCA:GLD) have precious little profits between them. But their stocks have positively soared.
The lesson for investors:
Just as Herbert Hoover's legacy peaked on election day and deteriorated upon his actual actions as president, these celebrated stocks were driven up with a wave of popularity that they probably cannot justify. These "possibility stocks" at the very least have baked the good possibilities into their share price, and they are giving you a great chance to sell right here. Beware being Hoovered.
Jimmy Carter is the only president to have been commander of both a nuclear submarine and a peanut farm.
Was he really called "commander" at the peanut farm? That is hilarious. Okay, we can work with this.
Companies like to have multiple revenue streams. Wells Fargo (NYSE:WFC) makes a home loan to a person but also sells them insurance. In this example the two revenue streams have what is called "synergy." The second sale cost almost nothing to the bank, they already have an infrastructure in place to service the financial needs of the existing client.
Let's contrast that to Cord Blood America (OTCPK:CBAI) (Source: Google Finance):
..operates in two segments: Cord and Rain. Cord generates revenues related to the processing and preservation of umbilical cord blood. Rain generates revenues related to television and radio advertising.
These guys process and preserve umbilical cord blood on hand, and do television and radio advertising on the other!? That is absurd. There is no synergy there. If the companies under this umbrella are worth anything they should be spun off on their own. But remember management thought it was a good idea to tackle these two endeavors in tandem so I can't imagine these are good companies.
The lesson For investors:
If Jimmy Carter were an economist and an actor then he would have experience in two fields that would synergize well with being President of the United States. Carter's experience as commander of a peanut farm and a submarine did not help him out just like multiple revenue streams that don't synergize don't help companies. Look for companies with multiple synergistic revenue streams and you should be on to something.
Conclusion
We can learn from these Presidents how to better navigate the market if we:
Look for flexible management
Take profits when speculative investments present them
Look for companies with multiple synergistic revenue streams
And I wanted to offer one more Presidential fact:
Calvin Coolidge liked to have his head rubbed with petroleum jelly while eating his breakfast in bed.
Alright investors, let's see some comments, what can we learn from Mr. Coolidge? Best answer gets to suggest an absurd topic for another "Lessons" article like this one.
Happy Independence Day everyone!
Disclosure: I have no positions in any stocks mentioned, and no plans to initiate any positions within the next 72 hours.