Back in November I picked AT&T (NYSE:T) as my 2012 stock pick of the year. Beyond the chuckles and rolled eyeballs was a stock that was selling at $28.64/share, and offered a whopping 6% dividend yield. When we take a look back, maybe I was not so crazy after all. The stock has drifted up steadily to it's current price of $36.00, a solid yield of 4.95% (it has maintained a five-year dividend growth rate of over 5% by the way) and has made tremendous strides in advancing it's state of the art bundling service, "U-Verse".
There Are Always Issues
Like any stock and company, there are always issues that are confronted that could cause the brakes to lock tight. The one that sticks out as the biggest issue was the failed merger with T-Mobile, and the $4 billion that AT&T had to pay for the failure.
Rear view mirror, folks. AT&T had already set that money aside, and the story is so far in the past that it is not even a speck on the radar any longer.
Another issue is the recent run up in the stock itself. It has actually been pretty damn impressive.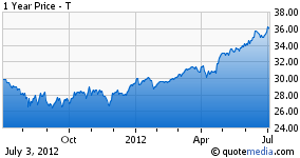 Any stock, especially a hi-yield growth stock, that has close to a 30% (including the two ex-dividend dips) upward move in seven months will cause even the best investors to pause and wonder if the stock has not gotten ahead of itself, or might even be overvalued.
To be sure, there have been several articles here on Seeking Alpha that suggest that the stock might be at a top, and another one, by a rather prolific Seeking Alpha author, that actually recommends investors to avoid the stock.
I am not sure what avoiding the stock means actually. Does it mean not to buy it? To hold it? To sell it? I am not sure, but I certainly would not SELL AT&T now. Why? Well because it is my opinion, as well as Wall Street's, as well as the tech and telecom world, that AT&T is just getting started.
Let's Look At Some Developments
U-Verse now has over 4 million subscribers
From the outset, back when I picked AT&T as my 2012 pick of the year, I kept harping on a rather new venture called "U-Verse", a bundling package for high speed internet connections, as well as a best of breed cable service for television.
If AT&T could bite into that market (especially cable TV) then revenues and profits would follow. As of now, the TV service has 4 million subscribers, an additional 2,000,000 high speed internet users for a total of 6 million subscribers. Not too shabby for a business that began about a year or so ago. I believe it is just getting started here as it has a full court press to switch AT&T customers to the U-Verse "package. Even if sometimes it is not in a very flattering way as noted in this article:
Put plainly, Judith Hedges says she was bullied and intimidated by AT&T to upgrade from DSL Internet service to U-verse Internet. The Arlington woman says she was warned repeatedly by mail that if she didn't call the company and upgrade, her service would be terminated.
AT&T wasn't kidding. She turned on her computer recently, and the Internet connection was dead. AT&T has found a new way to lure customers to its supposedly faster U-verse service: Force them to take it."
Some cry foul, I might say over zealous is more accurate. To be sure, AT&T has made sure not to be "over zealous" like that any longer, but the bottom line is that from the top down, the company wants everyone on U-Verse.
From AT&Ts 1st quarter earnings report:
$0.60 diluted EPS compared to $0.57 diluted EPS in the first quarter of 2011
Consolidated revenues of $31.8 billion, up $575 million, or 1.8 percent, versus the year-earlier period
Wireless operating income margin up to 27.2 percent; wireless EBITDA service margin up significantly to 41.6 percent even with strong smartphone sales
More than $2 billion in stock buybacks; 67.7 million shares repurchased
AT&T's growth engines - wireless, wireline data and managed services - represented 78 percent of total revenues and grew 6.2 percent versus the same quarter a year ago, led by:
19.9 percent growth in wireless data revenues, up more than $1 billion versus the year-earlier quarter
19.0 percent growth in strategic business services revenues
38.2 percent growth in consumer U-verse revenues
Smartphone sales of 5.5 million, exceeding the previous first-quarter record, with about 30 percent of all postpaid smartphone subscribers on 4G-capable devices
726,000 total wireless net adds, with gains in every customer category
Postpaid wireless churn of 1.1 percent, lowest level in seven quarters
Record first-quarter branded computing (tablets, tethering plans, etc.) net adds of 460,000 to reach a total of 5.8 million, up almost 70 percent versus a year ago
Postpaid wireless subscriber ARPU (average monthly revenues per subscriber), up 1.7 percent to $64.46
Wireline business year-over-year revenue comparisons continue to improve
Wireline consumer revenues up 1.0 percent versus the year-earlier period; seventh consecutive quarter of year-over-year growth.
AT&T will sell Samsung's Galaxy S III
This rather recent development takes place as of right now for AT&T. Pre-sold orders have already begun and users are giving it rave reviews, and the official RETAIL blast off comes this Friday, July 6th.
At $199.00 with a new two-year contract, this could give any smartphone on the market a run for it's money, and AT&T will also have an exclusive red color all to itself. Hey, every little edge counts!
Keep in mind that AT&T stores still sell more iPhones than anyone else, so this will be even more revenue for the company, and when the new Apple (NASDAQ:AAPL) iPhone 5 hits the streets, those long lines will be forming around the AT&T stores again, just in time for the fall school season and the beginning of the winter holidays.
According to this cnet.com review, this device was given their "Editor's Choice Award":
"Samsung's latest superphone earned a CNET Editors' Choice Award for its 4G LTE speeds, 4.8-inch screen, silky smooth design, excellent camera, and software extras."
Customer trials of AT&T's "Enhanced Push To Talk" solution expands
The PTT (Push To Talk) solution is nothing new (actually being phased out by others), but for AT&T to add it to 5 existing smartphones in their lineup, it is. To offer this service in addition to it's regular wireless service gives AT&T another feather in it's cap, and even though it is still in the trial phase, the product has been well received.
"In response to increased interest and positive customer feedback from the trial, AT&T is now doubling the number of business PTT users who may participate in its free program." Reports the Sacramento Bee.
"At a time when other carriers are phasing out PTT networks, AT&T's goal is to provide customers with the type of communication service they need for instant group communications, backed by 4G technology and a broad portfolio of devices and business applications. AT&T offers a basic PTT service today, but expects to launch its Enhanced PTT solution - with dramatically improved performance, features and device choices - in late 2012."
Don't forget AT&T's "Toggle"
Bringing work and play together has been the goal of "Toggle" and it is being enhanced even further. This article gives a very good overview of the product as well as the enhancements:
"The newest version of AT&T Toggle can be used on smartphone or tablet devices running the major mobile operating systems, including devices originally loaded with Android 2.2 to 3.X, and with virtually any service provider."
Personal mode: When not working, send text messages to friends, watch TV shows and movies, and play games on your mobile device as you otherwise would. Personal activities remain separate from work.
Work mode: When it is time to buckle down and focus on business, employees can enter their encrypted work space. In this mode, users can access corporate email, approved corporate applications, calendars and more, just as they would on a company-provided device.
My Opinion
I will never tell anyone to buy or sell any investment product, and all I can do is offer my opinions based on some of the facts that are there for all to review.
Not only has the stock outperformed the markets, but it just might be the "STOCK OF THE YEAR" after all. That being said, I would seriously question anyone who offers a "sell" opinion on AT&T. I really think this stock is just getting it's legs!