A look at a long-term price chart for the US stock market might lead to the question: "Is the market forming a long-term double top?"
Consider the following 38-year price chart for the MSCI USA standard core index (proxy (NYSEARCA:VTI)).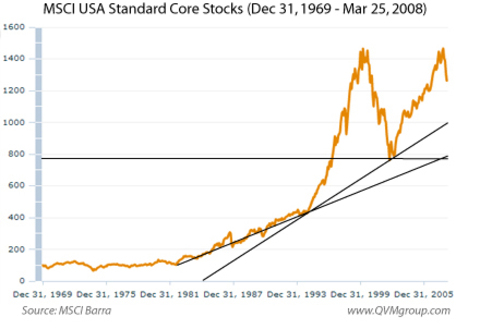 On the other hand a log scale chart is less concerning.
Price Scaling: A logarithmic scale measures price movements in percentage terms, whereas a typical scale (an arithmetic scale) measures in price unit (Dollar) changes. Over the short-term and over smaller changes, arithmetic charts are OK, but over longer periods with large price changes, percentage change (log scale) charts may be better visual aids.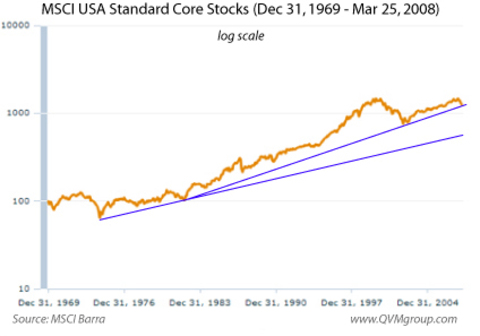 Even though the log scale chart is more reassuring, the failure of the chart to break prior highs, in conjunction with so many other historic events (oil prices, food prices due to ethanol, war, terrorism, credit meltdown, house price declines, Medicare underfunding, prospective tax hikes, declining Dollar, and shifting global economic power, for example), we think the double top possibility deserves continued observation.