By: Joey Vazquez, Oxen Group Contributor
We continue our search for the most attractive companies to buy and sell right now. The markets dropped Monday after data showed manufacturing activity dropped beneath the crucial 50% level for the first time since July 2009. I strive to find attractive companies with strong or weak fundamentals and technicals that will outperform or underperform the markets. Should you buy or sell these companies?
Apple Inc. (NASDAQ:AAPL):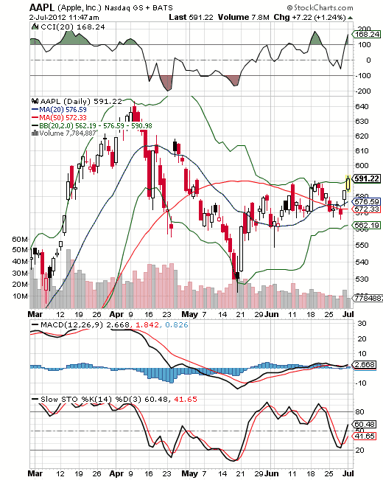 Apple was stellar in the in the first four months of this year, rising over 50% at its highest point for the year. AAPL then quickly fizzled after another round of great earnings, but it seems like the stock may be starting the July run it did last year into earnings. Wells Fargo & Co. believes the same as their analysts have started AAPL at Market Outperform as of late. AAPL has been trading in a range as of late, bouncing from 20-day MA and its top Bollinger Band. This has caused its BB to start shrinking and this is a good indicator of a breakout to the upside coming. Its CCI indicator entered the favored +100 area and will look to go higher if the strength continues. AAPL's MACD have been fairly flat as of late but it appears it will finally cross its signal line, giving us yet another bullish indicator. Its 20- day MA very recently crossed its 50-day MA, forming a mini-golden cross and its stochastics have turned and are headed higher, both confirming our bullishness.
Trade Idea: Go long AAPL
Entry Range: 592.32- 589.222
Targets: 596.73, 602.63
Stop Loss: 579.00
Our Entry: 590.82
Expedia Inc. (NASDAQ:EXPE):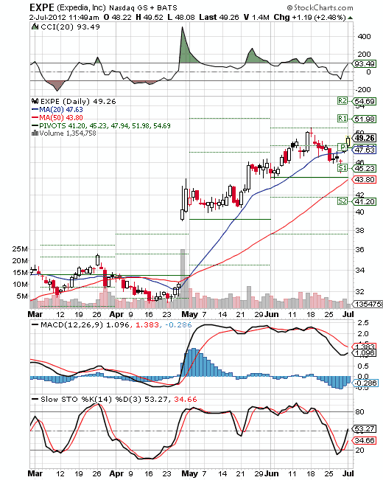 Expedia has been one of the strongest stocks in the S&P 500, netting over 60% for the year and counting. The travel and tourism industry continues to enjoy a stellar year and the companies we like best in this industry are: Tripadvisor (NASDAQ:TRIP), Priceline.com (NASDAQ:PCLN) and EXPE. EXPE recently re-took its pivot point as well as its 20-day MA, giving the stock great support at the 47.63- 47.97 area. Its CCI indicator is making another run at the +100 area, a move that would suggest EXPE would experience another bullish run. EXPE's MACD indicator is chasing its signal line down and will look to cross it after another bullish trading session. Its stochastics have already crossed and are headed higher, this confirms our bullishness in the stock.
Trade Idea: Go long EXPE
Entry Range: 48.91- 49.17
Targets: 49.53, 50.02
Stop Loss: 48.05
Our Entry: 49.04
Joy Global Inc. (NYSE:JOY):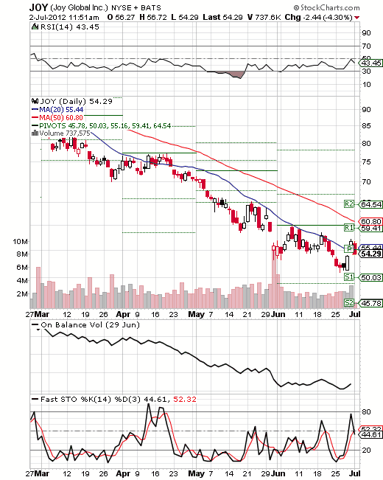 Four months later, Joy Global has still not been able to recover from its February 29th earnings report. JOY's stock has fallen an astonishing 70% since then and there's no reversal of this bearish trend in sight. Barclays reiterated its Overweight rating for the stock on June 1st, following their mixed earnings report on May 31st and things have only started to worsen since that report. JOY has had trouble crossing its 20-day MA for most of the last quarter, proving to be good resistance. JOY has not crossed its 50-day MA since dipping beneath it in early March and has been nowhere near it since. Its OBV indicator has been in a very strong downwards channel since early March, showing all the positive momentum leaving the stock. JOY's stochastics turned back around and suggests the stock will continue to trend bearishly.
Trade Idea: Go short JOY
Entry Range: 54.22- 53.98
Targets: 53.54, 52.99
Stop Loss: 55.16
Our Entry: 54.08
Fastenal Co. (NASDAQ:FAST):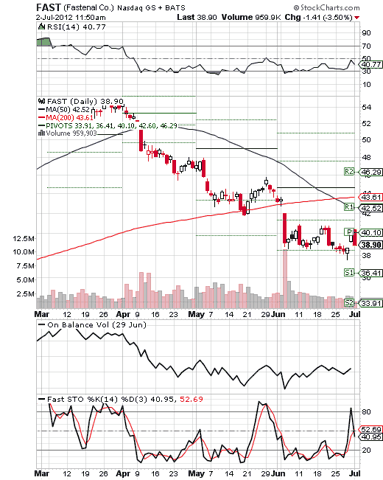 Equity researchers at UBS AG downgraded and dropped their target price on FAST Monday, citing weaker than expected monthly sales growth rates. On June 18th analysts at Longbow research initiated coverage on FAST and set a Neutral rating on the stock, and the company looks pretty weak with lack of earnings growth in the coming quarterly report. FAST has been breaking down since the beginning of April and its most recent earnings report did not help its cause either. FAST chart formed a death cross very recently, an indicator that is very bearish. FAST failed to stay above its pivot point Monday and will now serve as resistance. Its stochastics have turned around and have crossed its signal line down, suggesting the stock will continue to see more weakness.
Trade Idea: Go short FAST
Entry Range: 39.19- 38.99
Targets: 38.69, 38.29
Stop Loss: 39.86
Our Entry: 39.08
Trade with Confidence.
Disclosure: I have no positions in any stocks mentioned, and no plans to initiate any positions within the next 72 hours.