My research always tries to focus on strong stocks in a sector, which has been out of favor for whatever reason. That sector is the oil sector. Many of the stocks have fallen to historically low P/E ratios, and their book value is at the highest level ever.
Below is a chart of P/E Ratios for selected oil stocks. All of their P/E ratios are less than 11!
Click to enlarge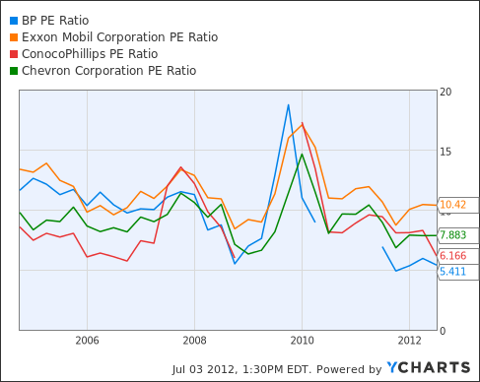 Click to enlarge
BP PE Ratio data by YCharts
This is a chart of book value per share of these companies. All but ConocoPhillips (NYSE:COP) are at all-time highs.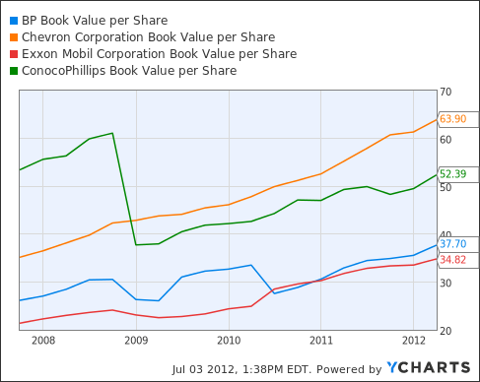 Click to enlarge
BP Book Value per Share data by YCharts
So focusing first on the P/E, you can see that BP p.l.c (NYSE:BP) has a P/E of under 6! I listed BP as a stock to buy as a substitute for the top dogs of the dow, with its yield of almost 5%. BP is also aggressively raising its dividend to 48 cents per quarter and probably going back to a point of where it was at before the disaster in the Gulf, which was 84 cents per quarter. The book value for BP is almost equivalent to the share price, at 37.70 per share, which is also the strongest of the stocks I researched in the sector.
One negative about BP is that earnings per share for 2012 appear like they will be lower than they were in 2011. Projected EPS is around $6.10 a share this year, which still equates to a forward P/E of 6.6. I believe BP is a strong buy.
ConocoPhillips shows a very attractive P/E of just over 6 currently, but that number is a bit misleading. Projected EPS for 2012 is $6.23 a share, which would place a forward P/E of around 9, which is still very good. The spinoff of the Phillips 66 brand is the reason for the cut in earnings. ConocoPhillips has been extremely aggressive with dividend increases, and I am wondering if that will continue. Even if it doesn't, it still yields an attractive 4.75%, and has more than enough earnings to cover the dividend.
I am a bit more concerned about Chevron Corporation (NYSE:CVX). It currently has a several billion dollar lawsuit filed against it for pollution of the Amazon River. The company was found guilty by Ecuador, but has refused to pay up and has dissolved operations (and money) in the country. As far as numbers for Chevron go, the P/E sits at just under 8 currently and forward, with 2012 earnings looking to stay in the $13 a share range. The book value per share for Chevron is not as strong as the first two companies I mentioned, but it is still at an all-time high.
I am also not as bullish on Exxon Mobil Corporation (NYSE:XOM). Its P/E is just over 10, and its earnings and forward P/E is going to stay right there. Earnings are staying solid in the $8 a share range. Exxon Mobil also boosted its dividend by 10 cents a share, though the yield is trailing the other three companies in this article, at 2.67%. Its book value per share is the lowest as well, at under $35 a share, which is less than half the stock price. This is a solid company, but I feel the other options are stronger.
Conclusion: I believe BP and ConocoPhillips are good values in the market today. Chevron may have some real difficult legal issues and Exxon Mobil will just keep doing its thing. With oil going back up, it is time to jump back into these neglected stocks.
Disclosure: I have no positions in any stocks mentioned, but may initiate a long position in BP over the next 72 hours.