U.S. new auto sales of 14.1 million were higher than the expected 13.7 million. The auto sales are now expected to score their best year since 2007. This increase is going to considerably benefit the Steel Industry, as automotive demand is one of the major constituents of the overall steel demand.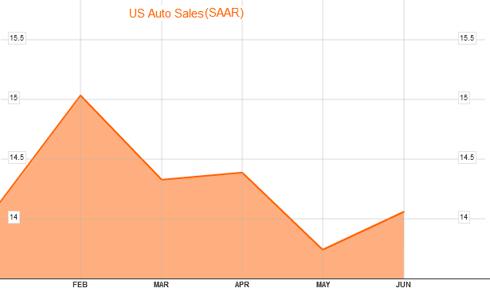 Furthermore, spot iron ore prices have hit 3-week lows amidst weak demand from China (the top buyer), and excess supply. The reduction in its demand is a direct consequence of the weakening Chinese economy, where construction activity is also curbed as a result of the ongoing summer season, with heavy rains in some regions and high temperatures elsewhere in China. Since iron ore is the main steel-making raw material, a reduction in its prices is going to have a positive impact on steel stocks.
As a result of these positive changes, stock prices of major steel-making companies received an upsurge. Yesterday, AK Steel (NYSE:AKS)'s prices went up by 4.5%, Steel Dynamics Inc. (NASDAQ:STLD)'s by 3.7%, United States Steel Corp. (NYSE:X)'s by 3.4%, and Nucor Corporation (NYSE:NUE)'s by 2.7%. The following graph shows the stock price movements over the last week.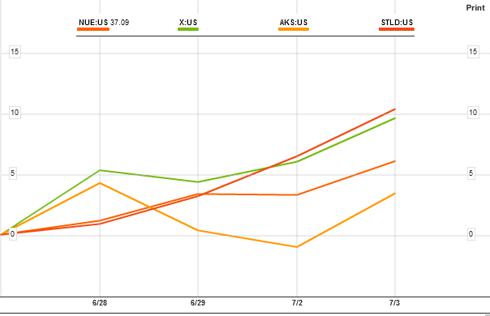 Recently, S&P cut AK Steel's rating from 'BB-'to 'B+', citing lower steel prices due to excess capacity, high raw material prices, uneven demand, and the company's poor operating results. Meanwhile, it has also revised its outlook on U.S. Steel from stable to negative, due to similar reasons. The operating results of NUE and STLD were better than those of X or AKS, but still the overall pricing squeeze and lower customer orders are expected to lead to lower-than-expected earnings in the ongoing second quarter.
We expect the steel market to rebound when the macroeconomic outlook will become relatively stable, and when Chinese construction demand (comprising the bulk of steel demand) picks up once the ongoing summer season is over. The recent improvement in auto sales data has further substantiated our bullish stance on the Steel Industry.
AK Steel
We advise investors to stay away from AKS in the short-term. A long position is advisable in the long-term, but only when this current phase of uncertainty regarding general economic conditions and their financial performance is over. Its gross margins are expected to improve in 3Q2012, when its Magnetation plant will commence its operations, which will provide low-cost and high-quality iron ore, and thus reduce steel-making costs.
U.S. Steel Corp
Its high beta, high fixed costs, low dividend yield, poor operating performance, and weak liquidity position are the main reasons why it is not one of our favorite picks in the steel market. However, X is the most levered play on a possible recovery for the Steel Industry, and the positive comments of the company on a recent analyst day, prevent us from recommending a short position. We are neutral on X's stock.
Steel Dynamics Inc. :
We reiterate our recommendation of a long position for STLD because of its lucrative growth prospects, cheap valuations, and expected improvement in its gross margins as a result of a joint-venture with the Minnesota-based iron ore company, Magnetation.
Nucor :
Nucor continues to be our favorite pick in the Steel Industry given its superior performance, despite the weak industry environment. In particular, its modern steel-making techniques, the use of scrap steel, the highest dividend yield, its focus on environmental protection, and potential growth opportunities make us recommend a long position in its stock, despite relatively expensive valuations.
Disclosure: I have no positions in any stocks mentioned, and no plans to initiate any positions within the next 72 hours.