Pacific Ethanol (NASDAQ:PEIX) has released preliminary 4Q07 earnings (loss of $14M), and so far a lot of reviews of their 8K has been negative.
Another perspective.
Q4 estimates numbers (released so far) are NOT the whole story:
Oregon was to come online in 1Q08 (law was passed, plant was built...). So PEIX started putting in storage enough ethanol to serve a brand new market. So their business incurred the cost of buying the corn, operating the new plant and not getting the revenue until the grand opening of the market in 1Q08. This only happens once. And it is a good thing.
Since ethanol price in 1Q08 is higher than 4Q07, even if there was no new market, would you not like to hold back on selling what you have for $1.97/gallon but rather sell 3 months later for $2.20-$2.30/gallon?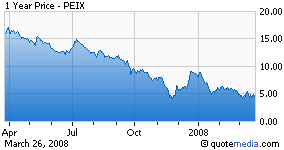 Come'on... everyone jumps on 4Q07 numbers without a single thought about market condition in 1Q08.
By the way, PEIX is not driving the U.S. Southeast market supply. But other companies will have to do the same thing (build-ahead) in order to develop these new markets. Are we going to punish these companies for a smaller margin during the quarter period where they build inventory in advance of opening a new market?
We used to say the Wall Street has short time horizon (not thinking 2 years down the line), but when we cannot look three months past the quarter...wow.
Build-ahead is an actual manufacturing strategy to maximize cash revenues when demand will be higher than projected capacity for the follow-on period. Stuff that we buy at year-end holiday sales are actually made months before. So too with ethanol for a new market - you have to fill the tanks!
We have outsourced so much of our manufacturing process, have we forgotten how to evaluate businesses?
Disclosure: Author has a long position in PEIX