The second quarter ended with a quite nice day for the market, and we're now into the last two quarters of 2012. Will it all collapse on our heads as the Mayan predicted, or is this the time to load up for a year-end rally?
The great Joe Springer and I decided to have a friendly little paper portfolio competition through the end of the year. The premise, as explained by Joe:
Most investors are "buy and holders" to an extent, having neither the time nor the inclination to watch stocks on a daily basis.

That sentiment, checking in every once in a while, is probably pretty typical of the average investor. So with the world and the market being so problematic and opportunity-filled, Skyler and I decided to each put together a portfolio to get from here to the end of the year. A portfolio for Ozzy Osbourne to return from his tour in six months and be able to buy Sharon Osbourne whatever it is that makes her happy.
So essentially, we bought all-in today and are not allowed to make any trades until Christmas.
Joe's a bit bearish, and as such, is playing it a little more defensive -- he's overweight utilities and whatnot. Click here to see Joe's analysis of his portfolio.
I'm a little more bullish, targeting a 1425-1475 on the S&P 500 at year end. Therefore, I constructed my portfolio primarily using a "value investing" style. In many of my SeekingAlpha articles, I describe my value investing style as follows:
A value investing style can be broadly defined as one that focuses on "underappreciated" stocks. While market attention often gets caught up on the hot names, it's important to remember that popularity is notoriously fickle. As such, the pendulum generally swings back towards out-of-favor stocks over time so long as they have solid fundamentals. Noted value investor Donald Yacktman makes the analogy to a beach ball held underwater that pops back up.
As such, I believe that all of my holdings represent a "value." Up first, I'll be discussing my core holdings.
CORE HOLDINGS
These are investments that I expect to form the core of my portfolio -- with little rebalancing -- for the long term. Even if this portfolio's end date was Christmas in 2050, I'd feel comfortable with maintaining these positions.
Procter and Gamble (NYSE:PG)
100 shares @ $61.04. Initial portfolio weight: 6.1%
At a P/E of over 18, Procter and Gamble hardly qualifies as a traditional "value" stock. So why'd I buy it? Well, a bunch of reasons:
Value is relative. P&G commands a premium valuation due to their its solid reputation and strong dividend, and today's valuation is actually well below the low-to-mid-20s P/E the stock sported through the early and mid 2000s.
Dividend. At a yield of 3.67%, Procter and Gamble is a dividend champion. With its history of dividend increases, yield-on-cost down the road is just phenomenal.
Safety. As a core holding, I expect P&G to be around in 50 years.
PepsiCo (NYSE:PEP)
100 shares @ $70.34. Initial portfolio weight: 7.0%
Food, drinks -- PepsiCo is another consumer staples stock suitable as a core portfolio holding. I chose PepsiCo over Coke for a couple reasons.
Cheaper than Coke due to recent weakness. PepsiCo's P/E is 17.53 vs a 20-ish P/E for Coke.
Stronger current dividend than Coke -- 3.04%. Similar dividend growth trajectory.
A little more diversification in one stock than Coke. Coke is exclusively beverages, whereas Pepsi (for this portfolio's sake) gives me a little more exposure to snacky stuffs.
Again, value is relative. While the P/E of 17.5 doesn't look like "value," a look at Pepsi's historical P/E trading range shows that Pepsi's on a buy-two-get-one-free sale.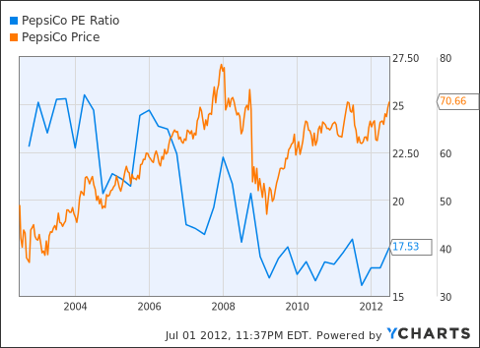 PEP PE Ratio data by YCharts
Dupont (NYSE:DD)
75 shares @ $49.48. Initial portfolio weight: 3.8%
The fact that DuPont is available at a P/E of 13 made me jump on it.
Materials stocks are closely tied to economic recovery, which is why they've been beaten down.
But if you believe in the recovery, materials is the place to be in the long term. Keep in mind that my "core holdings" are designed to be long term.
DuPont is cheap, historically speaking.
Intel (NASDAQ:INTC)
250 shares @ $26.50. Initial portfolio weight: 6.6%
I can't find a single thing to dislike about Intel. Strong history, strong dividend, strong growth, technology leader, supply chain master -- yeah, they have it all. Intel is one of my real-world holdings. In fact, it's my highest conviction holding -- most portfolio weight. For further reading, see: Hey Apple, This Is Crazy, But My Name's Intel, So Call Me Maybe?
Volkswagen (OTCPK:VLKAY)
200 shares @ $29.63. Initial portfolio weight: 6%
Volkswagen has been beaten down recently, which is why I love it. Despite being a German company, Volkswagen has strong sales worldwide and is an impressive technology leader. They're also reporting impressive sales as the only serious provider of diesel cars in the United States. Investment U has a great article on why Volkswagen rocks as a value investment.
Aetna (NYSE:AET)
100 shares @ $39.21. Initial portfolio weight: 3.9%
Aetna's been dropping in the wake of the SCOTUS announcement upholding the ACA. I believe it presents a long-term value at the current valuation level for several reasons:
Aetna is an innovative company that won't change business strategies in light of the ACA. I like some of the things they've been doing.
It's important to remember that the ACA has been in place for a while now, and a lot of the downside is already priced in. I mean, c'mon, P/E of 7.5? Really?
A Romney victory in October would mean ACA's almost certain to be repealed, which would most likely send Aetna through the roof. So I overweighted a bit given the until-Christmas timeframe -- I'm betting on voters throwing Obama out.
Target (NYSE:TGT)
100 shares @ $58.35. Initial portfolio weight: 5.8%
Target is like Walmart, but a little cheaper and with a little better dividend. Analysts are fairly bullish, and I am too.
Junk Bonds (NYSEARCA:JNK)
250 shares @ $39.27. Initial portfolio weight: 10%
Over the long-term, junk bonds typically have superior returns to treasuries. As I've discussed before, mixing high-yield bonds with equities can maximize long-term portfolio return. I hold high-yield in my real portfolio as well, but through a different vehicle.
Municipal Bonds (NYSE:PML)
200 shares @ $13.04. Initial portfolio weight: 2.6%
Tax-free, and better value than Treasury bonds. A little diversification in a mostly-equities portfolio.
Vanguard REIT ETF (NYSEARCA:VNQ)
100 shares @ $65.70. Initiial portfolio weight: 6.6%
REITs are a good way of getting broad exposure to the real estate sector. Since holding a small number of individual REITs subjects investors to concentration risk, an index fund like VNQ is generally preferable for smaller portfolios like this one. (Another one of my real-world holdings.)
As you can see, my "core holdings" make up about 58 - 59% of the portfolio. The other 40% will be made up of "growthcore" and "speculative" positions. You can see what they are by visiting the game, and I'll provide deeper analysis as the game goes on.