Cintas Corporation (NASDAQ:CTAS) designs, manufactures and distributes uniforms mainly through its rental division (73% of sales). They also rent cleaning equipment. The remaining 27% of revenues comes from distribution of first-aid supplies, fire protection products and document management services.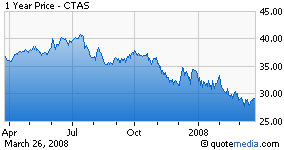 EPS in their fiscal third quarter (ended February 29) were up 10.4% at $0.53 versus $0.48 year-over-year (see conference call transcript). Cintas lowered its guidance for the FY ending in May to $2.12 - $2.16 due to the weak U.S. economy. That revised figure still represents all-time record earnings on the highest sales in the company's history. Current estimates for FY 2009 are now at $2.30/share.
The recent market sell-off has pushed these shares to < 13.5x current earnings – less than half the 10-year median P/E for Cintas. In fact, CTAS shares have only had an average annual P/E of less than 20 once since 1992.
Value Line is assuming a very conservative 18 multiple for CTAS for their 3 – 5 year projections.
Cintas has shown outstanding and consistent growth. Every year since 1992 has seen increased sales and earnings. The dividend has risen in each year during that period also.
Over the past 10 years (all figures are split-adjusted):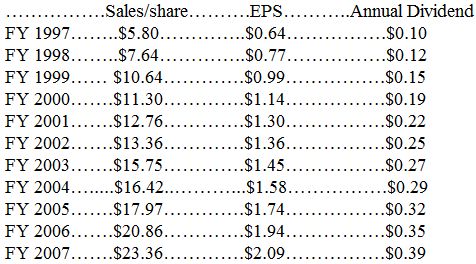 As of November 30, 2007 Cintas had only 24% LT debt and total debt coverage of > 11x. Value Line assigns them a B++ financial strength rating and places them in the top 1% of their 1700 stock universe for earnings predictability.
Chairman Richard Farmer holds 11.4% of the shares and other officers and directors held another 3% of the outstanding. They have been actively buying in their own shares since 2004. The common share count has been reduced by over 10% (from 171.4 MM to around 153.5 MM) since then.
How cheap are these shares right now? They trade today dollars below the lows at any time between 2001 and 2007. In that whole period, when fundamentals were nowhere near present levels the absolute low hit in those seven years was $30.60 [and the trailing P/E at that multi-year low point was then over 21x].
A return to even 18x expected 2008 calendar year earnings of $2.20 would bring these shares back to $39.60 or plus 27.4% from today's quote. Add in the 1.6% current yield and a 29% total return within 12 – 16 months looks to be quite predictable.
Is that crazy? Nope. CTAS shares have peaked at $42.90 and higher in each year since 1998.
Disclosure: Author owns shares and is short puts on Cintas Corp.