Wednesday's news that Time Warner Cable (TWC) and Comcast (NASDAQ:CMCSA) are discussing a plan to provide funding for a national wireless network using WiMax technology, has sent shares of Ceragon (NASDAQ:CRNT) surging. According to the report,
Sprint and Clearwire (CLWR) have been working for months to cooperate on a WiMax rollout and are now trying to raise at least $3 billion for a joint venture. Under the plan the parties are reviewing, Comcast would put as much as $1 billion into the venture, with No. 2 operator Time Warner Cable adding $500 million.
This is such good news for Ceragon because it is the leading provider of wireless backhaul solutions for IP-centric networks, and has been rumored to be a big winner if Sprint (NYSE:S) were to go ahead and build out the WiMax network. Ceragon stock has gotten crushed over the last few months, as Sprint bailed on its deal with Clearwire. The fact that we are again talking about a nationwide U.S. WiMax network, is great news for Ceragon.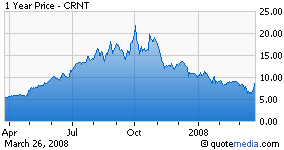 For investors, if we hear some more good news from the company coming on the heels of this report, it could potentially send Ceragon stock back to the highs made last year. It's important to note if you are volatility lover, and not faint of heart, now may be the time to look at this company.
Disclosure: The author's fund holds a position in CRNT. He holds no position in any other stock mentioned as of March 26, 2008.