Broadcom (BRCM) is a broad based semiconductor play on the growth of internet traffic and mobile devices. At the Company's Analyst Day on Dec, 14, 2011...page 18, Broadcom's management stated that "99.8% of internet traffic crosses a Broadcom chip". That statement shows the breadth of Broadcom's product portfolio.
In Q1 of 2012 revenue was essentially flat after dropping 6.7% in Q4 2011, but the midpoint of the company's revenue guidance for Q2 2012 is up 6.7% sequentially.

Mobile and Wireless Business Segment
Broadcom reports in 3 operating business segments. The one most people think of when they hear the word Broadcom is the Mobile and Wireless Business Segment. Commonly referred to as the "Hand" business segment by the company's management.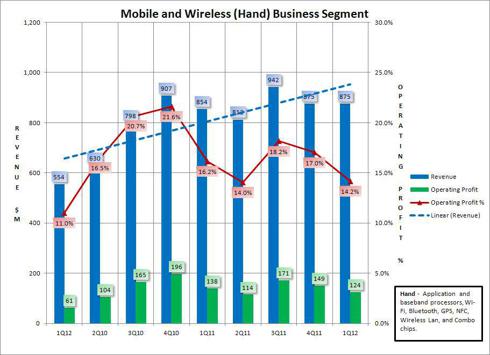 This business segment is Broadcom's largest business segment by revenue. As the name implies it is responsible for the chips that serve the mobile industry and includes application and baseband processors, Wi-FI, Bluetooth, GPS, Near Field Communication, Wireless Lan, and Wi-FI Combo Chips that integrate Wi-Fi, Bluetooth, and FM radios on the same chip. This Combo chip is in the Apple (AAPL) IPhone 4S.
Broadcom is the #1 supplier of Wi-Fi chips and recently announced the availability of a new 5G Wi-Fi chip based on the wireless standard 802.11ac. From the 1Q earning's call transcript
"Broadcom extended its leadership in 5G Wi-Fi. We were the first to sample in Q4 2011, we were the first announce it at CES in January, the first the demonstrate it over the air, and we were the first to ship production volume to lead customers. Last week, Netgear announced the industry's first 5G Wi-Fi router, powered by Broadcom and available later this month. We are pleased to see 5G Wi-Fi coming to market even earlier than we anticipated and even more pleased to see growth in our ecosystem as we deliver real innovation to the market.
We also broadened our 5G Wi-Fi portfolio in Q1 by introducing solutions for enterprise, cloud, network and carrier customers. We expect to see wide adoption as 5G Wi-Fi is 3x faster, twice the range and 6x more power-efficient than its predecessor. We believe we're 2 to 3 quarters ahead of our competition and look forward to seeing this technology ramp into a broad range of products over the course of the next year."
Although Qualcomm (QCOM) has a much larger share of the cell phone chip market, Broadcom has a considerable headstart in the 5G Wi-Fi market and will most likely retain it's Wi-Fi combo chip slot in the new Apple IPhone to be launched this fall.
Broadband Communications Business Segment
Although this business segment is smaller and revenue has been flattish the last 9 quarters, it's operating profit margin is greater. They sell chips that provide broadband carrier access for DSL, Cable, and Satellite, cable modems and cable set top boxes, Voice over IP, and many others.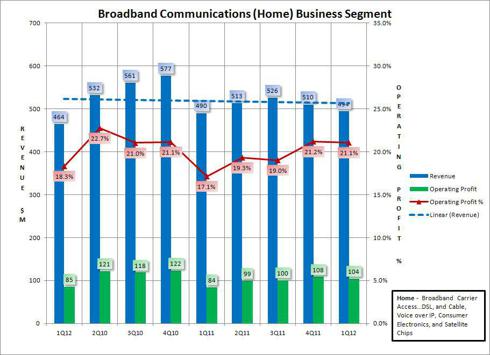 Infrastructure and Networking Business Segment
This business unit sells base station and small cell front end processors, Ethernet controllers, microwave, and switching chips among others to support the internet infrastructure. Revenue has been trending up slightly over the last 9 quarters, but operating profit margins have been dropping.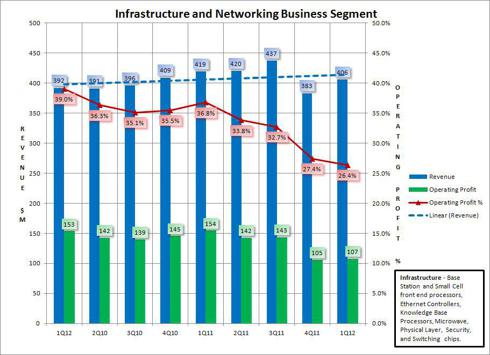 All Other
This is where Broadcom reports revenue from the Qualcomm licensing agreement and takes the operating costs and expenses not allocated to business segments....i.e. stock based compensation, amortization of purchased intangible assets, impairment of goodwill, restructuring charges, and charitable contributions.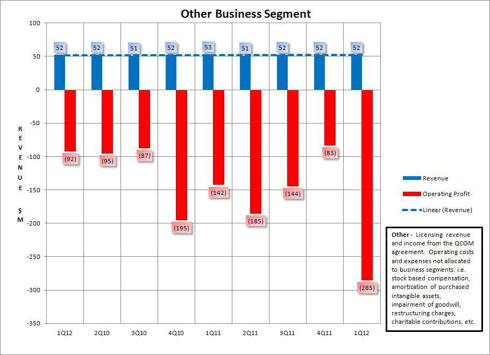 Financial Metrics
Broadcom pays a dividend of $0.10 per quarter for an annual rate of 1.2% based on Tuesday's market close price of $33.85. Dividend payout ratio is 26%, forward PE (Dec 31, 2103) is 10.7, cash is $1.68B and debt is $1.2B. (Data from Capital IQ.)
Conclusion
Broadcom's management along with a host of other semiconductor companies have all called Q1 as the bottom of the inventory correction. If inclined to buy this summer, I recommend exercising some caution, and would not advise buying a full position all at once due to the annual summer market volatility.
Data from the company's earnings releases and 10Qs.
Disclosure: I have no positions in any stocks mentioned, and no plans to initiate any positions within the next 72 hours.