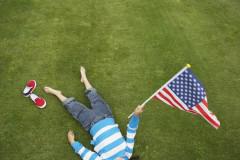 The July 4th holiday is here, which naturally leads many of us to think about our fixed income portfolios. What, just me?
Nonetheless, the holiday did remind me of a recent question we received from a client. As I have written about, in the past several years we've seen the launch of a wide variety of bond ETFs that provide investors with precise access to the far corners of the global bond market, from junk bond ETFs to local currency emerging market bonds.
But the other week we received a request from a client who was worried about the ongoing euro crisis and was seeking advice on how to access ETFs that only offered US exposure. The client wanted to avoid any ETFs that held the debt of issuers from outside of the United States. They are in some ways the Ultimate Patriotic Investor.
In honor of Independence Day I thought I'd share the options that exist for investors who are also looking to build an all-American bond ETF portfolio.
1.) Not surprisingly, US Treasury bond ETFs are an easy start for investors looking for US-only exposure. The iShares Barclays US Treasury Bond Fund (NYSEARCA:GOVT) offers access to the entire 1-30 year Treasury curve in a single trade. Other Treasury ETFs include the iShares Barclays Short Term Treasury Bond Fund (NYSEARCA:SHV), the iShares Barclays 1-3 Year Treasury Bond Fund (NYSEARCA:SHY), the iShares Barclays 3-7 Year Treasury Bond Fund (NYSEARCA:IEI), the iShares Barclays 7-10 Year Treasury Bond Fund (NYSEARCA:IEF), the iShares Barclays 10-20 Year Treasury (NYSEARCA:TLH), and the iShares Barclays 20+ Year Treasury (NYSEARCA:TLT).
2.) Treasury Inflation Protection Securities are another US-only option. As their name implies, these ETFs can be used as an inflation hedge, protecting an investor's principal from changes in realized inflation, and all of the holdings are issues by the US Treasury. Both TIP and STIP are options for investors to consider.
3.) Mortgage Backed Securities. The iShares Barclays MBS Bond Fund (NYSEARCA:MBB) holds mortgage-backed securities issued by government agencies that are denominated in US dollars, while the iShares Barclays GNMA Bond Fund (NASDAQ:GNMA) offers exposure to just those mortgage-backed issues from a single agency, GNMA.
4.) iShares Barclays Agency Bond Fund (NYSEARCA:AGZ) holds investment grade US dollar-denominated debt issued by government agencies, like Fannie-Mae and Freddie Mac.
5.) National municipal bonds are another option for investors looking to build a USA fixed income fund. The iShares S&P National AMT-Free Municipal Bond Fund (NYSEARCA:MUB) provides access to the broad US municipal bond market, where the issuers are state and local municipalities.
So, is the all-American portfolio right for everyone? At the risk of sounding un-patriotic, probably not. Most investors would benefit from diversifying into other sectors such as corporate and non-US bonds. But it's good to know that if you are the Ultimate Patriotic Investor, that bond ETFs may provide a solution for you.
Disclaimer: Bonds and bond funds will decrease in value as interest rates rise.
TIPS can provide investors a hedge against inflation, as the inflation adjustment feature helps preserve the purchasing power of the investment. Because of this inflation adjustment feature, inflation protected bonds typically have lower yields than conventional fixed rate bonds and will likely decline in price during periods of deflation, which could result in losses. Government backing applies only to government issued securities, not iShares exchange traded funds.
A portion of a municipal bond fund's income may be subject to federal or state income taxes or the alternative minimum tax. Capital gains, if any, are subject to capital gains tax.
Mortgage-backed securities ("MBS") represent interests in "pools" of mortgages and are subject to credit, prepayment and extension risk, and therefore react differently to changes in interest rates than other bonds. Small movements in interest rates may quickly and significantly reduce the value of certain MBS.
An investment in the Fund(s) is not insured or guaranteed by the Federal Deposit Insurance Corporation or any other government agency.