What a couple of days in the bond market. July 2nd saw bond prices rally on the release of a weak ISM Index. July 3rd saw bond price give back most of the gains on a stronger than expected factory orders number.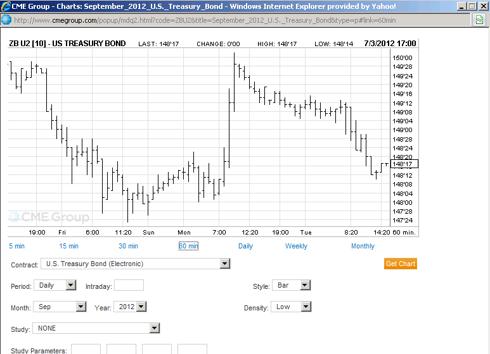 Source data: 30 Year T-Bond at the CME
Thursday the market will digest the ADP Employment Change, Initial Claims, ISM Services and Crude Inventories. Friday has the release of Nonfarm Payrolls, Unemployment Rate, Hourly Earnings, and the Average Workweek. Trading volume may be thin due to the holiday week.
From a purely total return basis the bond market can offer some interesting and potentially rewarding short-term trades. However, longer-term the total return does not look all that attractive given the opportunities in corporate bonds, preferred stocks, and equities.
Bond yields should be lower than the dividend yield of a stock. The bond has less risk being higher on the capital structure. Plus it throws off a cash-flow and the final repayment risk is lessening with each passing day.
Judging from the recent price action there is still a fear bid in bonds. Going forward the bias is for higher yields, though the market might be in a prolonged trading range. Time will tell what happens.
A wild card to think about. The total return (change in bond prices +- change in currency value) that foreign investors might earn on treasury bonds. Could foreign investors be attempting to scare US investors and derail the economic progress by pushing bond yields lower?
Disclosure: I have no positions in any stocks mentioned, and no plans to initiate any positions within the next 72 hours.