Industry Overview
Despite the overall decline in the United Status PayTV subscriptions, for both satellite and cable video providers, some companies have managed to thrive. The cable and satellite TV Industry seems to be outperforming the S&P 500 index this year. Based on the attractive industry outlook and the individual benefits that come with each company's stock, we recommend buying the ones discussed below.
Click to enlarge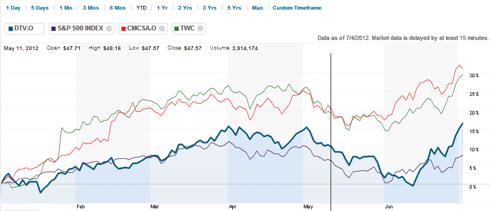 Click to enlarge
DIRECTV (DTV)
DIRECTV is the third largest provider of digital TV entertainment in the United States. It operates in two segments: DIRECTV U.S. and DIRECTV Latin America. It is engaged in acquiring, promoting, selling and/ or distributing digital entertainment programming via satellite, to residential and commercial subscribers.
In the first quarter, the company showed an increase of 10% in revenues, largely due to DIRECTV Latin America's impressive results, which set all-time records for gross and net additions at 1.0 million and 593,000, respectively, in the quarter, and exceeded market estimates. The growth rate for subscription in the U.S., however, fell a little below market expectations. The diluted EPS was up 26% compared to the same quarter last year. Free cash flow increased 43% to $952 million compared to the first quarter of 2011.
Stock Price Drivers
The main driver for the stock is no longer the new subscriptions for DTV U.S. (DTV U.S. is expected to account for nearly 75% of DTV Group EBITDA in 2012). U.S. subscriptions have slowed down. The stock price now depends on the ARPU growth for DTV U.S., and the above expectations' growth of DTV Latin America. According to Credit Suisse Group AG (NYSE:CS), the former will account for nearly 100% of revenue growth for DTV U.S. by 2015.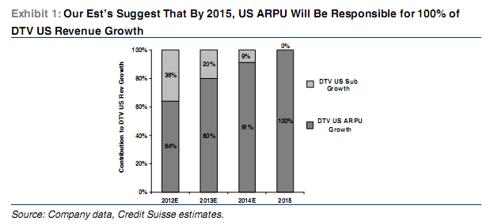 Click to enlarge
DTV realizes the importance of ARPU growth in the maturing Pay TV Industry, and has become increasingly focused on retention of customers as opposed to getting new subscriptions. This is a good sign, because the company is working on what is driving the stock price and future profitability. Furthermore, Credit Suisse has recently raised its ARPU growth estimates for DTV (from 4.2% to 4.4% in 2012, from 4.1% to 4.7% in 2013 and from 3.8% to 4.8% in 2014). All this adds up to a positive outlook for DTV in the long run. The stock price might experience some dips before 2013 because it would take some time for DTV to reap the benefits that come with increased ARPU growth, and the market to notice these benefits in 2013 and 2014.
Challenges
Customer retention costs could rise because of the management emphasis on subscriber retention, although the company hopes to keep retention costs flat as a percentage of sales.
Programming costs per subscriber per month growth remains in the high single digit range (8+%).
Comcast Corporation (NASDAQ:CMCSA)
Comcast Corporation is one of the world's leading media, entertainment and communications companies. It is also one of the largest pay TV providers in the U.S. with respect to number of subscribers. Comcast is principally involved in the operation of cable systems through Comcast Cable, and in the development, production and distribution of programming through NBC Universal (Comcast Corporation is a majority owner), for audiences worldwide. Comcast Cable provides high-speed internet and phone services to residential and business customers. NBC Universal owns and operates entertainment and news cable networks, the NBC and Telemundo broadcast networks, local television station groups, television production operations, a major motion picture company and theme parks. Its first quarter performance is summarized in the chart below.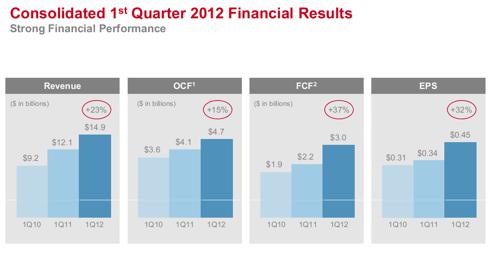 Click to enlarge
Comcast delivered a solid Q1 2012 performance, with ARPU growth for both video and HSD (up 7.8%), effective cost controls, healthy margins and EBITDA growth (5.5%, which exceeded expectations of 5.2%). It has an attractive cash flow yield of approximately 9% compared to DIRECTV's and Time Warner Cable Inc.'s (TWC) 7%. Its EPS is expected to be up 16% in 2013. Despite a challenging operating environment in a mature industry, Comcast is focused on the right issues, (e.g., driving HSD penetration, usage-based pricing for HSD, improving core product offerings, and customer service). Usage-based pricing in particular is a positive because HSD ARPU would increase with usage (and hence the revenue) over the long term. Capitalizing on the HSD business provides a natural hedge against the threat of Pay TV substitution by lower priced offerings like Netflix, Inc. (NASDAQ:NFLX).
That being said, Comcast was a loser according to the latest release of the American Customer Satisfaction Index, by scoring a 61/100. The ACSI is a national economic indicator of customer evaluations of the quality of products and services available to household consumers in the United States. DIRECTV is doing much better in this regard, by scoring the highest, and was up 1% to 69. Correspondingly, DIRECTV's stock price rose by 40% in last two years. However, Comcast is still doing better than Time Warner Cable, which has committed mistakes like usage caps, fees rising faster than inflation, and airing pornography on children's channels.
Time Warner Cable Inc.
Time Warner Cable Inc., together with its subsidiaries, operates as a cable operator in the United States with systems located in five areas: New York State, the Carolinas, Ohio, Southern California and Texas. It offers video, and high-speed data and voice services over its broadband cable systems to residential and business service customers.
Revenues are up 6.4% (residential, business and advertising have all seen an increase in the first quarter). The company's FCF increased by 9.3%, and its diluted EPS is up by 29% compared to same quarter last year. Credit Suisse raised its EPS estimate from $5.47 to $5.78. It also has a forward dividend yield of 2.7%, which makes it better than treasury bills.
Below is a comparison of the three companies, based on their profit margin trends over the last year.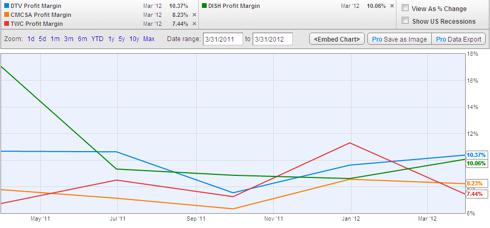 Click to enlarge
Although Time Warner Cable has the lowest profit margin as of the last quarter results, it has increased 10.5% from last year. This improvement is the best among the four (i.e. Comcast showed a 5.8% improvement, while DIRECTV struggled a little with costs, and showed a 2% decline in profit margins as compared to a year ago).
Stock Price Drivers
Time Warner Cable's strong opportunity to gain significant share and wield pricing power in the residential and commercial broadband market.
A robust return of capital program, including a dividend and share buyback that should return well over 100% of FCF in 2012.
Growth Rates and Large Stock Repurchase Programs
DIRECTV leads among the three with a next five-year growth estimate of 18.53%, followed by Time Warner Cable (15.81%) and Comcast (14.84%).
Cable and Satellite TV companies have large stock repurchase programs in place. This is one reason that investors are attracted to these stocks, as repurchases are linked with boosting the EPS and FCF per share, as well the stock price. According to Credit Suisse, between 2004 and 2011, DIRECTV's annualized return on buybacks landed at 15.5%, Time Warner Cable's landed at 11.0%, and Comcast's landed at 9.1%.
Valuations
The graph below shows the percentage change in earnings per share over the last year.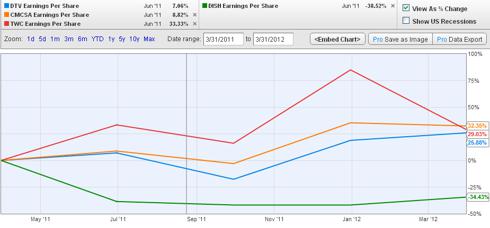 Click to enlarge
The graph below shows the P/E trends for the stock over the last two years.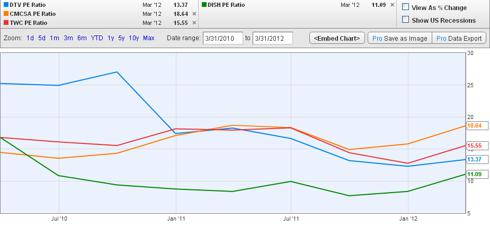 Click to enlarge
DIRECTV is trading at forward P/E of 9.58x. The current price is 6% off the 52-week high price of $53.4. With the highest growth rate, profit margin and customer satisfaction ratings among its peers, it seems to be slightly undervalued. We give it a buy rating and a $56 (P/E 13x and average EPS estimate of $4.3 for 2012) target price.
Comcast is trading at a forward P/E of 14.49x, achieving its 52-week high value ($32.5) the day before yesterday. Its current price is $32.03 (up 30% YTD). Our target price is $38 (current P/E 19x and bullish EPS estimate of $2).
Time Warner Cable has a forward P/E of 12.18x. It is currently trading at its 52-week high value. The stock has shown an appreciation of 29% YTD and its profit margin has shown improvement. Our target price is $89, based on the current P/E multiple of 15x, and a bullish EPS estimate of $5.9 for 2012.
Disclosure: I have no positions in any stocks mentioned, and no plans to initiate any positions within the next 72 hours.