Following a call for the sale of Micrel Inc. (NASDAQ:MCRL) , 14.9% shareholder Obrem Capital Mangement LLC now wants to replace the analog chipmaker's board.
In a March 25 letter to Micrel management, Obrem Capital managing member Andrew Rechtschaffen called for a special shareholder meeting to be held on May 20. Obrem wants to boot Micrel's five-member board and replace it with its own six-person slate. The investor also wants to remove a poison pill provision Micrel put in place following an earlier letter from the shareholder urging the company to consider a sale because of its "substantially undervalued" share price.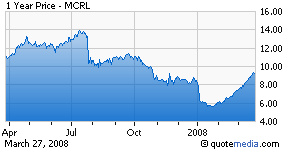 Following the hedge fund's March 12 letter, Micrel on Tuesday issued a lengthy press release ticking off the ways the company's management and board have been working to boost shareholder value and detailing its poison pill provision, which would take effect if anyone buys more than 15% of the company's shares. It also quoted Micrel founder Warren Muller, who owns 14.1% of the company's shares, as saying: "I have full confidence in the board and management team to continue to execute its strategy to drive profitable growth, and consequently, increase shareholder value."
For 2007, Micrel reported revenues of $258 million, compared with $276.3 million in 2006. Net income last year totaled $9.4 million, compared with $10.5 million in the previous year. Shares of the Silicon Valley company are off of its year-high of $13.98, reached last July. They were trading around $9.22, a 1.9% decline, early Wednesday afternoon. As of that time, Micrel had not issued a response to Obrem's call for a new board. - Olaf de Senerpont Domis
See March 26 filing from Obrem via SEC.gov
See March 25 Micrel press release via Yahoo! Finance