Shares of Intel Corporation (NASDAQ:INTC) have returned 19.22% over the past 12 months, even amid the overall equity market weakness. This reflects the firm's somewhat defensive nature, even though it is a pure technology company. When I look for quality dividend stocks, one critical criteria must be that the company's business and market position are solid and thus more or less predictable. Intel fits very well to my requirement as the technology company has entered a matured stage and I believe the it has the strengths and financial flexibility to continue staying at the forefront of the technology curve to tackle through the exploding growth of mobile devices. There are three additional reasons that I like Intel as a solid dividend investment:
1) (See table below) The stock is substantially undervalued. Consensus estimates predict revenues, EBITDA, and EPS to grow at a stable two-year CAGR of 6.5%, 6.4%, and 5.9%, respectively, over the current and next fiscal years. At $26.86 per share, Intel trades at 0.9x PEG, suggesting the valuation is slightly discounted to the firm's growth potential.
In addition, compared with other major players in the semiconductor sector, Intel only underperforms in growth estimates. The company is the most profitable measured by ROE and ROIC, and its stellar profitability has helped it maintain a robust FCF margin and a low debt level. Its balance sheet is also very healthy as reflected by solid current and quick ratios. Instead of giving Intel a reasonable premium valuation relative to its peers, the market is likely over-discounting the company's slower growth prospects. The relative valuation model shows that a whopping discount of 40.5% is needed on both the peer average P/E and EV/EBITDA multiples to justify the current stock price of $26.86.
Click to enlarge

2) The estimated revenues, EBITDA, and EPS have significantly upward revisions over the past 12-18 months, implying that there has been no major deterioration on the company's growth outlook, and instead the market is increasingly confident in a likely stronger growth ahead.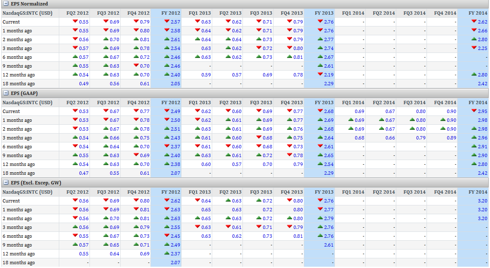 3) The current stock price suggests a solid 3.1% dividend yield. With a robust FCF generating capability, Intel has historically been able to gradually increase its dividend paid and share repurchase (see below). Given the company's excellent financials and solid growth prospects, it is reasonable to expect the dividend paid and share buyback can be easily sustained or even expanded down the road.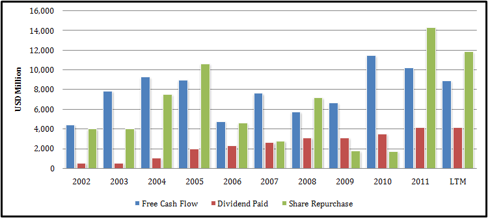 Bottom line, in the light of a significantly undervalued stock price, solid financial estimates, and sustainable shareholder-friendly policies, I strongly recommend adding Intel into your dividend portfolio.
Comparable analysis table and FCF chart are created by author, consensus estimate tables are sourced from Capital IQ, and financial data is sourced from Yahoo Finance, Morningstar and Capital IQ.
Disclosure: I am long INTC.