The maritime sector is one of the most closely watched sectors as it reflects the supply and demand for commodities, which implies growth or lack thereof. Investment in this sector is subject to swings in value due to global growth, changes in charter/dayrates and newbuild/scrapping activities. Investing in this sector involves diversification amongst vessel types, commodity diversity and an understanding of the risks and value drivers of the various companies. One investment strategy is to analyze the various sector participants and determine what part of the capital structure has the best risk/return profile or the most stable income generation ability.
Ship Finance International Limited (SFL) is a major vessel owning company which has an operating fleet of 62 vessels and rigs, and has contracted to acquire seven additional newbuildings. The Company has a substantial portfolio of long term fixed charters with an average tenor of approximately 11 years. As at April 17, 2012, the company's assets consist of 27 oil tankers, five OBOs (ore, bulk, oil) currently configured to carry drybulk cargo, ten drybulk carriers, eleven container vessels (including two chartered-in 13,800 TEU vessels), one jack-up drilling rig, three ultra-deepwater drilling units, six offshore supply vessels and two chemical tankers. Two of the oil tankers are non-double hull vessels which have been agreed to be sold, with delivery to their new owners expected later in 2012 and 2013.
Ship Finance's primary objective is to profitably grow their business and increase long-term distributable cash flow per share by pursuing the following strategies:
Expand their asset base. Ship Finance has increased the size of their asset base through selective acquisitions of additional assets that should be accretive to long-term distributable cash flow per share. The company intends to expand their asset base through placing newbuilding orders, acquiring new and modern second-hand vessels and entering into medium or long-term charter arrangements. Ship Finance believes that by acquiring newer assets they can drive value by providing for long-term growth of assets and continuing to decrease the average age of their fleet.
Diversify their asset base. Since January 1 2005 the company has diversified their asset base from two asset types, crude oil tankers and OBO carriers, to eight asset types including container vessels, drybulk carriers, chemical tankers, jack-up drilling rigs, ultra-deepwater drilling units and offshore supply vessels. The company believes that the expertise and relationships of their management and the relationship and affiliation with Mr. John Fredriksen could provide them with incremental opportunities to expand their asset base.
Expand and diversify customer relationships. Since January 1 2005 the company has increased their customer base from one to 13 customers. Of these 13 customers, Frontline (FRO), Deep Sea Supply and Seadrill (SDRL) are directly or indirectly controlled by trusts established by Mr. John Fredriksen for the benefit of his immediate family. Ship Finance intends to continue to expand their relationships with existing customers and also to add new customers, as companies servicing the international shipping and offshore oil exploration markets continue to expand their use of chartered-in assets to add capacity.
Pursue medium to long-term fixed-rate charters. The company intends to continue to pursue medium to long-term fixed rate charters, which provide them with stable future cash flows. In addition, they will also seek to enter into charter agreements that are shorter and provide for profit sharing, in order to generate incremental revenue and share in the upside during strong markets.
Risks:
Tanker overbuild: The global fleet of VLCCs increased 17 percent since the end of 2008, according to data from IHS Inc., a research group based in Englewood, Colorado. The glut may now be easing, with the surplus capacity in the Persian Gulf averaging 9.8 percent this year, according to weekly surveys of shipbrokers, owners and traders by Bloomberg. That compares with an average of 16 percent since the surveys began in March 2009.
Drillship overbuild: According to industry sources, the worldwide fleet of drilling rigs increased from 622 units at the end of 2008 to 727 units at the end of 2011, and significant further deliveries of new units are projected. A relatively large number of the drilling units currently under construction have not been contracted for future work, which may intensify price competition as scheduled delivery dates occur and lead to a reduction in day-rates as the active fleet grows.
Drybulk overbuild: Industry sources indicate that drybulk cargoes increased by approximately 6% from 2010 to 2011, while tonnage demand for vessels increased by 9%. However, as a result of new vessels delivered from shipyards, drybulk capacity increased by nearly 15%. On average, freight rates dropped by more than 40% from 2010, with Capesize vessels experiencing a 50% reduction.
Falling dayrates: As the prices of commodities fall, dayrates for charters fall. As well, the overbuild situations described above significantly affect dayrates and have been driving them down. While the company intends to lock in longer-term charter rates, the more extended the commodity downturn the lower the charter rates.
Frontline: Most of the tanker vessels and oil/bulk/ore carriers, or OBOs, in the fleet are chartered to subsidiaries of Frontline Ltd, or Frontline, namely Frontline Shipping Limited, Frontline Shipping II Limited and Frontline Shipping III Limited, which are referred to collectively as the Frontline Charterers. In addition, SFL has chartered three of their drilling units to the Seadrill Charterers. In December 2011, as a result of adverse conditions in the tanker market, Frontline completed a restructuring plan which included the transfer of certain of its assets and substantially all of its bank debt to a new company, Frontline 2012 Ltd. On December 30, 2011, SFL's charter agreements with the Frontline Charterers, which all remain wholly-owned subsidiaries of Frontline, were amended and the company agreed to temporarily reduce the charter rates payable on their double-hull tankers by $6,500 per day per vessel from 2012 through 2015. Ship Finance received compensation payments from Frontline in the amount of $106 million in cash, including the release of $56 million restricted cash previously serving as security for their charter payments. Frontline continues to guarantee the payment of charterhire with respect to Frontline Shipping Limited, or Frontline Shipping, and Frontline Shipping II Limited, or Frontline Shipping II. The two vessels chartered to Frontline Shipping III Limited, or Frontline Shipping III, are non-double hull vessels on which the charters may be terminated at the option of Frontline Shipping III on giving 30 days notice.
Value Drivers
Increased profitshare with Frontline: Prior to December 31, 2011, the Frontline Charterers paid the Company a profit sharing rate of 20% of their earnings above average threshold charter rates on a time-charter equivalent basis from their use of the Company's fleet each fiscal year. Starting on January 1, 2012, the amendments to the charter agreements increased the profit sharing percentage to 25% for earnings above those threshold levels. Additionally, the amendments provide that during the four year period of the temporary reduction in charter rates, the Frontline Charterers will pay the Company 100% of any earnings on a time-charter equivalent basis above the temporarily reduced time charter rates, subject to a maximum of $6,500 per day.
Fredriksen Relationship: The company's principal shareholders Hemen Holding Ltd. and Farahead Investment Inc., are indirectly controlled by trusts established by Mr. John Fredriksen for the benefit of his immediate family. Hemen also has significant shareholdings in Frontline, Seadrill, Golden Ocean Group Limited, or Golden Ocean (OTCPK:GDOCF), and Deep Sea Supply Plc, or Deep Sea, which are all SFL customers and/or suppliers. Currently, one of their directors, Kate Blankenship, is also a director of Frontline, Golden Ocean and Seadrill and another of their directors, Cecilie A. Fredriksen, the daughter of Mr. John Fredriksen, is also a director of Frontline and Golden Ocean. As at April 17, 2012, Hemen owned approximately 43% of the outstanding common shares. - While this may seem (and may be) to be a potential conflict of interests, John Fredriksen is one of the most successful individuals in the shipping industry. I view investing alongside him to be a value driver as he, and his directors, have significant insight into the various markets, are among the largest players in each market and have a vested interest in the success of Ship Finance. The relationship is both a risk and a driver, but I view it biased toward value driver.
Financial Snapshot
The following is a financial snapshot of Ship Finance with key data and metrics (Source: 20F and quarterly filings):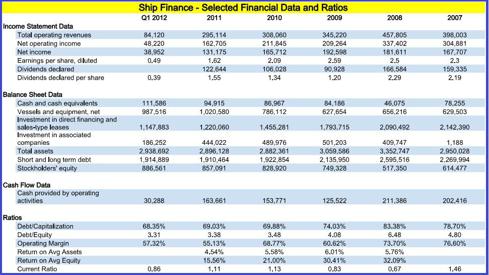 While the company is somewhat more levered than I would like, the leverage is manageable and should not be considered above the ratings and risk profile of this company. Debt as a percent of capitalization has been falling, which helps the financial profile of the company, which I expect to continue, but moderately.
Operating income has been falling (as obviously have operating margins), but cash from operations has been steady and increasing over the last three years.
The drop in return on equity is somewhat disconcerting, but as the profitshare with Frontline continues to increase, we should see higher returns on equity.
Capital Structure
The following table is a breakdown of Ship Finance's capital structure as of December 2011:

December 2011 was used as the information presented has more depth as to the breakdown of the various bank loans and their respective maturities. As of March 31, 2012, the company's capital structure looked like the following:

Investment Alternatives:
Basically, there are two ways to play Ship Finance: the equity and the 2013 bonds. Lets have a look at both.
Equity
The equity has been somewhat volatile over the last few years as dayrates have been volatile and driven by the effects of the global economic slowdown. Ship Finance has been one of the better performers when compared to Frontline , Teekay Corp (TK), Dryships (DRYS), Overseas Shipholding Group (OSG) and Seadrill .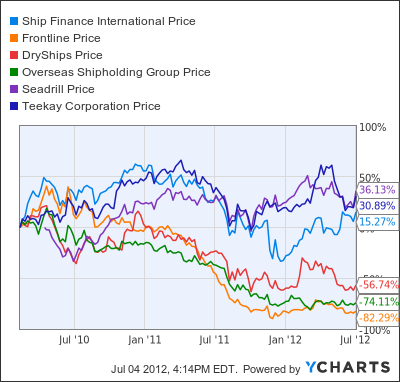 Equity metric comparisons are as follows (from Morningstar):
| | | | | | | |
| --- | --- | --- | --- | --- | --- | --- |
| Company | Price | Mkt Cap | P/E | Div Yield | ROE | P/B |
| Ship Finance | $15.93 | 1.3B | 9.1 | 9.8% | 15.9% | 1.4 |
| Frontline | $4.66 | 383MM | N/A | 1.7% | N/A | 1.8 |
| Dryships | $2.31 | 1.0B | N/A | N/A | N/A | 0.3 |
| Overseas Shipholding | $10.93 | 347MM | N/A | 8.0% | N/A | 0.2 |
| Seadrill | $37.00 | 17.8B | 19.8 | 6.7% | 15.5% | 2.9 |
| Teekay | $29.24 | 2.0B | N/A | 4.3% | N/A | 1.5 |
As the table above shows, the shipping industry has had a hard time producing earnings to create any meaningful metrics. Ship finance has the highest yield among them, the highest return on equity and a modest price/earnings ratio.
As Ship Finance is one of the more diversified in terms of markets served, ships within the fleet and earnings upside, it is the perhaps the best positioned within the group in terms of stability and upside.
Debt
The debt that is available to most USD investors is the SFL 8.50% Notes due 12/15/2013 (CUSIP: 824689AC7). Prospectus
An overview of the issue is as follows:
| | |
| --- | --- |
| Outstanding amount* | USD 296,074,000 |
| Issue amount | USD 580,000,000 |
| Issue date | December 15, 2003 |
| Maturity | December 15, 2013 |
| Coupon | 8.50% |
| Coupon payment | Semi-annually |
| Call option | 101.417 reducing to 100 at December 15, 2011 |
| Note denomination | USD 1,000 |
| ISIN code | US 824689AC72 |
| Bond Rating | B+/B1 |
On and after December 15, 2008, the Company may redeem all or, from time to time, a part of the notes upon not less than 30 nor more than 60 days' notice. Bottom line is that the issue is currently callable and has to be looked at on a yield to maturity as well as a yield to call basis.
The debt, at current prices ($99.75), has the following characteristics (Source: FINRA):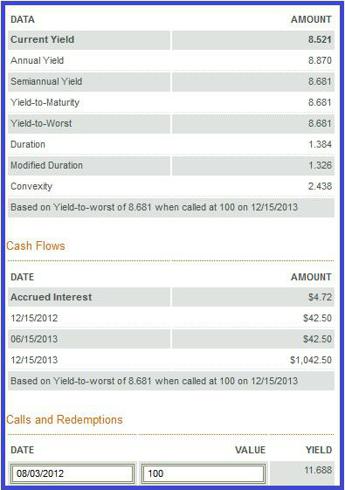 To best understand this debt, and where it falls in the repayment cycle, a look at the debt distribution is in order: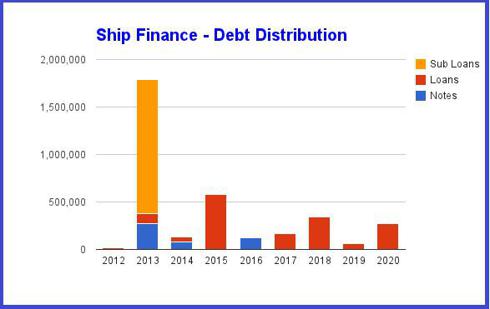 As the above chart shows, company owed debt in 2013 is manageable, and there is significant bank lines that come due after the public debt. This is important as is it highly unlikely the banks will let a $284MM piece of public debt trigger the default of over $1 billion in bank debt. From the chart, 2013 looks like a very scary year, with a monstrous amount of debt coming due. Note, however, that the majority of debt coming due is debt of equity accounted subsidiaries. Of the nearly $1.4 billion coming due, Ship Finance only guarantees $270 million of the debt and this is their maximum downside to the company (although I would expect the bank lines to be rolled and renewed).
Having somewhat established that the $300 million of debt coming due is manageable, lets look at the other commitments that the company has coming due:

Capital commitments due during 2013 are also manageable and when added to the debt due during the year, the company should be able to cover both with operation generated cash flow.
Finally, it is important to realize that the 8.50% 2013s are being used as security for two different bank lines:
In June 2009, a subsidiary entered into a $60 million credit facility with a bank, secured against a portion of our 8.5% Senior Notes which are being held as treasury notes and a guarantee from Ship Finance International Limited. At December 31, 2011, the amount outstanding under this facility was $47 million. The facility bears interest at LIBOR plus a margin and its original two year term has been extended so that the facility now matures in January 2013.
In June 2009, a subsidiary entered into a $30 million credit facility with a bank, secured against a portion of our 8.5% Senior Notes which are being held as treasury notes and a guarantee from Ship Finance International Limited. At December 31, 2011, the amount outstanding under this facility was $24 million. The facility bears interest at LIBOR plus a margin and its original one year term has been extended so that the facility now matures in January 2013.
The bank facilities mature prior to the debt, but the debt is held in treasury as the company has purchased it, but not retired it. This is a form of additional security (at least until the bank lines come due).
Bottom Line: For investors who want to deploy equity capital into the shipping industry, Ship Finance is one of the better companies to focus on as it provides cash flow (dividend actually covered by earnings) and upside by its exposure to multiple shipping sectors and an increasing profitshare with one of its largest customers, Frontline.
The debt is very attractive given its high yield and short duration (a 1.3 modified duration with an 8.5% yield). With 18 months until maturity, the debt should be considered by short-term investors with a yield focus. The debt should be able to be covered by cash flow, if not, it is small enough to be covered by bank lines. The company is not under financial duress or distress and I see no reason this should change over the next eighteen months.
Links:
Disclosure: I have no positions in any stocks mentioned, and no plans to initiate any positions within the next 72 hours.
Additional disclosure: This article is for informational purposes only, it is not a recommendation to buy or sell any security and is strictly the opinion of Rubicon Associates LLC. Every investor is strongly encouraged to do their own research prior to investing.