The two premier gaming stocks, Las Vegas Sands (LVS) and Wynn Resorts (WYNN) reached share price peaks back in April and have declined quite a bit since. For Wynn Resorts, the stock hit a 2012 high on April 27 at $135. The Las Vegas Sands share price hit a multi-year best on April 12 at just over $62 per share. Since those peaks, the share prices of WYNN and LVS are down 24% and 29%, respectively. Now may be the time to pick up shares of these two casino stocks for the coming growth phase.
These casino stocks have been hit by the news of a slowing pace of revenue growth from Macau, where both the Las Vegas Sands and Wynn generate the bulk of their profits. Gambling revenue growth in Macau dropped to single digits before rebounding to growth of 12% in June. For the first 6 months of 2012, gaming revenue in Macau was up 19.8%. Gaming stock analysts quoted in a Las Vegas Review Journal article indicated the slowdown in Macau gaming growth is a short-term phenomenon and the long term prospects to attract gambling Asians to Macau remain excellent.
About two months ago, I wrote that Wynn Resorts would be an attractive buy if the share price dropped below $100. The $100 level seems to be a strong support level for the stock, so investors who like Wynn's long term prospects should not wait for a few more dollars of downside. Wynn's next project on the Cotai section of Macau received local approval in early May. The construction of the newest Wynn Macau hotel-casino is expected to open in 2016. EBITDA growth of 15% to 20% per year over the next few years will not make the shares any cheaper before the new casino resort opens.
Las Vegas Sands is well ahead of Wynn Resorts in its Macau Cotai expansion. The company opened Phase I of a four phase build-out on Cotai in April 2012 and results should start to show up on the second quarter financials. Phases IIA and IIB are forecast to open by the end of 2012. The construction and expected completion of Phase III has not yet been announced. Yes, the four phases have been labeled I, IIA, IIB and III. The opening of these new casinos should keep the Las Vegas Sands Macau revenue growth in the high 30% to low 40% range.
Las Vegas Sands has been one of the great growth stories and growth stocks over the last three years. Investors who bought in the dark days of 2009 have seen 10-bagger and 15-bagger returns on their investment. However, the LVS share price is now where it was at the end of 2010. Over the last year-and-a-half, the company's EBITDA per quarter has increased from $740 million to the $1.07 billion reported for the 2012 first quarter. This is a stock poised to move up sharply on just a small amount of good news. Expect that news with the second quarter earnings report.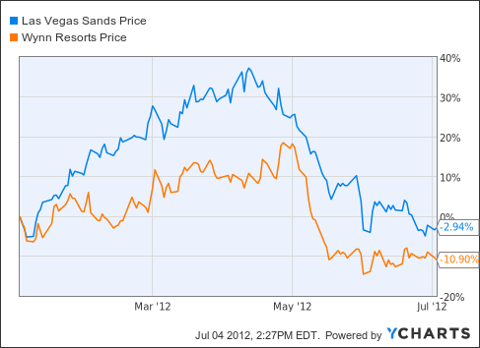 Recommended Reading: Earth: One Big Gaming Market for Las Vegas Sands
Disclosure: I have no positions in any stocks mentioned, and no plans to initiate any positions within the next 72 hours.