We have been attracted to the mortgage Real Estate Investment Trust Sector due to the ability of the firms to effectively utilize leverage in order to provide investors with high current dividend yields on their investment capital. Because mREITs for the most part emphasize high-quality mortgage-backed securities, have low operating costs, low borrowing costs and are organized as tax-exempt pass-through entities, we find that mREITs are better at utilizing leverage than investment banks and commercial banks.
We are currently invested in CYS Investments (NYSE:CYS) and we previously held a position in American Capital Agency (NASDAQ:AGNC). In an attempt to avoid the nearly 7% estimated market price premium relative to estimated forward book value for AGNC, we will reevaluate the industry-leading mREIT titan Annaly Capital Management (NYSE:NLY), Chimera Investment Corporation (NYSE:CIM) and CreXus Investment Corporation (NYSE:CXS). Chimera and CreXus are the two mREITs that Annaly Capital provides sub-advisory services for through Annaly's Registered Investment Advisory Subsidiary FIDAC.
Chimera Investment Corporation is typically one of the highest-yielding mREITs. Chimera was founded in 2007 and has already grown to $9.7B in assets as of Q3 2011. We also like the fact that it is managed by Annaly. However, we find that Chimera is as ugly and repulsive as its namesake creature from Greek mythology. In our professional opinion CIM's relatively high current yields do not offset the following laundry list of problems we see with the company:
Inability to file timely financial statements. Chimera has not filed a 10-Q or 10-K since November of last year.

The company changed its auditor earlier this year. This concerns us because Chimera's balance sheet is primarily mortgage securities and collateralized debt to support said mortgage securities. It's not like it was involved in complex mergers and acquisitions and has complex, hard-to-value physical assets on its balance sheet.

CIM's high proportion of non-agency, subprime (83% of non-agency MBS holdings less than B rating) securities. Some 38.4% of its Q3 2011 mortgages were for California properties.

This concerns us because California's population growth is decelerating and its middle class is fleeing to escape California's poor fiscal management and local economy. In our opinion, California is not a state, but rather a "state of mind".

CIM's dividend payment stream has been inconsistent since it was public and its quarterly dividends per share have been declining since its September 2010 peak.
Click to enlarge: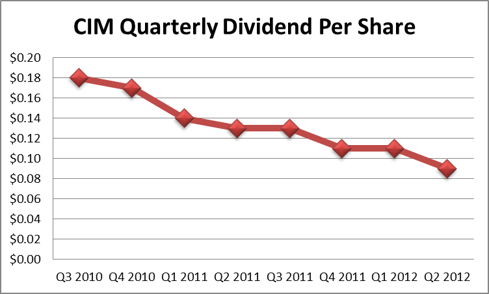 Click to enlarge
Source: Chimera Dividend History
CreXus Investment Corporation is another mREIT that has its investment book managed by Annaly. CreXus began operations in 2009 and focuses primarily on commercial real estate mortgage loans instead of residential mortgage-backed securities. Despite the fact that it offers a lower dividend yield than Chimera and Annaly, we think that it offers a much better risk-adjusted return than Chimera and would offer diversification to the mREIT sleeve of a portfolio. We also expect CreXus's 10.4% to be safer than Chimera's 14.29% dividend because CreXus utilizes very little leverage in its operations. We also like that CreXus's management is independent of Annaly, unlike Chimera. And finally, we like that CreXus's dividend has declined less than that of Chimera.
Click to enlarge:
Click to enlargeSource: CreXus Q1 2012 10-Q
And last but certainly not least, Annaly Capital Management. Annaly is the largest and most well-known mREIT. Annaly also has ancillary businesses consisting of registered investment advisory firms that it acquired (Mergenser and FIDAC), warehousing mortgage financing (Shannon Funding LLC), a fixed income broker-dealer (RCAP Securities) and middle market debt financing (Charlesfort). We find that there is a lot to like about Annaly.
First of all, we like that the company is not trading at a high adjusted premium relative to our estimated Q2 2012 book value.
Click to enlarge:

Click to enlargeSource: Annaly Q1 Earnings Release and Saibus Research Forward Forecast
We also like Annaly's use of leverage. Annaly typically utilizes less leverage than many other mREITs. Even though the company uses less leverage than other mREITs, it still pays investors a 12.84% annualized dividend yield. We believe that Annaly has room to increase its use of leverage. Annaly also saw an impressive 22% rise in its assets in Q1 2012 versus Q1 2011.
Click to enlarge: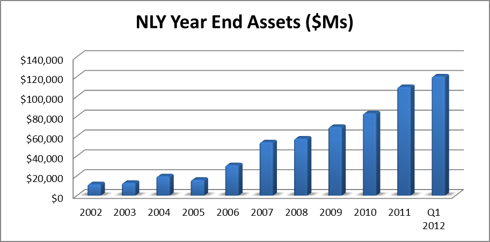 Click to enlarge
Source: Morningstar Direct
The last item that attracts us to Annaly is its history of operations. Annaly has been operating since 1997 and it has been operating in a wide variety of interest rate environments. Very few mREITs have the long track record of operating history as Annaly and only American Capital Agency comes close to the asset size of Annaly. With Annaly CEO Mike Farrell completing his cancer treatment, we believe that Farrell and the rest of Annaly's management will no longer have the distraction of Farrell's health and who might succeed him potentially impacting operations.
In conclusion, of these three Annaly-managed mREITs, we like Annaly the best. Annaly's size, operational scale and management have resulted in the company being the industry leader in the mREIT sector. We believe that investors who may hesitate at the market price premiums to book value of AGNC, MTGE and CYS should consider Annaly.
For those who may be interested in the commercial mortgage-backed space, we also recommend CreXus. We believe that the Federal Reserve will maintain its low interest rate policy for the foreseeable future. Though we were disappointed to see the Fed persist in its ridiculous Operation Twist program, we were glad that it did not go further with a third round of quantitative easing. This ensures that if mREITs have to cut dividends, the dividend cuts will not be steep and that investors will still be able to generate satisfactory double-digit dividend yields on their mREIT investments.
Disclosure: I am long CYS.
Disclaimer: Saibus Research has not received compensation directly or indirectly for expressing the recommendation in this report. Under no circumstances must this report be considered an offer to buy, sell, subscribe for or trade securities or other instruments.