Corning (GLW) is a leading designer and manufacturer of glass and ceramic substrates. Corning's products are used in LCD screens, fiber optic cables, and automobiles to name a few. Corning's Gorilla Glass is prominent in smartphones and tablets, and newly announced Willow Glass is a flexible glass for use in future consumer electronic devices.
Quick Valuation
In order to estimate the fair value of Corning, I will use a discounted cash flow analysis. I use owner earnings instead of free cash flow in my analysis. The calculation of owner earnings is shown below.
| (In Million $) | 2011 |
| --- | --- |
| Net income | $2,805 |
| Depreciation & amortization | $957 |
| Stock based compensation | $86 |
| Other non-cash items | $-442 |
| Interest Payments | $89 |
| 2-Year Avg Capital Expenditure | $-1,720 |
| Owner Earnings | $1,763 |
In 2011, owner earnings were about $1.76 billion on a float of 1.6 billion shares. Corning's most recent balance sheet shows net cash of $4.58 per share. I will use a 6% growth rate for the next 10 years and a 3% growth rate after 10 years in my calculation. Using a discount rate of 15%, I arrive at a fair value estimate of $16.09 per share.
Selling Puts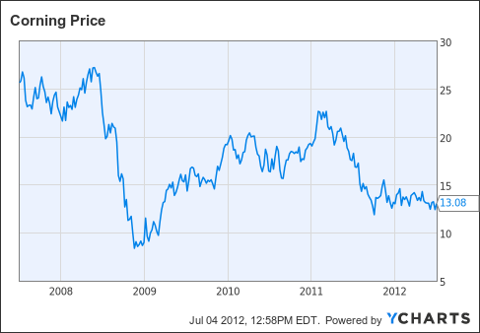 As of this writing, Corning trades at $13.08 per share, which is about a 19% discount to my fair value estimate. I like to look for a discount of at least 25%, which represents a share price of $12.07. One option is to submit a limit order and wait for the stock price to drop to my required price, all the while the cash needed for the purchase sits dormant in my account. Or I could get paid to wait for the stock price to drop by writing cash-covered put options with a $12 strike price.
An option has three components: A strike price, a premium, and an expiration date. By selling a put option, you are giving the buyer of that option the right to sell you the underlying stock at the strike price on or before the expiration date. The buyer pays you the premium in exchange for this right. You keep this premium no matter what happens, but are required to buy the stock if the option is exercised.
Selling a cash-covered put option can end in one of two ways. If the stock never dips below $12 per share before the expiration date the option will expire worthless, you will not be required to buy any shares, and you're free to write another put. If, however, the stock does go below $12 per share and the option is exercised, you are required to buy the stock at $12 per share, which will be higher than the current market value.
Let's take a look at the different put options available to sell with a $12 strike price:
| | | | |
| --- | --- | --- | --- |
| Expiration Date (Days until expiration) | Strike Price | Premium (Last Trade) | Annualized Return |
| Jul 2012 (16) | $12 | $0.05 | 9.51% |
| Aug 2012 (44) | $12 | $0.23 | 15.90% |
| Nov 2012 (135) | $12 | $0.57 | 12.84% |
| Feb 2013 (226) | $12 | $0.91 | 12.25% |
| Jan 2014 (562) | $12 | $1.93 | 10.45% |
The August 2012 expiration date provides the largest annualized return, receiving a $0.23 premium on a $12 investment, resulting in an annualized return of 15.90% (1.91% in 44 days). So if you sell a August 2012 $12 put option you immediately receive a premium of $23 (all options are in blocks of 100 shares) and you have $1,200 tied up for 44 days. If the option expires worthless you can then write another put and collect another premium. If the option is exercised, you will buy 100 shares of Corning for $12 per share, a price which you have already determined is a comfortable entry point.
The downside to this strategy is that if Corning tanks, say to $10 per share, you are forced to pay $12 per share and suffer an immediate "on paper" loss. Of course, had you simply bought shares at the current price or even waited for the price to reach $12 and then bought shares, you would have suffered the same fate. But by selling puts you are able to offset this "on paper" loss with premiums.
Conclusion
By selling Corning puts you are able to generate a 15.90% annualized return on investment as you wait for the stock price to drop to acceptable levels. You should only sell puts on stocks that you would like to own and at strike prices that you are comfortable paying. The worst thing that can happen with this strategy is that you end up with shares of a company that you want to buy at a price which you are willing to pay. Otherwise, you collect a premium and can repeat the process again. It's a win-win for a long-term investor.
Disclosure: I am long GLW.