Recently released short interest figures from both the NYSE and Nasdaq show that short interest as a percentage of float is currently at record levels. On the NYSE, the mid-month short interest report hit a level of 4.15%, which is a record high. On the S&P 500, short interest is even higher. As of mid-March, 5.4% of the float of S&P 500 listed companies were sold short. This represents an increase of 53% over the last year!
On a sector by sector basis, short interest also remains at elevated levels. In our bi-monthly short interest report available to Bespoke Premium members, we found that for nine of the ten S&P sectors, short interest as a percentage of float is currently at or close to a 52-week high.
In addition to monitoring short interest levels of indices, sectors, and groups, the Bespoke Short Interest Report also highlights stocks that are showing the largest increases and decreases in short interest relative to their ranges of the last year.
One name that stood out in our most recent report was Robbins & Myers (NYSE:RBN). In the NYSE's mid-month short interest report, short interest as a percentage of float increased by 52% from 7.3% up to 11.1%. While sharp increases in short interest can have multiple, and often benign explanations, in the case of RBN, it appears as though many investors were anticipating a weak earnings report. Today, the stock traded down nearly 22% after lowering guidance.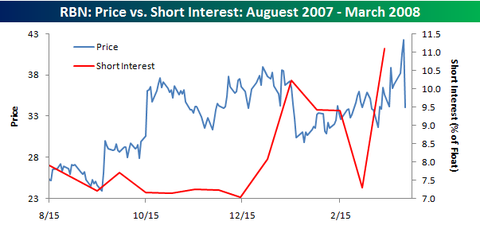 Below we highlight the individual stocks in the Russell 1,000 with the highest and lowest short interest as a percentage of float. As shown, NutriSystem (NASDAQ:NTRI) tops the list with a short interest of 73% of its float. NTRI's short interest is much higher than any other stock in the Russell 1,000, with CROX being the second highest at 44%. Each of these stocks are down nearly 50% this year, so the shorts are definitely winning.
With short interest so high, any good news from these companies should send shares sharply higher as shorts buy back shares to cover their positions. Panera (NASDAQ:PNRA) ranks third on the list at 35%, but it is up 22% on the year. Other notables on the list of most heavily shorted stocks include LEN, KBH, CC, SHLD and RSH. Big Lots (NYSE:BIG) is also on the list of stocks with high short interest, and it is the best performing stock in the S&P 500 year to date.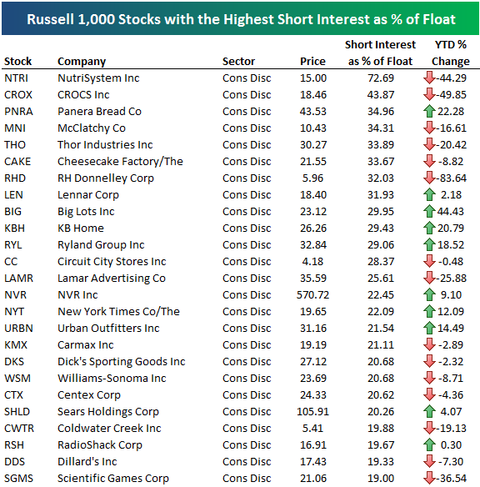 ANAT tops the list of least heavily shorted stocks at just 0.13%. GE, PEP, JNJ, UTX, BUD and XOM are notables on this list. Investors don't seem to want to take short positions in largecap, high international revenue generating companies.