Executive Summary
Considering the increased favorable activity in the real estate markets, and Wells Fargo's (NYSE:WFC) enormous exposure in real estate, combined with company-wide efforts to reduce costs, the bank has enormous potential to enhance earnings, as well as its stock price, going forward. Besides, the company has the financial muscle to embark on opportunities presented by favorable market conditions. An attractive dividend yield is an added advantage for investors as well.
| | | | | |
| --- | --- | --- | --- | --- |
| | | | | |
| Market Cap: | 178B | 87B | 81B | 137B |
| Qtrly Rev Growth (yoy): | 8% | -14% | -2% | 4% |
| Revenue (TTM): | 75B | 77B | 66B | 91B |
| Operating Margin : | 38% | 11% | 22% | 36% |
| Net Income : | 15.5B | -1.3B | 10.7B | 17.5B |
| EPS : | 2.9 | -0.13 | 3.59 | 4.5 |
| P/E : | 11.54 | N/A | 7.7 | 7.97 |
| P/TBV | 1.85 | 0.59 | 0.55 | 1.05 |
| Dividend Yield | 2.63% | 0.50% | 0.14% | 3.34% |
Company Description
Wells Fargo & Company dates back to 1825, and is engaged in providing diversified financial services. For reporting purposes, operations are organized into three segments; Community Banking, Wholesale Banking, and lastly Wealth, Brokerage and Retirement. The San Francisco-based bank has $1.3tr in assets and serves one in three households in the U.S. The bank's diversified product mix, combined with its vast geographical footprint, serves as its competitive advantage. Additionally, the management at WFC tends to think that its employees are its biggest competitive advantage. This is why the company provides them with training, resulting in an average tenor of 27 years for its wholesale leadership members.
Stock Price Drivers
Activity in real estate markets has a significant impact on the bank's income. According to a report by Credit Suisse (NYSE:CS), WFC has the largest market share of 33.9% in mortgage origination. This share has the potential to drive stock price in the event of any changes in the mortgage market. 1Q2012 is typically a seasonally weaker quarter in terms of housing activity, so we would expect mortgage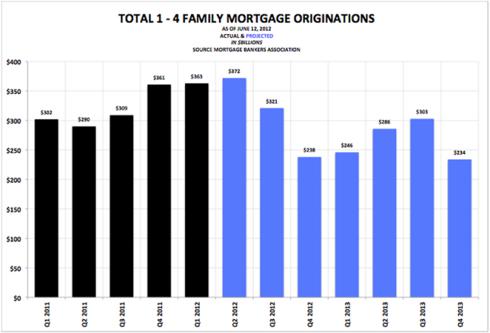 Click to enlarge
activity to accelerate somewhat through the selling season. MBA forecasts for the total industry origination volume of $372b in 2Q2012, or up 2.5% QoQ, will be helped by a continued low interest rate environment and increased activity related to HARP 2.0. Banks have themselves acknowledged that mortgage activity going into 2Q2012 is very strong in terms of both volume and spreads. Increased volume combined with healthy spreads should support another healthy quarter in terms of mortgage revenue in 2Q. The Case-Shiller Home Price Index is currently at 138.55, up from 137.63 last month, showing an increase of 67bps. This is why Credit Suisse expects that gain on sales margin will remain healthy for the bank, enhancing the bank's earnings and stock price.
The success of the company-wide cost cutting program, under which the company intends to shift some of the jobs outside the U.S., would have significant impact on the earnings of the bank, and thus the stock price. Currently, the firm employs 265,000 full-time employees. By outsourcing its retirement and technology divisions to economically attractive markets, the bank aims to cut $1.7b in costs by the end of 2012.
Financial Performance Review
The bank has shown tremendous growth in its earnings over the past four quarters. Its current year first-quarter's earnings swelled by 13% and 3% year over year and quarter over quarter respectively, beating analyst expectations on mortgage banking revenue. Primarily driven by non-interest income, its revenue for first-quarter 2012 surged by a massive $1b to reach $21.6b. The bank's capital levels continued to grow, and its current Tier 1 common equity ratio under Basel 1 is 9.95%, up by 49pbs in 1Q2012, and also safely above the regulatory requirement.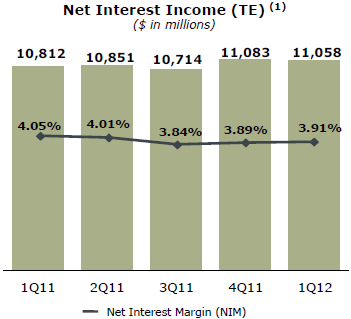 Half of the bank's revenue come from interest income, while the rest is comprised of non-interest income. For interest income, the bank relies heavily on consumer loans, which are 55% of the total loans portfolio, followed by commercial loans at 40%. The bank relies little on foreign loans, which is why they constitute only 5% of the total loans portfolio. Under non-interest income, mortgage originations are a major proportion i.e., 24%, followed by investment income at 17% of total non-interest income. Mortgage originations surged due to the continued low interest rate environment.
The bank's interest income (or net interest income) was 3.91% up by 2bps from 4Q2011. The bank has been able to generate stable interest income as illustrated by the chart. This was achieved by a relatively flat interest generating asset base of $11.6b, when compared with 4Q2011.
Non-interest income for 1Q2012 swelled by 11% both YoY and QoQ to reach $10.7b. This growth can largely be attributed to mortgage banking, which surged by 21% QoQ due to an 8% increase in mortgage originations and higher margins. Revenue from insurance, which increased by 11% QoQ due to seasonally higher crop premiums, was also a reason for a surge in non-interest income.
Non-interest expense was up by 4% QoQ, largely due to a surge of 59% in employee benefits, reflecting seasonally high payroll taxes. These taxes would not be part of 2Q2012 non-interest expenses, which is why the bank expects to decrease its expenses in the coming quarters.
A declining trend is witnessed in the bank's net charge-offs, suggesting improved performance. Net charge-offs of $2.4b are down by $2.64b in 4Q2011. Provision expenses were also down by $45mn to $2b in 1Q2012.
The bank's balance sheet strength can be viewed in the increase in the bank's core loans by $984mn, or 15pbs QoQ. However, total outstanding loans decreased by 40pbs QoQ. Total deposits of the bank increased by 1% QoQ.
Segment Wise Results
The Community Banking Segment posted a bottom line of $2.3b, up by 8% from 1Q2011. Similarly, revenue was up by 8% to reach $13.4b over the same period. The surge in revenue can be attributed to higher volume-related mortgage banking income, invested funds from deposit growth, and higher equity sales gains.
The Wholesale Banking Segment reported earnings with a surge of 14% over 1Q2011. Revenue for the segment increased by 11% over the same period, resulting from broad-based loan growth, and increased deposits, to fund its assets.
The Wealth, Brokerage, Retirement segment is the only segment that reported a decrease in earnings. Earnings plunged by $47mn to $296mn compared with 1Q2011. Similarly, revenue was down by 3% over the same period. Lower brokerage transaction revenue and reduced securities gains in the brokerage business were the primary reasons for such a decline.
Dividend
An added feature in the stock is its attractive dividend yield. WFC recently announced an 83% hike in quarterly dividends. The stock offers a dividend yield of 2.6%, 100bps above the current 10-year treasury yield. A 7% cash flow yield, combined with earnings growth prospects, depict that the bank will continue such dividend distributions.
Valuation
The stock is trading at an attractive discount of 15% with regards to its tangible book value of $1.85, when compared with an average industry peer. The stock is 3.2% off its 52-week high, and 21.5% up on YTD. However, considering a combination of factors, including favorable trends in the real estate market, coupled with its already huge market share in mortgage originations, supported by the bank's financial muscle to further increase this share, are good enough for us to give the stock a buy rating. Credit Suisse has a price target of $39.7 (Current P/TBV 1.85x and TBV for 2012 is $21.5).
The Bearish Thesis
Since Wells Fargo makes one out of every three home loans in the U.S., and it is further adding mortgages to its books, some industry experts are of the opinion that the bank may have been over exposed to the Housing Industry, especially when the economy is sluggish and interest rates are near zero. Another recession would hurt the bank, with increasing defaults. However, in case the economy strengthens and interest rates start to rise, mortgages will suffer more than any other loans and the bank's earnings could crumble. Cost of funds for the bank would rise, while it would earn the historically low rate on mortgages.
Competitors
To view our detailed investment thesis on Citigroup (NYSE:C), Goldman Sachs (NYSE:GS) and JPMorgan Chase & Co. (NYSE:JPM) please click here.
Disclosure: I have no positions in any stocks mentioned, and no plans to initiate any positions within the next 72 hours.