Yum Brands' (NYSE:YUM) overseas expansion in emerging economies is a key driver of growth. To improve its market share in China, it purchased the hot-pot restaurant-chain operator Little Sheep Group, which should contribute about 5% to its revenue base. While this is a small amount, management views this acquisition as good long-term growth investment. Management estimates that close to 75% of its operating profits will originate from China and Yum Brands restaurants internationally by 2015, and it expects its consumer base for branded products to double from 300 million in the next decade due to rapid urbanization.
Yum Brands offers great growth potential via its China operations. 97% of the restaurants in China are company operated. Management projects growth of 15% or higher in the China division. Management has stated that the new units built there in 2011 will deliver roughly about 50% of its EPS growth in 2012.
In the fourth quarter of 2011, the company got rid of slow-moving brands like A&W and Long John Silver. Management did this so that it would be able to focus on the three top brands -- Pizza Hut, Taco Bell, and KFC -- in the U.S. and in new emerging markets.
Here are some additional reasons to be bullish on Yum Brands:
A levered free cash flow of $973 million.
A strong relative strength score of 81 out of a possible 100.
A strong quarterly earnings growth rate of 73.5%.
On a worldwide basis, it is the leader in terms of multi-branding.
Net income increased from $1.07 billion in 2009 to $1.3 billion in 2011.
Cash flow increased from $3.48 in 2009 to $4.37 in 2011.
Annual EPS before NRI increased from $1.68 in 2007 to $2.88 in 2011.
A decent quarterly revenue growth rate of 13%.
A good five-year dividend growth rate of 17.8%.
A low payout ratio of 34%.
A good retention rate of 66%.
A projected three- to four-year estimated EPS growth rate of 12%.
A very good five-year ROE average of 138%.
A five-year EPS growth rate of 13%.
An excellent interest coverage ratio of 17.
Let's play devil's advocate and list some reasons to be cautious about jumping into Yum Brands:
Like all the other companies in the restaurant business, it has been hit by rising food costs. Management projects 6% food cost inflation in China. It also expects 5% and 2% food cost inflation in Yum Brands' restaurants internationally and its U.S. divisions, respectively.
Management expects the full-year tax rate to be about 26% in 2012, which is roughly 2 points higher year over year. This increased tax rate could impact EPS growth by 2-4 points.
The competition among fast food types of restaurants is expected to remain intense in terms of price, location, and service, which could adversely impact the company's restaurants operating margins and profits.
Like other fast food restaurants, its customers are sensitive to macroeconomic factors such as fuel and energy costs, unemployment levels, and high household debt, which have a negative impact on their spending habits. That, in turn, could affect Yum Brands' sales and profitability.
An increase in the menu price to deal with rising costs (food inflation) could negatively impact the traffic flow per restaurant and in turn affect profitability.
Sales in China could start to taper off as the economy there starts to slow down. Long term, the prospects are still bright there, but in the short term, the slowing economy could dampen the pace of the growth in comparison to prior years.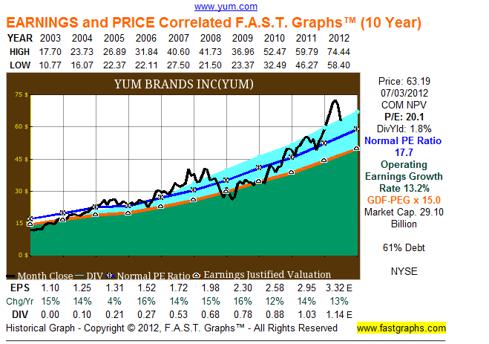 Click to enlarge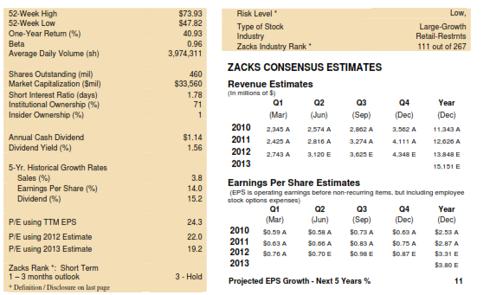 Click to enlarge
Technical Outlook
Yum Brands has had a very strong run over the past three years, and ideally long-term investors should wait for a test of the $50-$55 range before jumping in. Traders with short-term to mid-term time frames can consider opening positions at $60 or better. One great option is to sell puts at strikes you would not mind owning the stock at. The benefit of this is that you have the chance to get in at a lower price, and if the shares are not assigned to your account, you at least get paid for trying.
Company: Yum Brands
Levered Free Cash Flow = $973.25 million
Brief Overview
Percentage Held by Insiders = 0.88
Short Ratio = 1.8%
Relative Strength 52 Weeks = 81
Cash Flow Five-Year Average = 3.32
Profit Margin = 11.69%
Operating Margin = 16.09%
Quarterly Revenue Growth = 13.1%
Quarterly Earnings Growth = 73.5%
Operating Cash Flow = $2.15 billion
Beta = 0.73
Percentage Held by Institutions = 75.3%
Short Percentage of Float = 1.8%
Growth
Net Income ($mil) 12/2011 = 1319
Net Income ($mil) 12/2010 = 1158
Net Income ($mil) 12/2009 = 1071
Net Income Reported Quarterly ($mil) = 458
EBITDA ($mil) 12/2011 = 2443
EBITDA ($mil) 12/2010 = 2358
EBITDA ($mil) 12/2009 = 2170
Cash Flow ($/share) 12/2011 = 4.37
Cash Flow ($/share) 12/2010 = 3.88
Cash Flow ($/share) 12/2009 = 3.48
Sales ($mil) 12/2011 = 12626
Sales ($mil) 12/2010 = 11343
Sales ($mil) 12/2009 = 10836
Annual EPS before NRI 12/2007 = 1.68
Annual EPS before NRI 12/2008 = 1.91
Annual EPS before NRI 12/2009 = 2.17
Annual EPS before NRI 12/2010 = 2.53
Annual EPS before NRI 12/2011 = 2.88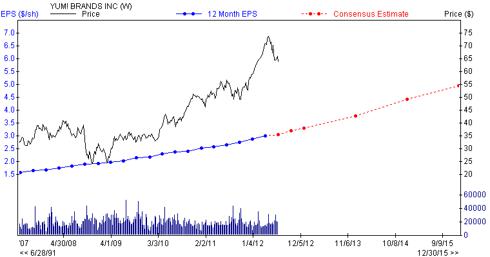 Click to enlarge
Dividend History
Dividend Yield = 1.78
Dividend Yield Five-Year Average 03/2012 = 2.10
Dividend Five-Year Growth 03/2012 = 17.8
Dividend Sustainability
Payout Ratio 03/2012 = 0.34
Payout Ratio Five-Year Average 12/2011 = 0.37
Performance
Next Three- to Five-Year Estimate EPS Growth Rate = 11.92
ROE Five-Year Average 12/2011 = 138.18
Current Ratio = 1.01
Current Ratio Five-Year Average = 0.8
Quick Ratio = 0.84
Cash Ratio = 0.72
Interest Coverage Quarterly = 17.43
Retention Rate = 66%
EPS Five-Year Growth Rate = 13.8%
Five-Year Sales Growth Rate = 4.46%
Conclusion
Depending on your time frame, it could make for a good to average investment. In our opinion, at the current price it makes for an average long-term investment. For mid-term traders, it could make for a good investment if you get in at $60 or better and then consider taking profits off the table on a test of the $74-$77 range. Please note these are just suggestions. Feel free to put whatever strategy you are comfortable with into play. From a long-term perspective, the markets have had a very strong run since 2009 and they could be hit with a much stronger correction in the not-too-distant future. In general, we expect them to trend upward until about August-September and then they could start to face some headwinds. Investors looking for other ideas might find the article "Qualcomm: Fetch An Extra 7.4% Or Get In At $48.60 In 7 Months" to be of interest.
EPS and price vs. industry charts were obtained from Zacks.com. A major portion of the historical/research data used in this article was obtained from Zacks.com.

Disclosure: I have no positions in any stocks mentioned, and no plans to initiate any positions within the next 72 hours.
Disclaimer: It is imperative that you do your due diligence and then determine if the above plays meet with your risk tolerance levels. The Latin maxim caveat emptor applies -- let the buyer beware.