After last week's big moves by policy makers in Europe and after clear indications of contraction in manufacturing around the world earlier in the week, not the least of which was the first sub-50 reading in three years for the ISM Manufacturing Index here in the U.S., markets have rallied sharply on hopes that central banks will once again crank up their printing presses for the greater good.
Both the Bank of China and the European Central Bank came through this morning when they slashed interest rates and, as widely expected, the Bank of England launched a new round of quantitative easing, this one to the tune of £50 billion (about $78 billion), bringing their cumulative money printing effort to an impressive £375 billion (or $585 billion).
All that is left (or so it would seem) in order for "risk assets" to continue their party is for the Federal Reserve here in the US to join in on the fun along with other major central banks around the world.
Conventional wisdom is that, after the disappointing ISM report earlier in the week, tomorrow's labor report will result in only tepid job growth and, perhaps, a rising jobless rate, paving the way for Fed chief Ben Bernanke and his cohorts at the central bank to signal that more help is on the way.
But, what if tomorrow's jobs report isn't so bad?
In fact, what if it's relatively good?
There is reason to believe that either of these outcomes are quite possible, if not likely, due to seasonal adjustment factors that continue to play havoc with the economic data.
As shown below, since job growth resumed in 2010, there has been a clear tendency for the seasonally adjusted data to reflect strength early in the year and a summer swoon.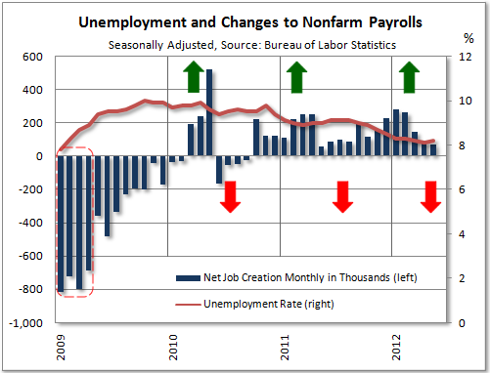 Click to enlarge
At least some of this is due to the early-2009 period being such a disaster for labor markets that, going forward, seasonal adjustment factors have been skewed to push the job numbers for these months higher (as indicated in green). As a consequence, adjustments for other months were pushed lower, in particular, those for the summer months (as indicated in red).
But, what if these odd seasonal adjustment factors stemming from the recession have about run their course and we are about to return to more "normal" looking jobs data?
With job creation of just 77,000 in April and 66,000 in May, the consensus estimate for June is under 100,000, however, what if job creation comes in at 150,000 or 200,000?
Admittedly better than what we've seen in recent months, while a surprisingly good number such as this won't really do the economy much good will since this sort of job growth barely keeps pace with an expanding US population, it will have an important side effect as far as monetary policy in the US goes.
Despite modest moves by the Fed in recent weeks, they are still very much in a "wait and see" mode when it comes to the US economy and a better-than-expected reading on the US jobs market could quickly have them change their stance from "poised for action" to "sitting on their hands".
Of course, that would be terrible news for "risk assets" as much of their resurgence over the last week or so has been in anticipation of more Fed money printing.
It's important to remember that largess from the world's other central banks certainly doesn't hurt, but in order to get a really good rally going fueled money printing, the Federal Reserve has got to be on board as well.
Simply put, a better-than-expected jobs report tomorrow means less-than-expected monetary accommodation from the Fed and, after the run-up by financial markets over the last week or so, few seem prepared for this possibility.
Don't be surprised if the current rally ends abruptly tomorrow morning.
Disclosure: I have no positions in any stocks mentioned, and no plans to initiate any positions within the next 72 hours.