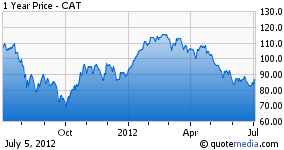 With the federal government looking to scale back spending, construction companies will face reduced momentum in infrastructure. Stocks in the sector have nevertheless rallied since the early-2008 with Deere (DE) and Caterpillar (CAT) increasing by around 450% in value. Manitowoc (MTW) saw less appreciation from its low and it now is valued at around 25% of its high four and a half years ago. Based on my review of the fundamentals and multiples analysis, I continue to find that Deere and Caterpillar will outperform.
One way to value companies is to look at earnings power. Caterpillar has the strongest moat with its recognizable brand name, but still trades at a discount on a multiples basis. It is valued at only 10.9x past earnings versus 11.3x for Deere and 35.1x for Manitowoc. In terms of forward earnings multiples, Caterpillar is the cheapest followed by Manitowoc at 7.9x and Deere at 9.5x. Return on assets (7.1%), return on equity (38.3%), and return on investment (11%) is also highest at Caterpillar. Adding yet another layer to its superior safety profile, Caterpillar has the highest dividend yield at 2.4%.
Since companies are valued based on future earnings, it makes sense to look at growth trajectories. Despite lower past multiples and stronger safety, Caterpillar is forecasted for higher EPS growth over the next 5 years. Analyst expect the annual 5-year EPS growth to be 17.5% for Caterpillar versus 9.7% for Deere and 15% for Manitowoc. It's worth noting that over the past 5 years, Manitowoc has seen EPS fall 29.9% while Caterpillar and Deere have grown this figure by 7.4% and 16.6%, respectively.
To calculate the price target, we can discount future growth expectations. Based on consensus estimates, 2016 EPS will hit $17.49, which translates to a future stock value of $244.88 at a 14x multiple. Discounting backwards by 10% yields a price target of $152.05 - indicating that the stock would nearly double. By contrast, consensus estimates for Deere would translate to a future stock value of $147.32. Discounting backwards by 10% yields a price target of $91.47 -- indicating only a ~10% margin of safety. Manitowoc is very hard to predict given how limited EPS currently is. But consensus expectations would nevertheless translate to a future stock value of $20.72 by 2013 at a 14x multiple. Discounting backwards by 10% yields a price target of $17.12 for 47% upside.
One tenet of financial theory is that discount rates are determined by how much risk is going into an investment. Under that principle, Caterpillar ought to have the lowest discount rate and Manitowoc the highest. But the market seems to be factoring a 23% discount rate for Caterpillar, a 12% discount rate for Deere, and a 21% discount rate for Manitowoc. A caveat to this analysis is that it is dependent on earnings reasonableness. While I find the consensus expectations for Caterpillar and Deere predictable, I believe forecasting Manitowoc necessitates more speculative assumptions
Few firms, save categorical venture investments, should be discounted at rates above 15%. When a brand name company like Caterpillar is discounted at a 21% rate, offers around a 100% margin of safety for a potential stock doubling, reason calls for a "strong buy". I thus agree with the Street in my speculation that Caterpillar will both outperform peers and the broader market. Investors ought to aggressively accumulate shares despite the context of reductions in infrastructure spending. According to FINVIZ.com, Caterpillar is rated a "buy" on the Street and has a $124.68 price target.
Disclosure: I have no positions in any stocks mentioned, but may initiate a long position in CAT over the next 72 hours.
Disclaimer: We seek IR business from all of the firms in our coverage, but research covered in this note is independent and for prospective clients. The distributor of this research report, Gould Partners, manages Takeover Analyst and is not a licensed investment adviser or broker dealer. Investors are cautioned to perform their own due diligence.