The biotech area continues to be one of the hottest sectors in the market. FDA approvals for some key products seem to be increasing. FDA's nod this week to Orasure Technologies (OSUR) for its HIV test just being the latest in a line of approvals over the last few months. M&A activity also seems very healthy. Given the strength in the sector, I continue to take small positions in myriad biotech firms with improving prospects. Dynavax Technologies (DVAX) is a stock I recently increased my exposure to as it has improving earnings estimates, a strong balance sheet and approval of a key drug should occur in the next nine months. It also is showing increasing technical strength.
"Dynavax Technologies Corporation , a clinical-stage biopharmaceutical company, discovers and develops novel products to prevent and treat infectious and inflammatory diseases." (Business description from Yahoo Finance)
6 reasons DVAX is a good speculative value at just over $4 a share:
The stock would have to more than double to reach the median analysts' price target of $9 a share.
Consensus earnings estimates have improved significantly over the past three months and analysts expect the company to turn a profit in FY2013.
The company has a robust balance sheet with over $90mm in net cash on the balance sheet which should be more than enough to tide it over until it becomes profitable next year.
Its Hep B product is on track to be approved in 1Q2013 as it has turned in impressive results. Analysts expect DVAX to have more than a 300% revenue increase in FY2013
Insiders have been net buyers of the stock over the past year. It also has some promising drugs in Phase 1 trials in partnerships with GlaxoSmithKline (GSK) and AstroZeneca (AZN)
The stock looks like it has put in a short term bottom and just crossed its 100 day moving average (See Chart)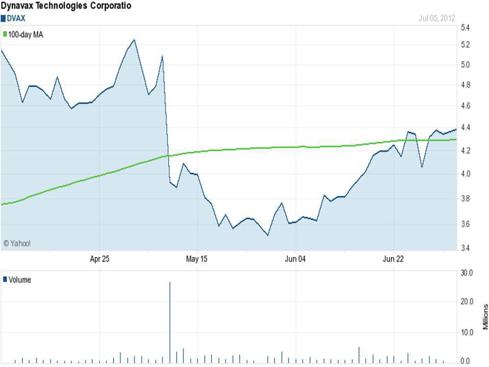 Disclosure: I am long DVAX.