Last week, Immersion Corporation (NASDAQ:IMMR) was was downgraded to sell by Capstone Investments.
Subsequent to this negative recommendation the stock, which was previously trading in the $7 range, lost about 20% of its value in a few days, as shown in the following chart: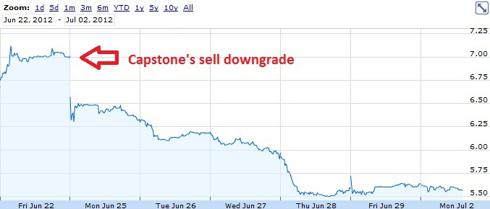 (chart by Google Finance)
A closer look at Capstone's most recent coverage list revels that the company maintains buy recommendations on about 57% of the stocks covered by its analysts, has a hold on roughly 38% of the remaining securities, and only 3 sells, including Immersion Corporation (with sell recommendations representing just about 4% of its complete coverage). Analyst Jeff Schreiner, who is responsible for the semiconductors sector, issued two of these three sells, the other company sharing the privilege being Synaptics (NASDAQ:SYNA) - a developer of custom-designed user interface solutions that partnered, in the past, with Immersion to produce a phone concept aimed at showing their respective technologies in touchscreens phones. The two companies also share the same investor relations firm, the Blueshirt Group.
As a curiosity, we had a look at a few stocks under Capstone's coverage that are also under our radar screen - including several data center related players, our core sector, and companies like Jamba (NASDAQ:JMBA), Atmel (NASDAQ:ATML) and Extreme Networks (NASDAQ:EXTR), finding ourselves mostly in agreement with other ratings issued by Capstone.

A sell is such a rare event among analysts that it may be worth a closer look. The main headline for the downgrade is that Immersion's future success is tied to litigation, not operations.
As a short reminder for those who may not be following the company closely, Immersion Corporation filed a lawsuit against Motorola Mobility, first, and HTC, subsequently, to protect its IP from what the company believes is an unauthorized use made when these two companies include some basic haptics into their smartphones.
Before starting the lawsuit, Immersion's management had clearly alerted investors about its intentions, as stated, for example, during last January's Needham Growth Conference:
Victor Viegas - CEO

So our patent portfolio continues to grow and mature overtime. And as a result, recently we've announced we have six patents, I think now up to eight patents that have to do with almost any form haptic capability on a mobile device. One area includes using haptics in a menu selection, using haptic in a GUI interface, using haptics in a multi-tasking environment, you are playing a game and you get an incoming phone call.

So much of what is currently used in today's phone are covered by this group of patents. So as a result we've begun working with notifying a number of the companies that are producing haptic capability in their phones but it's unlicensed.

So, the typical use in an unlicensed fashion we call it basic haptic. In some cases on the Android Operating System for example, when you're powering up or down, when you are inputting text, dialing a number, there is a very limited set of effects, they all feel the same, they feel buzzy their arm for a rather lengthy period of time, you probably have it in one of your phones.

And in most cases people still like the user experience because there is a lot tactile information. But it is in this crisp. It is in as broadly deployed. It's not as intuitive.

So to add that level of fidelity requires our software, our technology, but we believe our IP covers both. So we've been out selling high-end good experience and clearly, there is a big difference. And Samsung Galaxy uses this extensively throughout their phone system and they're having a lot of success with it. So it does make a difference. It improves user experience. The basic haptics it's not where it need, it should be, but nonetheless it should be a revenue generating event for Immersion.
What the start of the lawsuits means, for investors, is that the company now intends to pursue a strategy based on three different levels of licensing, at different royalty-per-unit rates. Whether Immersion will be successful in collecting revenues for basic haptics mostly depends on the outcome of the litigation, while the other two levels already presented the company's presence in the market place.
Here is a visual clarification of what this all means, starting from basic haptics (licensing Immersion's basic IP), to programmable haptics (both licensing IMMR's complete IP plus software solutions for an easy implementation of better haptics), to the most sophisticated level of effects, the recently introduced HD haptics (best localized haptic effects):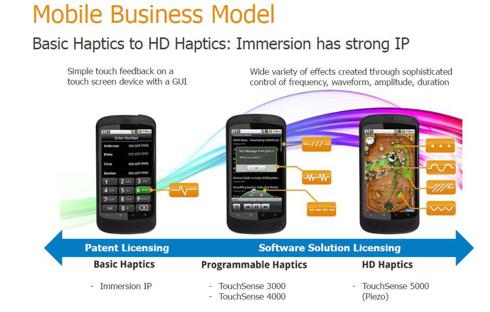 Our understanding is that the decision to proceed legally against Motorola and HTC for their basic haptic implementations was due to several factors, but carefully done after analyzing that it doesn't put at real risk the company's programmable haptics strategy, which is based on the whole company's strong IP (about 1,200 issued and pending patents) AND software solutions allowing OEMs to implement in an easy and quick way much more defined haptics than the basic ones being discussed in the lawsuits.
Said in a different way, licensees like Samsung (OTC:SSNLF) or Nokia (NYSE:NOK) are glad, today, to pay Immersion a small per-unit fee because the company makes higher quality haptics possible and easy to implement in their up-market handsets. The fact that some OEMs implement basic haptics in their devices hasn't stopped Immersion, so far, from adding new licenses and renewing old contracts as the market recognizes the value of the wide variety of haptics offered by the company's programmable haptics effects against a simple touch feedback.
Capstone's analysis disagrees with our view. In his report, Jeff Schreiner underlines that the loss of litigation could "significantly reduce value of haptic patent portfolio, and likely valuation." While we agree that the headline "Immersion loses its lawsuit against Motorola and HTC" wouldn't probably be good news for the stock, it's probably useful to remind investors that the conclusion of the patent infringement case is still roughly a year and a half away, there are several possibilities for a settlement before the trial ends (our favorite output), and, more important, what is being discussed here is basic haptics only, represented by the potential infringement of 6 patents only, and not the entire, and more valuable, company's patent portfolio.
Unlike us, Capstone believes that "future licensing royalties from Samsung may be in jeopardy as we don't believe Samsung would likely continue to pay IMMR if its patent portfolio wasn't affirmed." Even in a worst case scenario, it is interesting to note that Samsung has recently introduced Immersion's new Reverb technology in its flagship, and already very successful, Galaxy S III handset range, in addition to Immersion's embedded TouchSense 3000 software that allows to create more crisp and compelling haptic effects.
In all honesty, this doesn't sound at all the behavior of a customer who has doubts about the value of IMMR technology, but the effort of a very successful producer well aware that its challenge is to exceed competitors' standards in smartphones and tablets through a better product. Immersion's leadership in haptics solutions may offer Samsung a nice differentiator to competition, coming both from Android OEMs (including Motorola and HTC) and Apple (NASDAQ:AAPL). We do not see Samsung, at this stage, going back to a "free" buzz solution to avoid paying a relatively small license fee to Immersion for a set of much higher quality solutions.
It is also worth noting that the company, in the past, successfully defended its IP, in the gaming sector, against giants like Microsoft (NASDAQ:MSFT) and Sony Corporation (NYSE:SNE) (see Immersion vs. Sony). While the conclusion of any complex patent infringement case is always hard to predict, we would not tend to consider Immersion already on the losing side, given its track record in defending its IP.
Capstone's downgrade is also justified by a comparison with Rambus' (NASDAQ:RMBS) current valuation. While we have never followed too closely that company, it seems a bit of an orange to apple comparison. Immersion's case is a relatively simple one about patent enforcement, and related to a minor part of its IP. Rambus' case included more complex accusations of price fixing, deceptive conduct as well as antitrust concerns, and had an impact on the whole value of the company's IP. Before using the same multiples for both companies to estimate Immersion's potential value after a lawsuit loss, we would probably tend to look at the underneath operational success in other segments, like gaming, automotive and medical, which would not be impacted by the outcome of this case at all and that represent, today, half of the company's revenues, with great growth potential, for example as far as the automotive sector.
A bit of housekeeping staff, before going back to the main reasons why we believe Jeff Schreiner's analysis shows only one side of the coin.
Capstone's analyst is also concerned about Immersion's "limited growth opportunities as key end markets such as gaming have begun to slow and key licensees such as NOK have reached dire times."
While we share some concern about Nokia, we slightly disagree with the comment about gaming.
Here is a quick look at how mobility and gaming performed in the last few years (as a reminder, Immersion is forecasting Y/Y growth of 15% at the midpoint of guidance):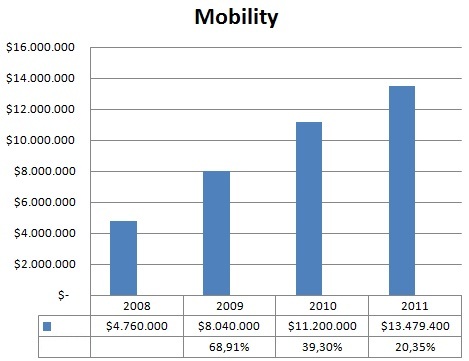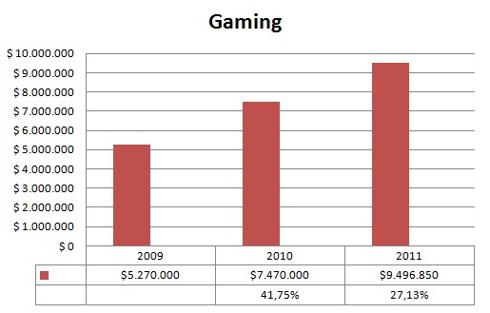 As far as the gaming sector, while it is true that growth in 2011 was lower, in percentage, than the one experienced in 2010 (which included some true ups), the recent performance in Q1 2012 (+35% in royalties and license revenue for gaming customers) doesn't seem to support expectations of a serious slow down this year.
Nokia's transition to the Windows phone platform, on the other hand, may be a cause for concern, mitigated by the fact that the contract seems to be structured around a decent fixed rate per quarter, plus royalties based on the number of handsets sold, as Capstone's analyst noticed, too. In the short term, the impact shouldn't be too bad for Immersion, while Samsung seems to be enjoying such a large success with its IMMR operated devices that it could probably compensate any weakness from Nokia and LG.
Before downgrading the company, Capstone's analyst noted that "the recent move (+35% YTD, +27% since Q1 earnings) within shares would likely be warranted if IMMR had come to terms with one of the two litigants."
While we do not know at what stage Immersion may be dealing with Motorola and HTC, the recently issued timing of the ITC case should probably represent an area of concern for investors who are short the company, at least in the short term:

We still believe that a settlement could be in the best interest of all parties, including Motorola and HTC that could avoid incurring relatively high legal expenses to support the use of a technology, basic haptics, that is already insufficient to compete with their best Android peers. In this hypothetical scenario, we wouldn't be surprised if the outcome of the lawsuit saw Immersion to benefit mostly by "forcing" these OEMs into licensing its more valuable programmable haptics into future products, in addition to settling past use of basic haptics.
In our opinion reducing the value of Immersion's complete patent portfolio to the outcome of its "basic haptics" court case against Motorola and HTC is quite short sighted. While it is true that the ongoing lawsuit will make it more difficult to give the company a proper valuation, the elephant in the room is that Immersion may actually be worth a lot as an acquisition target exactly because of its large patent portfolio in mobility, at a time where most handsets producers are fighting in court to assert their IP and patents have become a must have.
Capstone's analysis is extremely interesting, but in our opinion it doesn't tell the whole story. It actually created what we believe is an interesting entry point for the shares, both in case of an out-of-court settlement to happen relatively soon, or for investors looking at the company's longer term potential, as we are optimistic about the final outcome of the ITC case and we also believe that Immersion will start gaining traction in the medical and automotive sector by the end of 2013, so becoming less dependent from the mobility segment and less likely to see companies infringing its large IP portfolio, as it has already licensed its technology to some of the best available partners in these verticals (I, II).
Disclosure: I am long IMMR.