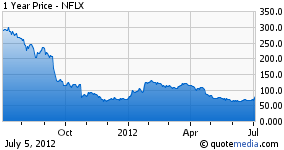 Consumers are beginning to turn to online viewing more and more frequently, but several companies are trying to capitalize on this development. I think that Netflix (NFLX) continues to be in the strongest position to do so, especially when considering the recent developments surrounding the company. Amazon.com (AMZN) has begun preparations for original programming. Several cable companies including Time Warner (TWX), Comcast (CMCSA), and Cablevision Systems (CVC) have teamed up with TV Everywhere and Apple (AAPL) will look for a boost with its iTV. However, I don't see any of these being a large enough threat to take down Netflix. As a result, I think Netflix is poised to rise above $70 and stay there for the next quarter and rest of the year.
A serious way to draw in new customers is to provide original programming, and Amazon continues to provide great competition, especially when it comes to the race for original programming. Amazon Studios has announced its decision to focus on four original television programs, and these will consist of three comedies and one children's show. In addition, sixteen films are currently in the works, so Amazon appears to be in a strong position to capitalize on the demand for original programming. This may help its streaming business cut further into the market that Netflix currently dominates.
This should have a positive effect on Amazon stock and a negative one on Netflix. Since things are still in such early stages, however, investors should not get too excited or upset about this. A lot can change before these shows and films actually enter full production and get released. Furthermore, we do not even know if original programs will be successful in this format, so there are a lot of unknown factors still at play.
With more information becoming available, one must question how important the original programming and general content quality truly is for video streaming customers. Parks Associates recently conducted a study and found that customers are more satisfied with Netflix instant streaming than they are with premium broadcast television. Furthermore, consumers know that pay-TV video-on-demand is higher quality than Netflix, but the cost of Netflix makes it more appealing.
Amazon is still in a good position to compete, as the cost of its streaming services is comparable to the cost of a Netflix subscription. If original programming leads to higher costs, however, Amazon may be unable to benefit much from the introduction of original programming.
Parks Associates also announced another upsetting piece of news for companies like Time Warner, Comcast and Cablevision Systems. While the companies have begun using TV Everywhere to combat Netflix and other online streaming providers, its customers are largely unaware of the online services with TV Everywhere. This means that this initiative has very little potential to make an impact, since these companies are failing to get the word out. Comcast and Cablevision have done the best job, but only about 24% of their customers know about TV Everywhere. Time Warner was the worst in the report from Parks Associates, as only 12% of its customers were aware of TV Everywhere. This is great news for Netflix, Amazon, and other companies that offer online streaming, as the cable companies are doing a horrible job with promoting their online services. As investors realize this, it may have a negative effect of the stock prices for these cable companies.
Another report also helps demonstrate why Netflix is in such a strong position, even when compared to Amazon. J.D. Power and Associates conducted a study that demonstrated how online viewing is increasingly taking place on tablets and smartphones instead of laptops. There is no mention of which company will benefit the most from this, but I think Netflix is certainly in the best position to succeed. As some may recall, the company released a major iOS app update at the end of last month. Netflix clearly understands the importance of this part of the market, and it has been doing well to take advantage of it. With this in mind, I think this recent study gives further reason to believe that Netflix will remain at the top of the online streaming market.
Some are also beginning to speculate about how Apple's iTV will change things for the online streaming market. While Netflix lacks high-quality movies to some extent, iTunes has lacked the unlimited level of access that Netflix has provided. Both of these are important factors, so some speculate that the iTV could lead to collaboration between Apple and Netflix. On the other hand, people have noticed that Apple may also choose to try competing more directly with Netflix.
I do not really see this possible competition as a valid concern though. First of all, Netflix has been available on iOS devices and has been a big success in the past. Furthermore, people tend to exaggerate the poor content quality of Netflix. It has a lot of newer content to offer, and I never understand when people complain about this aspect of the company. I really think Netflix will stay at the top of the industry, and I doubt any possible competition from Apple will harm the company.
Netflix in a great position at the moment. Amazon may be offering a little competition, but original programming might make very little difference when all is said and done. Cable companies are failing to promote their online services, while Netflix has a great new promotion that should bring in new customers. Apple does not seem like a real threat either, even if it does decide to take Netflix on for some odd reason. The mobile streaming market is on the rise, and I think this is where Netflix really excels in comparison to its competitors.
Netflix is nearly at the bottom of its 52-week high ($304.79) and that just shows how much room it has to grow. With competitors floundering, if Netflix is able to improve its systems (and it seems like it is), it will have the chance to gain more ground in the market and boost that price up. We're already seeing gains as the stock rose over 6% last Tuesday, July 3rd. I expect more days like this to come and recommend buying Netflix now.
Disclosure: I have no positions in any stocks mentioned, and no plans to initiate any positions within the next 72 hours.