Hello readers, the time has come for me to do a share valuation exercise of a company that is currently one of the leaders in the technology sector, Microsoft (NASDAQ:MSFT). This analysis is based on 3 methods of share valuation: The Discounted Cash Flow Model, the Graham Formula and EBITDAx7.
I will also review the most important financial metrics to analyze if Microsoft is generating or destroying value with the Capital it has invested. But before we get into it, I'd like to mention some important information about Microsoft.
First of all, 2012 and 2013 will be very important for Microsoft's future. They have 4 major product launches coming:
1. Windows 8 Pro, which is expected to be released between Q3 2012 and early 2013. CEO Steve Ballmer predicts Windows 8 will have 500 million users by the end of 2013.
2. Office 15, which is expected to be released in Q4 2012.
3. Microsoft's tablet "Surface," which is expected to be released this fall.
4. Windows Phone 8.
These 4 products will be the key drivers of the company's revenue for the next couple of years. This graph shows you why these releases are so important:
Revenue per Segment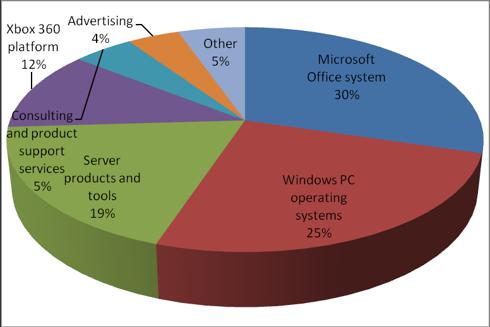 Microsoft Windows PC operating systems and the Office system are still their main revenue source, together accounting for 55% of their income. With both of those segments getting upgrades, their revenues should get a positive impact.
Wildcard
The wildcard is their incursion into the tablet market with the "Surface," which is supposed to be mainly for Business users, incorporating a keyboard so users can do "real" work easier. It will also include Windows 8, so their launch should be, if not simultaneous, very close to each other.
Microsoft is trying to expand and gain some market share on a very competitive and fast-growing market: the tablets; where Apple (NASDAQ:AAPL) clearly dominates with the iPad. Customer's acceptance or rejection of the Surface will determine if Microsoft can really go toe-to-toe with the iPad, something the Playbook failed at miserably.
Investments are growing
Microsoft has $60.8 billion invested in different assets, including associated derivatives:
Link: Note 4 of their 10-K:
$33.6 billion invested in U.S. government and agency securities.
$10.5 billion in Corporate notes and bonds.
$7.9 billion in Common and preferred stock.
$2.3 billion in MBS.
$1.7 billion in Mutual funds.
$1.6 billion in cash.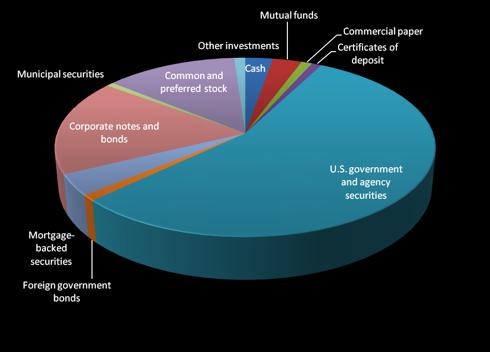 I break these investments down because they are a major part of its balance sheet.
Microsoft has been investing aggressively for the past 3 years, spending between $7.5 and $13.2 billion each year, buying companies they think will integrate well with their business model (such as Skype, bought for $8.3 billion in cash last year).
Share Repurchases and Dividends: Taking good care of investors
Microsoft has been repurchasing stock each year for about $9 billion each year since 2008, also paying between $4.0 and $5.1 billion in dividends for the past 4 years.
From Microsoft's investor relations page:
"In September 22, 2008, we announced the completion of the two repurchase programs approved by our Board of Directors during the first quarter of fiscal year 2007 to buy back up to $40.0 billion of Microsoft common stock. On September 22, 2008, we also announced that our Board of Directors approved a new share repurchase program authorizing up to $40.0 billion in share repurchases with an expiration date of September 30, 2013. As of June 30, 2011, approximately $12.2 billion remained of the $40.0 billion approved repurchase amount. The repurchase program may be suspended or discontinued at any time without prior notice."
Having almost finished the second $40 billion share repurchases program, Microsoft is taking advantage of its huge cash pile to reward its investors via share appreciation and dividend growth.
Their dividend is growing at an average 15.1% pace for the last 6 years.
Historical and Projected Dividends
Dividends Paid

Year

2006

2007

2008

2009

2010

2011

2012

Annual

$0.32

$ 0.35

$ 0.40

$ 0.44

$ 0.52

$ 0.52

$ 0.64

$ 0.80

Quarterly

$ 0.08

$ 0.088

$ 0.10

$ 0.11

$ 0.13

$ 0.13

$ 0.16

$ 0.20

Dividend Growth

14%

10%

18%

0%

23%

25%
Having a 15.1% average dividend growth during the last 6 years, I ran a projection of their dividends to give you an idea of how much Microsoft could be paying investors if they keep their dividend growth policy. Notice how the dividend doubles in 5 years, the question is: will the stock follow if Microsoft keeps this dividend policy going?
| | | | | | |
| --- | --- | --- | --- | --- | --- |
| Year | 2013 | 2014 | 2015 | 2016 | 2017 |
| Annual | $0.92 | $1.06 | $1.22 | $1.40 | $1.62 |
| Quarterly | $0.23 | $0.265 | $0.305 | $0.35 | $0.405 |
| Dividend Growth | 15% | 15% | 15% | 15% | 15% |
Return on Equity, Assets, Capital Structure and Liquidity
| | | | | | |
| --- | --- | --- | --- | --- | --- |
| Company | ROE (last 3 year average) | ROA (last 3 year average) | Liquidity: Current Ratio and Acid-Test | Capital Structure: Debt/Assets | Long Term Debt/Assets |
| Microsoft | 39.1% | 20.5% | 2.60 (2.56 for the Acid-Test) | 47.5% | 11.0% |
Pretty healthy Capital Structure, not much debt to doubt the company's capacity to raise more Debt or Equity if it needed to. Their return on both Equity and Assets has been stable for the past 4 years.
The Liquidity and leverage are at very manageable levels, giving the company a lot of room to maneuver in case of a credit crunch of a deepening financial crisis. They would not have trouble paying the interest on their debt.
Margins (4 year average)
| | | | | |
| --- | --- | --- | --- | --- |
| Company | Gross Margin | Cost of Sales/Sales | Operating Costs | Net Margin |
| Microsoft | 79.5% | 20.5% | 42.2% | 29.2% |
Margins have been very stable at Microsoft, decreasing gross margin to 77.7% for 2011 but increasing net margin to 33.1%.
Piotroski's F_Score & Economic Profit
| | | | | | |
| --- | --- | --- | --- | --- | --- |
| Piotroski's F_Score | Price/Book | EV/Sales Ratio | ROIC | ROIC counting Investments | WACC |
| 6 | 3.73 | 3.33 | 88.55% | 38.6% | 9.53% |
Economic Profit
Given the huge spread Microsoft has between its ROIC and its Cost of Capital (WACC), the Economic Profit comes in at $46.9 billion. The Economic Profit for Microsoft for 2011 is $17.2 billion if we count Microsoft´s short-term investments as a part of its Invested Capital.
Currently, investors are paying $3.33 for every $1 Microsoft´s sales. This gives us a basic notion that Microsoft is expected to continue growing its revenues and cash flows. Any expectation miss would be a huge hit on the company's stock.
Microsoft scored 6 out of 9 in Piotroski's F_Score. The 3 areas where Microsoft failed in F_Score were the Asset Turnover, ROA and leverage, as they decreased from 0.73 to 0.64, 21.8% to 21.3% (respectively) and the leverage increased from 5.7% to 11%. No red flags here.
Valuation Results
DCF Valuation
For the DCF model, I assumed (for all 3 scenarios) that the share repurchase program would be halved in 2013 and the years ahead; if it is entirely suspended, the cash flows would increase even more, and $60 a share would not be out of the question for 2015, since the share repurchases currently have a negative cash flow impact of more than $11 billion per year.
The sales growth assumptions were the consensus of analysts that follow the stock, and since Microsoft usually beats expectations, look for Microsoft to keep beating them.
There are 3 scenarios for Microsoft:
The "business as usual" scenario, which I assigned a 50% chance of playing out if the product launches are greeted with lukewarm enthusiasm by customers and Microsoft continues operating as it has been these past 4 years.
The "Negative Outlook" scenario, which I assigned a 15% chance of playing out if the Surface, Windows 8 and Office 15 fail to meet sales expectations by a wide margin or if Europe falls into a deep financial crisis, impacting major economies including the U.S.
The "Positive Outlook" scenario, which I assigned a 35% chance of playing out if the combination of the Surface, Windows 8 and Office 15 sales beat expectations and contribute to generate more cash flows for the company.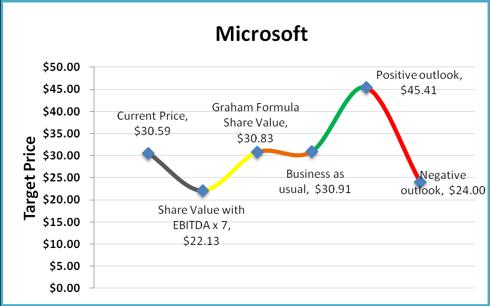 Target Prices
The average price with the DCF valuation is $34.95. This represents a 14.2% upside potential from here until December of 2012. This is my target price.
Currently, Microsoft looks to be slightly undervalued according to this valuation model.
The average for the 3 methods used is $29.30; taking EBITDAx7 and the Graham Formula Share Value and DCF as equal-weighted. I would not take EBITDAx7 too seriously in this case because it fails to take into account all the product upgrades and new releases coming soon.
Standard &Poor's has a $37 12-month target price based on peer discount P/E of 11.5x.
Trade Ideas
Sell to open $30 January 13 puts for $1.90 credit each. You would either get assigned Microsoft at $28.10 or earn a 6.3% return in 6.5 months, 10.5% annualized if the stock is above $30 at expiration.
More aggressive investors may want to buy the 31/35 call spread for the same month at $1.26 net debit per contract. If you combine both strategies, you would have a $0.64 net credit per spread, with the worst-case scenario being the assignment of Microsoft at $29.46.
If Microsoft is above $30 but below $31 at expiration, you would keep the $0.64 credit per contract. The maximum upside is $464 per contract if Microsoft is above $35 at expiration (15.7% ROI in 6.5 months, 26.2% annualized). This trade would tie up $2,946 in capital because of the naked put sold.
For my next article, I will be valuating Apple and comparing it to Microsoft.
Feel free to use the comment section below to ask questions and give feedback and comment on the article, thanks for reading.
Disclosure: I am long TEF.