I decided to thoroughly examine Kandi Technologies, Corp. (NASDAQ:KNDI) recently. While I had my initial reservations (I have not ever invested in any Chinese equities), essentially all of the articles about Kandi are positive on Seeking Alpha. The basic investment thesis of the bulls is that Kandi is set to cash in on making thousands of electric cars (the number commonly thrown around is 20,000) for a battery exchange program in a few Chinese cities. The rumored big order was supposed to come out of the city of Hangzhou. Sounds good so far.
I am a published Tesla (NASDAQ:TSLA) bull, and the prospect of investing in a Chinese EV company was initially intriguing. One question I always like to ask myself before investing is: "what is the catch?" No matter how much I might like an investment, I am always trying to figure out what might go wrong or what the potential downsides might be. With Kandi, I was pretty shocked to discover how risky an investment in Kandi may actually be.
20,000 Vehicle Order Actually 100 Vehicle Pilot Program
Most important information first. In regards to that 20,000 car order that is supposedly on the horizon; it is not happening anytime soon. Instead, there will be a 100 vehicle pilot program. Note: Google translate makes Kandi 'Condi.'
Ouch.
Moving on. For context: The private message board is a Yahoo! forum where Kandi bulls discuss all of the latest news and gossip regarding Kandi. They admittedly are not very private at all. That being said, membership requires a Yahoo! account and the approval of the administrator, which I received within a few hours of requesting to join. Unfortunately, because of this requirement to see the content of the private board, I cannot link any of the messages from the private board for this article.
Here is a telling post from the public Yahoo message boards entitled "private message board making excuses."
"Now that it's pretty much out there that there WILL NOT be a 20K order in August ( which is already more than 6 months longer than many expected), but perhaps just a 100 vehicle test, it seems that a bit of resignation, read: selling is occurring from some of the posters on the private board. In fairness, there's also some buying by some who are not convinced it's going lower, which IMO, it most certainly is.

Another unpredictable surprise out of left field.

Just keep pushing back the goalposts a little more and now the tone is decidedly long term. That's the only way to play this safe -- just change your story from SOON, SOON, to someday over the rainbow. I know, I know, the smart money is buying. With all the amazing research done by so many on the private board (it is quite remarkable, really), this shows how timing on ANY proposed deal or contract or JV or LOI or rollout of anything by anyone is inherently impossible to predict and it is wise to totally ignore those type of predictions. KNDI will most likely succeed abundantly.

Don't listen to anyone's time frame because it's likely to be wrong -- no matter what the tea leaves or brewed pots of tea may indicate, cause there's always hiccups."
I must say I agree 100% with the above post. This is a significant setback for Kandi. Even Mr. Porcari, the ultimate Kandi bull, acknowledges that he does not know if or when this order will be coming in; although he is still admittedly bullish (the post is under a username that is indeed Mr. Porcari, as one can clearly tell from the line "In mine and Marc's Chang's last Seeking Alpha articles..."):
"Is it going to take two years before KNDI sells 20,000 EVs in Hangzhou? I don't know and really don't care at this point in time."
More telling, I believe, were the Kandi bulls who were scared off. A number of them appeared to be disappointed by the 100 vehicle pilot program. From my perusing of the message boards, the consensus of those who sold was that 100 vehicles was disappointing when 20,000 was supposed to be on the horizon in the near future. Hangzhou still has plans for the 20,000 vehicle program. However, as one member noted, who will be supplying those cars to the city of Hangzhou is in question. He also noted that in 2 years, a lot can change; things like technology, a change in policy, competition, etc. This leaves Kandi's big payday in serious doubt.
I considered contacting Mr. Arthur Porcari before writing this article, as he has encouraged anyone with questions about Kandi to do so and is one of the two big bulls behind Kandi on SA (the other being Marc Chang). However, Mr. Porcari has already given his take on the ShareSleuth investigation, so I did not feel it was necessary to do so.
Mr. Porcari characterizes ShareSleuth as a "bizarre blog" and basically gives zero credit to ShareSleuth's investigation of Kandi. However, ShareSleuth is far from a bizarre blog. Yes, there are allegations that Mr. Cuban makes money off of short selling the companies he writes for on the blog. However, he is a billionaire. He is the owner of the Dallas Mavericks. He absolutely does not need to make any more money. He really has a lot more to lose by endorsing false allegations than he would ever stand to gain shorting a relatively unknown Chinese company with a small market capitalization.
I was really disappointed to see this ad hominem attack from a Seeking Alpha contributor. ShareSleuth conducted a thorough investigation. Aside from their independent review of the American retailers for Kandi, their claims are all backed up by publicly available legal documents. I trust an independent investigation by an organization with a proponderance of evidence more than I trust someone who is long the stock and is resorting to name calling.
ShareSleuth Investigation
Kandi is suspected of over reporting sales figures for its Electric vehicles in the US. And by suspected, I mean ShareSleuth conducted a very thorough investigation of dealerships all across the country and was unable to verify Kandi's numbers.
Some highlights from the ShareSleuth report (scroll down a bit to find the Kandi report):
Share Sleuth has uploaded the lawsuits onto scribd.com, which back up their allegations.
(I would encourage anyone interested to read the entire ShareSleuth report. Or take a look at the lawsuit files.)
A 1000 CoCo order from a little known Italian company called Share s.r.l, established within a year of ShareSleuth's investigation, (likely 2010) was unable to be verified by ShareSleuth
A lawsuit/spat between Kandi and Seaseng Inc that is, in a word, disturbing.
Background: There have been numerous lawsuits going back and forth between Seaseng and Kandi. Seaseng is an American company founded by a Chinese national, Mr. Cong Wang, residing in California. Seaseng negotiated a deal to be the first American distributor of Kandi Vehicles. Things quickly turned sour. Long story short, what is most disturbing are the allegations by Mr. Wang that the CEO of Kandi, Xiamoing Hu threatened Mr. Wang's family. The ShareSleuth report even alleges that Mr. Hu paid a bodyguard to go visit Mr. Wang who reportedly threatened is life.
Sometimes, there are no words.
There is also reportedly video tape evidence that Mr. Wang claims to have of Kandi employees stealing important documents and other things from Seaseng. This is the kind of stuff I would expect to see or hear about on The Sopranos. Not by a public company that trades on the Nasdaq.
Not only did Mr. Wang and his family have to deal with disturbing threats, the cars he sold ended up being defective and he took a heavy loss because of it; which Kandi would take no responsibility for:
"Around the same time, according to Wang's lawsuit, Seaseng began hearing from people who had purchased Kandi vehicles and had complaints about poor quality and performance, missing parts and defects. Those unhappy customers wanted new parts, or refunds. According to the suit, Wang forwarded the complaints to Kandi, but the company refused to act on them. Eventually, Wang liquidated all of his remaining Kandi inventory to distributors in Mexico, at heavy losses."
Another reported dealer, Alex Gutierrez, owner of the website Miaminev.com that managed to sell a few Kandi Cocos, said:
"The vehicles were cheaply made, underpowered and loud. Although his group was able to move some of the Cocos, it left many of them in their shipping crates and liquidated them overseas."
Kandi also settled a lawsuit for violating EPA regulations:
"When the U.S. Customs and Border Inspection Service inspected a shipment of 28 vehicles at the Port of Savannah in September 2008, it found that the contents were not ATVS, as described, but mini-cars not covered under the EPA certification. In early 2009, Kandi USA and Solus International voluntarily disclosed to the EPA that they'd already brought a larger shipment of 70 Cocos into the country, under the same declarations. Both Kandi USA and Solus settled the charges with the EPA in June 2009. Without admitting or denying any guilt, they each agreed to pay a fine of $40,000 and either destroy or export the illegal vehicles."
More Concerns
Here are some other red flags, as if any more were necessary:
"KNDI's auditor (Albert Wong & Co) is a lousy one. I cannot believe you (Arthur Porcari) could write 10 articles touting the company without even asking yourself about auditor quality. They don't audit anyone important, and among their few customers, VALV has all the signs of being a scam. The rest are pink sheet nobodies."
Around the same time that Kandi was nearing highs towards the end of 2010 coming off of one of their 'best' earnings reports:
"SEC filings show that on Nov. 17 and 18 (2010), Wangyuan Hu (son of CEO and president Kandi USA) sold about 87,000 shares of his Kandi stock - more than half of his holdings - for a little over $500,000. Two weeks later, CEO Xiaoming Hu sold 10,000 shares for $56,200, his first ever sale of Kandi shares."
Kandi traded at $3.17/share as of market close Monday, July 2nd.
I am really struggling to reconcile the articles I have read on Seeking Alpha about Kandi and the lawsuits and information dug up by ShareSleuth, because they tell two completely different stories. Especially about the company's people, whom both Mr. Porcari and Mr. Chang speak very positively of.
"Documents show that Kelley and his partners packaged the Chinese companies for reverse mergers with shell companies, paved the way for their listings on U.S. exchanges and promoted their stock afterward. One of the partners even fronted the legal and accounting bills for some of the companies. In return for their assistance, Kelley and the other participants in the venture got millions of shares of stock at low, pre-market prices. Their roles were not discussed in those companies' SEC filings, nor were their share deals disclosed. The SEC has taken the position in previous enforcement actions that anyone who is compensated for acting as a finder or facilitator in a reverse-merger transaction must be registered as a broker/dealer (see cases here, here and here)."
Sharesleuth could not find anyone who participated in Kelley's Chinese deals who met that requirement. In fact, one person who was involved in at least three of the reverse mergers was previously charged by the SEC with violating that rule."
The following quote, also from that ShareSleuth investigation, eerily seems to apply to Kandi:
"With the exception of Telestone, whose stock shot to nearly $25 last year, the shares of most of the Chinese companies that Kelley has brought to the United States have followed roughly the same trajectory. They started out on the Over-the-Counter market and then moved to the AMEX or Nasdaq, rising to a range of $5 to $10 a share before entering prolonged declines. Despite the surging Chinese economy, six of the 11 companies that Kelley and his associates helped to bring public reported revenue declines - or, in one case, no revenue at all - in their most recent quarterly financial filings. Because the companies have rarely reached market capitalizations of more than $200 million, their activities have drawn little attention from securities analysts or others who might be inclined to dig more deeply into their structure or finances."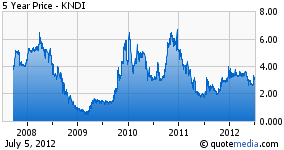 Kandi is one of those eleven companies if that wasn't clear. Market cap according to SA as of July 2nd market close: $94.61 million.
Mr. Porcari's take on the reverse merger:
"KNDI is a China Reverse Takeover (RTO) and it has had a significant reported short position against it. Am I happy that KNDI was an RTO? You bet I am. Just like the early shareholders of Warren Buffett's Berkshire Hathaway (BRK.B) today are glad it was an RTO, but maybe for a different reason. Had KNDI not done the RTO, it is extremely unlikely that this always profitable China company would have ever found its way to trading in the US."
All I will say is that I fail to see the comparison between Berkshire Hathaway and Kandi.
Here is an excerpt of a comment that captures a lot of my reservations from a person on SA who goes by the user handle Business Economics Analyst:
"One of the reasons (I am short) involves the similarity to pump and dump frauds, with press releases that appear to "pump" the stock, then a large increase in the stock price and volume that appears to be a "pump" into which a "dump" may be occurring, followed by a fairly rapid drop in price and volume, appearing to signal the end of the "pump and dump" effort. I invite you to take a look at this activity. Of course, I admit that it proves nothing in and of itself.

I also have concerns about the people involved. I invite you, as I did previously, to investigate the people involved. You will be amazed what you can find on people with just the computer and the internet. However, again, I am making no accusations at this point, just pointing out that it is advisable to conduct your own investigation and make your own conclusions.

Likewise, I have concerns about the reporting concerning the business and the financial statements. Again, I am not making any accusations or definitive statements at this point, just pointing out that I have concerns and inviting other people to do their own due diligence on these matters and come to their own conclusion."
The investor relations website for Kandi, leaves a lot to be desired, to say the least. Notably, they issued a press release on May 31 on their investor relations site about an upcoming conference in Hangzhou in August, where the rumored 20,000 car order was supposed to have happened, in August. Not included on their investor relations site is any mention of the 100 vehicle pilot program. No comment.
I really wish I could, as Mr. Porcari has, dismiss the claims of ShareSleuth as something of a 'bizarre blog'. However, I can do no such thing. I find the work of ShareSleuth to be reputable and backed up by substantial evidence. As a result of that investigation and my own due diligence, I could not be less interested in investing in Kandi.
One can sleep well at night knowing that a company like a Tesla is making a fabulous product, and has good people like Elon Musk leading the way. Unfortunately, one cannot say the same things about Kandi. Their reported sales from the last quarter are included below and only include 296 actual EV vehicles which are some combination of the CoCo, EV and mini-car. The exact numbers of each that were sold; I do not know because they are all lumped together under the 'Super-mini car' line.
Three Months Ended March 31
2012
2011
Unit
Sales
Unit
Sales
ATV
5,124
2,000,300
1,620
$
1,414,516
Super-mini car 1
296
1,185,917
209
1,032,763
Go-Kart
12,981
9,639,676
5,366
4,948,190
Utility vehicles ("UTVs")
20
74,433
233
490,245
Three wheeled motorcycle
248
502,355
191
455,792
Refitted car
35
952,860
-
-
Total
18,704
14,355,541
7,619
8,341,506
1 Includes the products called CoCo, EV and mini-car in the previous filing.
Conclusion
So what are we left with? We have complaints from American retailers of low quality products, a number of which had to be liquidated at a loss. Without the big order, where is the shareholder value coming from? Right now, Kandi looks a lot more like an ATV/ Go-kart company than an EV company.
A company that has this many surrounding issues and no game changing product order on the horizon looks like a highly unattractive investment, in my opinion. If Kandi is bold enough to overstate sales in the United States, one can only help but be fearful about Kandi's sales reporting in China.
The big order everyone is banking on is in doubt. That on its own is a reason to be bearish. Add in the numerous red flags: accounting, reverse merger, product quality, EPA violations, timely insider selling, character; one may have a compelling short candidate. At the very least I see little to no reason for optimism.
Special thanks to Ian Bezek for his ShareSleuth recommendation.
Disclosure: I am long TSLA.