Nokia (NYSE:NOK) is one of the leaders in the telecommunications industry. It provides telecommunications infrastructure, hardware and software services worldwide. Nokia also produces smartphones and smart devices. When it comes to the latest trends, Nokia never fails to modernize its products. It always finds a way to adjust and get back in the competition.
For the past eight years, Nokia's stock price has been going up and down in the market. With an opening price of $2.10 this week, Nokia is currently trading at $2.13, which is equivalent to a negative day change of 0.47%. Additionally, Nokia obtained a 52-week range of $2.04 - 6.83.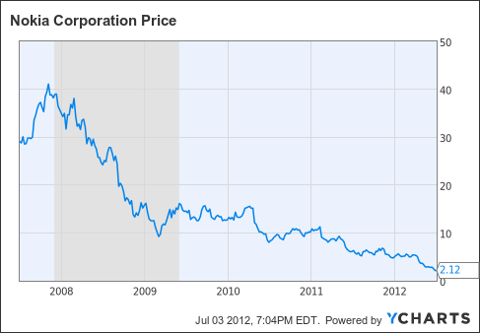 Click to enlarge
NOK data by YCharts
Basic Ratios
With the stock price in its lower peak, market cap is also down to $8.16 billion. Nokia is volatile with a beta of 1.55 and a volatility rate of 4.14%. Its P/S and P/B are 0.20 and 0.64, respectively.
On the other hand, Nokia has a stable debt position. Its debt-to equity is only 0.4, while long-term over equity is 0.36. In short, all debt-related ratios are less than 1.0, which is a healthy sign. It is quite optimistic for Nokia since there is an estimate of positive EPS growth of 103.4% for the next year, and a long-term (5 years) annual EPS growth estimate of 4.17%. Regarding Nokia's cash flow statement, it ended 2011 with positive cash and cash equivalents of $2.13 billion with a free cash flow growth of 0.98%.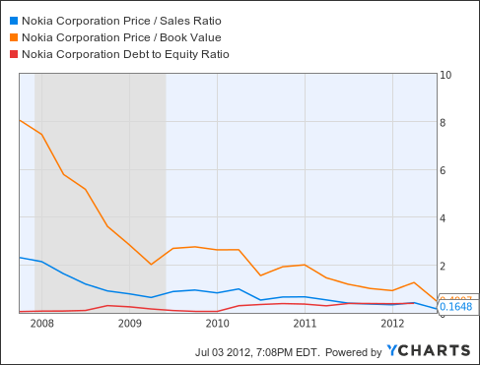 Click to enlarge
NOK Price / Sales Ratio data by YCharts
Dividends
Nokia has been consistently giving out cash dividends to its shareholders since 1996. For presentation purposes, the table below shows dividend payments since 2005.
| | | | |
| --- | --- | --- | --- |
| US ex-date | Record date | Payable date | *Amount ($) |
| 5/4/11 | 5/6/11 | 5/20/11 | 0.567 |
| 5/7/10 | 5/11/10 | 5/28/10 | 0.488 |
| 4/24/09 | 4/28/09 | 5/18/09 | 0.540 |
| 5/9/08 | 5/13/08 | 5/30/08 | 0.834 |
| 5/4/07 | 5/8/07 | 5/30/07 | 0.580 |
| 3/31/06 | 4/4/06 | 4/26/06 | 0.456 |
| 4/8/05 | 4/12/05 | 4/29/05 | 0.430 |
Nokia discovered one way of increasing its shareholder value - by continuously paying out dividends using its free cash. Nokia's book value per share and cash per share are 4.32 and 3.32, respectively. Its annual dividend yield is 8.3% with an annual dividend of $0.25 per share in 2012.
Industrial Analysis
When talking about strict competition in the market, Nokia closely races with Samsung (OTC:SSNLF), Research in Motion (RIMM) and Apple (NASDAQ:AAPL). Despite a poor income statement last 2011, Nokia still belongs to the leaders in total revenue.
| | |
| --- | --- |
| Leaders in Total Revenue (TTM) | |
| CISCO SYSTEMS (NASDAQ:CSCO) | $45.6 B |
| | $44.7 B |
| | $44.7 B |
| | $35.6 B |
| | $35.6 B |
| L.M. ERICSSON TELEPHONE C (NASDAQ:ERIC) | $34.0 B |
| | $32.0 B |
| | $32.0 B |
| | $32.0 B |
| | $32.0 B |
2011 - Year of Transition (pdf)
Year 2011 has been a phenomenal year for Nokia. It has been a year of bold decisions, strategic changes and a lot of difficult moments accompanying those changes. During the same year, Nokia benefited from the consistent strength in its key markets such as the Middle East, Africa, China and Latin America. According to Nokia's report, volume from mobile devices increased by 11%.
Nokia started its partnership with Microsoft (NASDAQ:MSFT) in improving its smartphones. If Nokia can strengthen its partnership with Microsoft and/or bring Android OS to its phones, it can regain its seat back immediately in the smartphone market. Another challenge faced by Nokia was its decline in sales due to the lack of dual SIM phones it offers. This was mostly recovered when the company released its new model of dual SIM phone, Nokia Asha 200.
Nokia highly encourages its executives to own Nokia shares to promote the long-term value sustainability of the stock, and build shareholder value on a long-term basis. For the President and CEO, the required ownership of shares is three times its annual base salary, whereas it is two times the member's annual base salary for the Nokia Team Leadership. This policy is a crucial aid in increasing shareholder value, because top executives will be more analytical and careful in making long-term decisions for the company since they also own the company.
Through everything that Nokia had experienced all these years, sustainability has been a part of the core area of focus of Nokia. According to its press release on June 14, Nokia is planning to acquire world-class imaging specialists, as well as technological and intellectual properties from its long-term partner, Scalado AB. This step is to make Nokia's camera quality maintain its leadership by adding more features, which will allow Nokia camera phones do more than simply taking images.
Nokia's location-based platform is a major prospect of Nokia this year, as Nokia plans to single out its portfolio of Lumia smartphones with location-based services including visual search applications such as the Nokia City Lens, as well as navigation systems. The company also plans to expand its mapping technology to multiple industries to reinforce the platform and create new revenue.
In mobile phones, Nokia intends to improve its competitiveness and profitability. Early results of the innovation can be observed in Nokia's latest Asha phones. All of these ambitious plans are the results of the sustainability goal of Nokia in the world market.
Conclusion
Based on the analysis made above, I personally believe that it is profitable and safe to invest in Nokia today. Nokia has been careful with its shareholder value because it applies theories that increase shareholder value like consistently giving dividends to its shareholders, as well as encouraging its top executives to own shares. Nokia also looks forward in investing in long-term investments that will produce long-term maximization in growth, such as the planned investment in Scalado AB and the recent partnership with Microsoft. Nokia has been courageous enough to sacrifice short-term growth for long-term sustainability.
Additionally, having a set of low debt ratios is also an advantage because the company is not dependent on debt to finance its operations. Nokia is indeed one of the publicly-traded companies that an investor should watch over because of its wide potential ground for growth. Therefore, Nokia seems to be a promising bet for those looking for long-term income.