As consumer spending continues to rise, sporting goods stores stand to benefit. After all, hobby items classify as "discretionary spending," and are often the first to be cut from a tight budget in bad times.
However, even if an industry like sporting goods has positives in its favor, it's important to make sure that individual companies are in a good position. Here's one that isn't in such a great position.
Black Diamond Inc (BDE) engages in designing, manufacturing, and marketing outdoor performance products for climbing, mountaineering, backpacking, skiing, and other outdoor recreation activities in the United States and internationally.
Why It May Be Overvaluedr
The P/E, at 36.56, is shiny and attention-grabbing in the wong way. With the Leisure Equipment industry average P/E sitting at 18.7, Black Diamond's P/E is nearly double the industry average - good for 97th percentile. (Not somewhere you want to be in terms of P/E.)
The 5-year projected PEG ratio is a ludicrous 15.67.
Black Diamond's future doesn't, well, sparkle. Long-term EPS growth is projected at a lackluster 2.3%.
Over the past five years, the cash flow growth rate has been negative 29%.
Over the same time period, EPS has fallen at a 38% rate.
Black Diamond's Return on Equity is an unimpressive 3.4%, vs an industry average north of 30%.
Black Diamond's Income/Employee ($11,275) and Revenue/Employee ($273,000) are well below industry averages of $35,600 and $438,000 respectively.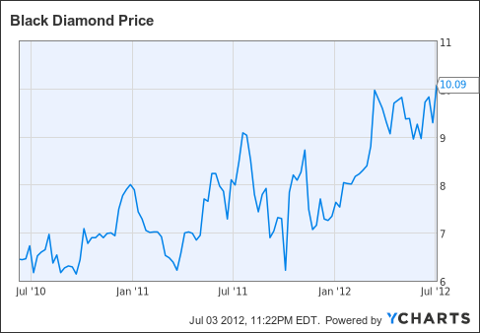 Click to enlarge
To conclude, leisure/sports stores certainly stand at the front of the list of industries that could benefit from a sustained economic recovery. However, you can probably find better value than Black Diamond by analyzing other stocks in the industry. While Black Diamond may go up with the industry as a whole, stocks with better fundamentals are likely to outperform BDE.
Disclaimer: I am an individual investor, not a licensed investment advisor or broker dealer. Investors are cautioned to perform their own due diligence. All information contained within this report is presented as-is and has been derived from public sources & management. Always contact a financial professional before making any major financial decisions. All investments have an inherent degree of risk. The future is uncertain, and actual results may be materially different from those expected. Past performance is no guarantee of future results. All views expressed herein are my own, and cannot be interpreted as the views of my employer(s) or any organizations I am affiliated with. Presentation of information does not necessarily constitute a recommendation to buy or sell. Never make any investment without conducting your own research and reading multiple points of view.
Disclosure: I have no positions in any stocks mentioned, and no plans to initiate any positions within the next 72 hours.