It's becoming increasingly difficult to keep up with all of the Federal Reserve's new programs to keep the system solvent, well lubricated, and functioning.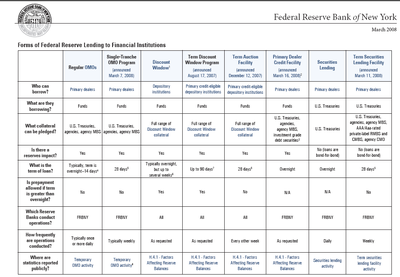 Click here for pdf file
Now, you can track all of these programs via the Federal Reserve Bank of New York. They published a handy guide counting all the ways you can engage in Moral Hazard borrow from the nation's lender of last resort.
These Five were created since August:
• Term Securities Lending Facility [TSLF], announced March 11, allowing securities dealers to get Treasurys at auction for 28 days
• Primary Dealer Credit Facility [PDCF], announced March 16, for securities firms to receive overnight loans
• Term Auction Facility [TAF], announced December 12, for banks to get funds at auction without the discount window stigma
• Single-Tranche OMO (Open Market Operation) program, announced March 7, allowing securities dealers to get 28-day funds
• Term Discount Window Program [TDWP?], announced August 17, extending the length of discount-window loans to 90 days
Hat tip: Real Time Economics
Source:
Forms of Federal Reserve Lending to Financial Institutions (pdf)
Federal Reserve Bank of New York
March 2008