Let's go back to basics. Their balance sheet shows that the assets of Taubman Centers (NYSE:TCO) and its liabilities cancel each other out, i.e. zero value.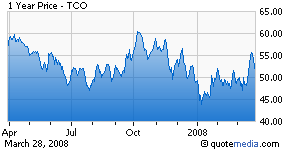 However, we must calculate an enterprise value based on revenue, cashflow, etc. Both of these are also poor, and not worth its $4 billion plus valuation, probably $400 million for goodwill, etc.
Where does the company go from here?
In a faltering retail environment, the vacancy levels will rise to between 10% and 12%, as an estimate; therefore revenues could fall by 7%, allowing for rent increases. Debt servicing costs will rise, as they have lost their BB/BB- rating, and lastly the asset value of their properties will fall, probably by at least 10% this year. No rosy outlook here.
Can they sell assets?
If they try to sell assets at this time, they may achieve 85% to 90% of asset value, but their balance sheet shows no available assets to sell. Therefore, selling assets will make their balance sheet worse than before.
Can they re-capitalize?
Yes, but who would be stupid enough to buy at their current stock price?
Are they currently solvent?
Depending on when they last valued their assets, they may not be; most retail REITs have fallen much further in value, but Taubman Centers appears to have bucked this trend.
I will view the coming weeks with interest, as I believe that Taubman Centers may be the first casualty in the mall market.
Disclosure: none