Strategic Mindset: In the Primary Model Portfolio we continue to maintain our bearish strategic mindset. Further monetary easing out of the ECB and China to stimulate their slowing economies only strengthens our position, and we have job numbers this week that aren't going to light the market on fire.
Target: ProShares Short S&P 500 (SH) trading @ $36.20
Commit Criteria: With volatility near record lows (NYSEARCA:VXX) (VIX) and an earnings season that has a lot of hype to live up to, we're protecting some long positions in the Primary Trade Alert Model Portfolio by shorting the S&P. We can do this by getting bullish on an ETF that is short the S&P. Challenges overseas and domestically lead us to believe that the S&P has had a good run recently and we're are looking for it to channel or pullback. This is the objective of this trade.

Tactic: Sell 35 Aug12 34/36 Bull Put Verticals @ .60 Limit
Tactical Employment of Bull Put Spread:
- Selling to Open 35 SH Aug 2012 $36.00 Puts
- Buying to Open 35 SH Jul 2012 $34.00 Puts
- Net Credit: $.60 per Bull Put Spread for a total of $2100.00
- Max Gain: $2100.00 (60% probability)
- Max Risk: $4900 (8.86% probability)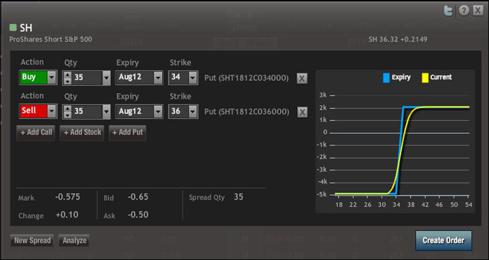 Mid-Course Guidance: We will be watching for a price movement below the short 36 strike. We are actually safe on this trade down to $35.40 but if the short strike is threatened we will adjust the Bull Put Spread as necessary.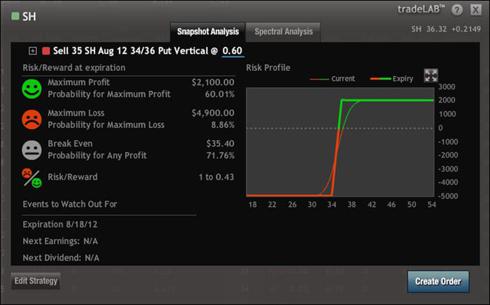 Profitability Target: We will wait for this Bull Put Spread to expire worthless taking the $2100.00 credit as profit. If the S&P surges up in the near term we may choose to close this trade early, taking a smaller, but faster profit.
Exit Tactic: We will wait for this Bull Put Spread to expire worthless, adjusting as necessary. We will exit this trade if we lose the max credit we take in - $2100. As always we eject from the trade if our Commit Criteria change.
Merkel will have to sell this new EU bailout plan at home and the German people will not like it. Finally, the math simply doesn't work out. The eurozone will implode...it's not a matter of if, but when. We also believe we're in for a lukewarm earnings season so the S&P may channel or pullback accordingly.
Disclosure: I am long SH.
Additional disclosure: We hold this position in our Primary Model Portfolio.