With building starting to pick up, many investors are starting to reconsider stocks in the building industry. However, even with positive trends for the industry, it's still important to analyze individual companies. One stock that caught my eye as overvalued is Apogee Enterprises (APOG). Apogee designs, engineers and manufactures window systems for commercial and security buildings. They also manufacture auto glass and optical thin film coatings. "Apogee" means the point at which an object in orbit is farthest from Earth, after which it starts to come closer. Why Apogee Enterprises may fall to earth soon:
Apogee's P/E is 52.5 on a TTM basis, which is about four times the Building Products average of 13.86.
Apogee's PEG ratio, at 6.19, suggests that the company needs a whole lot of growth to justify current prices.
Unfortunately, growth looks lackluster: long-term EPS growth, at 8.5%, isn't terrible - but it's not enough to justify such high valuations, especially since the building products industry projected growth (15.6%) is close to double Apogee's.
The company has a $0.36 annual dividend. In FY 2011, total EPS was only $0.17, meaning the dividend was paid at least partially through debt or existing cash rather than earnings. In the first quarter of 2012, EPS was only $.06 per share, meaning that the dividend was again (at least partially) debt-or-current-cash-financed.
Apogee's operating margin, at 1.44%, is razor thin - significantly below the Building Products average of 5.12%.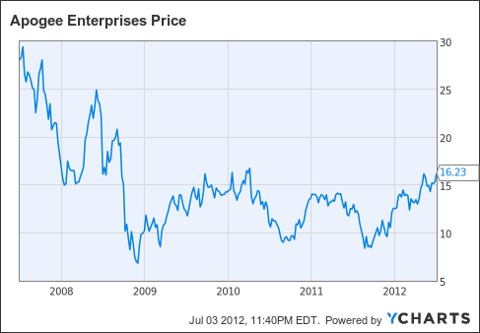 Click to enlarge
As building activity starts to increase, companies like Apogee stand to benefit. However, Apogee's relative valuation is high, and I suspect that investors can find better alternatives to maximize total return potential.
Disclaimer: I am an individual investor, not a licensed investment advisor or broker dealer. Investors are cautioned to perform their own due diligence. All information contained within this report is presented as-is and has been derived from public sources & management. Always contact a financial professional before making any major financial decisions. All investments have an inherent degree of risk. The future is uncertain, and actual results may be materially different from those expected. Past performance is no guarantee of future results. All views expressed herein are my own, and cannot be interpreted as the views of my employer(s) or any organizations I am affiliated with. Presentation of information does not necessarily constitute a recommendation to buy or sell. Never make any investment without conducting your own research and reading multiple points of view.
Disclosure: I have no positions in any stocks mentioned, and no plans to initiate any positions within the next 72 hours.