Of the nearly 200 key ETFs across all asset classes that we track daily in our ETF Trends report over at Bespoke Premium, 83% are currently trading above their 50-day moving averages. Below is a table showing the 30 that are currently the farthest above their 50-days.
As shown, natural gas (NYSEARCA:UNG) is the farthest above its 50-day at +13.25%. Prior to a couple of months ago, UNG seemed permanently stuck in a downtrend below its 50-day, but it has been a consistent winner since then. The agricultural ETF (NYSEARCA:DBA) had also been a perpetual loser for awhile, but it too has bounced significantly in recent weeks and is currently 8.84% above its 50-day. Mexico (NYSEARCA:EWW) is the most overbought international market ETF at 6.18% above its 50-day. Other notables on the list include homebuilders (NYSEARCA:XHB), India (NYSEARCA:INP), and various energy and smallcap ETFs.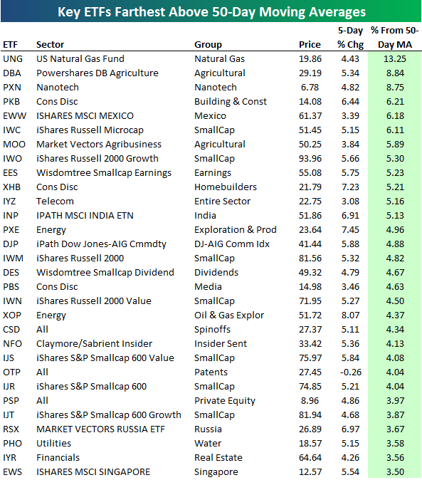 There are 29 ETFs from our database that are currently below their 50-days. The majority are commodity, currency and international stock ETFs. Silver (NYSEARCA:DBS) is the farthest below its 50-day at -3.59%, followed by two oil ETFs (OIL, USO).