Apple (NASDAQ:AAPL) and Samsung are producing their own custom SoC (system on a chip) for their mobile devices. Huawei and HTC are also pursuing this initiative. Overtime, more handset makers might develop their own chips that could marginalize third-party chip designers. The key question is: Will the handset makers' custom chips pose a threat to Spreadtrum Communications (NASDAQ:SPRD)?
In my vew only the well-established handset makers have the capability to develop custom chips while the low-end and the white-brand makers will unlikely to pursue this strategy because 1) such a project is beyond their core competency, 2) high R&D cost makes it economically impractical, and 3) substitute chips that have comparable performance are readily available at a fraction of the price.
For 2H12, we could see ramp up in SPRD's smartphone chipset (~1mm in Q2 according to management), specifically the SC8810, which was approved by China Mobile and adopted by Lenovo, Huawei, Haier and Konka. The SC8810 is a 40nm chip that features 1GHz speed, which is comparable to Apple's A5x with 800MHz - 1GHz speed. The fact that the SC8810 is being used by multiple handset makers is a positive since the prior SC8805, which featured 550 MHz speed did not gain much traction.
Detailed Analysis
In China, the fastest growing mobile device segment features smartphones and tablets that are priced below RMB 1,000 ($160). According to Analysys International, smartphones priced between RMB 700 - 1,500 accounted about 64% of the Chinese market in 1Q12, compared with less than 45% a year ago, as users trade up from feature phones to smartphones and as carriers attract customers with free smartphones in exchange for long-term contracts. In addition, Chinese handset makers have become key suppliers of low/mid-end phones to emerging markets such as India, Middle East and Latin America.
Shanzhai dominates the low-end segment because it delivers comparable features and functions to that of high-end phones but is set at a lower price point.
Shanzhai has a similar supply chain to that of branded manufacturers such as Samsung and Apple except that the supply chain is formed by clusters of no brand small-scale factories that specialize in different parts of the chain.
Some notable former Shanzhai companies are HTC and Xiaomi, which have evolved to leading mobile handset brands in China.

Click to enlarge
Spreadtrum's core competency lies in its cost advantage (15-20% on chips), and the ability to deliver quality chipsets at lower price points (~$1.5 per chip cheaper) than rivals.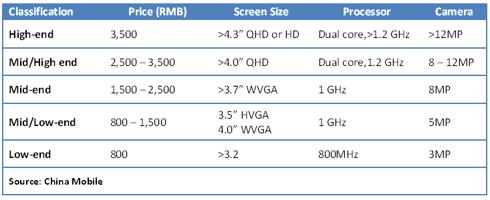 Click to enlarge
Despite making good inroads by Apple and Samsung in China, the Shanzhai market is not going away and will support SPRD's growth in the low/mid end segment for the following reasons:
Shanzhai is deeply rooted in the Chinese culture and is widely embraced by Chinese entrepreneurs
Evolving Chinese market with weak, inconsistent and opaque regulation
Irresponsive industry incumbents, especially MNCs, that lack adequate understanding of the Chinese market
Well-developed supply chain allows Shanzhai to be very flexible
Under-served rural market with a very sizable low/mid-class that are price sensitive and, yet, trend-following
China Mobile's recent tender highlighted SPRD's positioning as a chip provider for the low-end smartphone market while larger rival Mediatek is more suitable for the mid/low-end segment due to its long track record of providing smartphone chipsets.

Click to enlarge
Custom chips for the low-end phones does not make much sense.
It does not make too much sense for handset makers to copy Apple and Samsung's strategy of developing a custom chip and apply it to the low/mid end segment because:
Mobile phones and chip designs are not part of low-end handset makers' core competencies. I note that companies such as Haier and Konka are known as consumer appliance manufacturers and it is impractical for them to branch into chip design from appliance manufacturing.
R&D expense could further shrink the margin on an already low-margin product and such cost could turn out to be counterproductive for the conglomerates that lack experience in chip design and mobile phones. For example, Apple's chip team has approximately 1,000 engineers, or 5% of its non-retail workforce. Such investment is difficult for many companies to make without proper leadership.
There is a surplus of readily available SoC that can deliver acceptable performance for a low price. Smaller companies, such as Xiaomi, Coolpad, Great, are even more unlikely to invest in custom chips because they lack the financial resources and human capital. From an operational standpoint, these companies are better off using the readily available third-party chips.
Finally, the custom chip would have to be compatible with operating software that the handset maker previously used. For example, if HTC makes a custom chip, then the chip has to be compatible with Android, which is HTC's current OS partner. Unless HTC creates a whole new operating system with a specifically designed chip, such as Apple's A5 and iOS, then it is impractical to invest in a custom chip only to maintain the status quo. Again, these companies are better off using SPRD, Qualcomm or Mediatek, which are already providing SoC for their low/mid-end devices.
However, custom chips for the high-end segment is more practical.
Developing custom chips for the high-end segment is more practical given that Chinese firms are expanding their brand and reach, and moving up the value chain to be a recognized global player. For example, HTC's flagship HTC One X competes directly against iPhone and Galaxy S III. By using a custom chip for the high-end segment, HTC can ensure product quality and could use it as one of the selling points.
If this is the case, then the high-end custom chip will still not be a direct threat to SPRD because it is only relevant to the high-end segment, not the low-end segment that SPRD operates in.
Spreadtrum will report Q2 earnings later this month. I will have an earnings preview in the next few weeks.
Disclosure: I have no positions in any stocks mentioned, and no plans to initiate any positions within the next 72 hours.