I think it is time to buy Canadian oil production stocks, which have quietly turned around from a sharp decline during 2012. The market doesn't tap you on the shoulder and say, "Hey, it's time to buy." That's my job.
The WTI crude oil price has rallied from approximately $77/barrel last week, to $86.69 at the close today. I think it is time to get into some oil and gas production stocks. This is a sector I know well, but haven't visited since last year.
The oil rally was triggered by, right or wrong, feelings that the eurozone leaders will be able to paper over the credit crisis for awhile longer. So the market flips from default fears to inflation fears, and oil and other commodities benefit. I like the fact oil was down less than a dollar today, even though the euro dollar rate deteriorated by a cent and a half.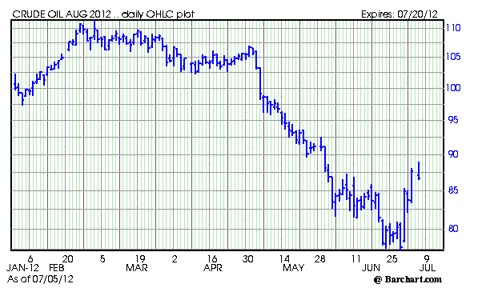 Supportive of the oil and gas stocks is the heat wave in the U.S., which increases natural gas consumption, and the rise in corn prices, which makes petroleum gasoline attractive relative to corn ethanol.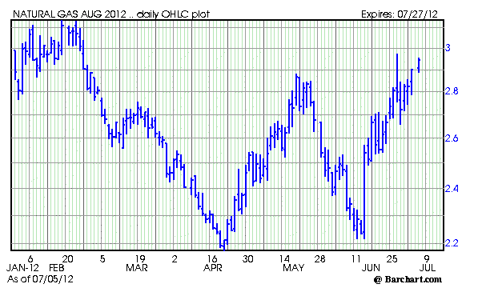 The third factor helping oil prices is the initiation of the Iranian oil embargo in Europe, effective July 1. This should remove a million or so barrels of oil from the market during July. Iran is the 2nd largest producer in OPEC with slightly over 3 million barrels.
The main negative dragging oil prices down is lack of global economic growth and demand for refined products. We saw interest rate cuts by the ECB and China today, which is supportive of more growth.
We also saw an Energy Information Administration report today showing a drop in U.S. crude oil inventories of a greater than expected 4.3 million barrels. But that could have been caused by disruption to Gulf unloadings caused by Hurricane Debby during the last week of June.
The number I like to watch is the total oil product supplied for the week ending June 29, which was 19.2 million barrels per day, up from 18.8 for the week ending June 22 and 18.6 million ending June 15.
This means demand for oil products is recovering, perhaps driven by lower prices. Refineries are operating at a high rate (92%) and there is good news in that a couple of key East Coast refineries are going to stay in operation.
I like mid-cap oil-heavy production company stocks that operate in Canada. Yes we have pipeline issues that are causing a glut in local heavy oil and bitumen in the Western Canadian basin. But I'd trade our problems for the worries of buying international oil. Do you really want to worry about a potential civil war in Nigeria? Or the oil worker strike in Norway? As an aside, the Norwegian oil producers have announced a lockout which should begin in a few days, and will no doubt be legislated away. So Norway does need watching.
All in all, I expect crude to continue upwards as credit fears take a hiatus, as oil refineries come off maintenance, and a turnaround in Chinese growth could be the impetus for a rally up to the mid to high $90 level on WTI.
Here are a few names to consider and we have bought all of them at current prices and in Canadian dollars.
Canadian Oil Sands (OTCQX:COSWF)
This is a senior production company with reliable leverage to higher oil prices as they do not hedge. COS manages the Syncrude oil project, and owns 36.7%. (here) The shares dropped to about $18 1/2 last week but have rallied nicely to close at $20.08 - all dollars Canadian.
I think COS is an attractive buy here and could get back to the mid $20s given crude rises to the mid $90s. The quarterly dividend was raised to 35 cents for Q1 which featured an average SCO (Synthetic Crude Oil) price realized of $97.07. Cash flow per share was 94 cents.
Given the much lower oil price in Q2, you might expect the next dividend to be cut back to the Q4 level of 30 cents. Syncrude SCO trades at about a $5 discount and last traded at $83.46 The Imperial Oil Strathcona refinery is going back on line after extended downtime, which should firm up the discount.
The company has a conservative balance sheet and raised $700 million in long term debt to fund maturities and capital growth expenditures. COS has also stated that some of the funds will be used to ensure dividend stability. So the annualized yield at the close was 6.97%, which is attractive given the low production risk with upside oil price potential. The company will report Q2 in late July and market pundits already know the results will be weak due to the lower oil price. The next dividend "ex" date will be in the third week of August.
COS has no exploration risk. Capital expenditure is for maintenance and to increase production. However, the cokers used to refine the bitumen and upgrade it to synthetic crude, do require regular overhauls. In Q1 one of the cokers was down so COS produced an average 108,108 bbl/day which is on the low end of their 106,000-114,000 guidance for 2012. Another coker was taken down during Q2. (here)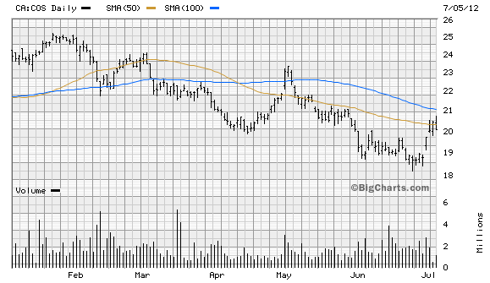 PetroBakken (PBKEF.PK)
This is another producer of light crude oil (86% liquids weighting), but a driller, not a miner, as is the case with COS. (here) We identified PBN as a buy last fall when trading at about $8 Canadian. It subsequently more than doubled to $18.28 CDN but has since declined with the drop in crude.
This Canadian Bakken (SE Saskatchewan) and Cardium (Alberta) oil play has turned around after choppy trading in the $11-12 range. We think PBN can get back to the $15 area with a WTI crude rally to the mid to upper $90's. Production averaged 46,722 boe/day in Q1 2012.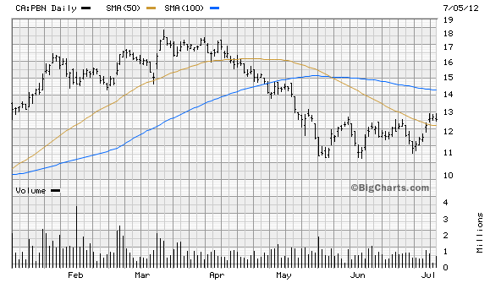 PetroBakken pays an 8 cent per month dividend (24 cents per quarter) and yields 7.61% at the $12.61 closing price. Q1 cash flow per share was 99 cents so coverage was good, although just as in the case of COS, Q2 will be reduced by lower pricing.
The story with PBN is sometimes met with skepticism, due to the high yield, and higher than Stateside depletion rates experienced on the Canadian side of the Bakken play. The debt level was too high and so the company took steps to refinance and reduce by selling assets. PBN sold 10.5 million boe of 2P reserves in the Bakken for $427 million in February (7% of their Bakken reserves and 12% of production, and intends to emphasize their Cardium play.
Total asset sales in Q1 will bring in $624 million gross, reducing their credit line borrowings to $218 million, with unused $1.1 billion on the line. PBN instituted a DRIP dividend program last December, which will help preserve cash flow.
PBN has been buying back their own shares this year. Their 51% majority owner, PetroBank, has also been buying and selling shares.
Legacy Oil Gas (OTCPK:LEGPF)
This is another Canadian Bakken play, and a new name for us, so we are still getting a handle on all aspects of its operations. (here)
We watched the stock climb to over $12 late last year and into Q1 due to increasing investor interest in the Bakken oil play. LEG currently sits at $5.97 Cdn and we think it is poised to break back to the upside.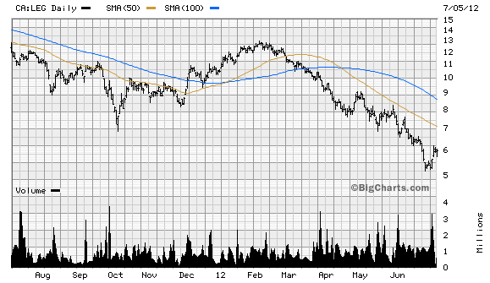 Q1 cash flow per share was 42 cents. Legend is smaller than COS and PBN, with 16,370 boe/day, of which 12,370 was light sweet crude. The average price realized was $90.48 for light, $82.26 for a small amount of heavy, and $2.72 mcf gas.
Legacy seems to be reorganizing, rolling some of its SE Saskatchewan assets into a shell named Bowood Energy (BWD) via a reverse takeover. They will fund the shell and receive 200 million shares out of 500 million which will be outstanding. BWD will then consolidate 20:1.
This plan was announced in mid May and probably was shelved due to the lousy markets. Given the commodity market revival, we expect the plan to go ahead, which should enhance the share price of Legacy. I have no comment on the valuation of Bowood, which trades at a few pennies a share, and would have a market cap of about $30 million based on the close of 6.5 cents.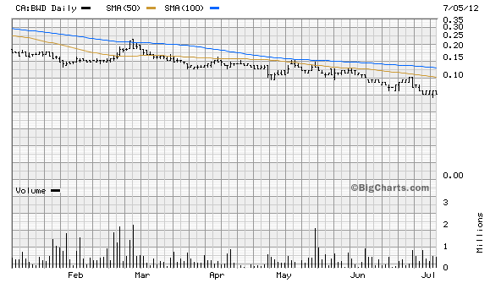 Paul Colborne, Chairman, has been buying Legacy shares during June, from the $7.28 level down to $5.27 most recently. That's a good sign.
Disclosure: I am long OTCQX:COSWF, PBKEF.PK, OTCPK:LEGPF.