Bank of America (NYSE:BAC) has jumped on board the "Capital Treatment Event" train and announced the redemption of certain of their trust preferred securities [TruPs] that will no longer qualify as Tier 1 capital. This is as a direct result of the Federal Reserve's proposed rules for bank regulatory capital (release found here).
Under the proposed rules, Tier 1 Capital will now consist of:
1. Common Equity Tier 1 Capital
Common stock instruments (that satisfy specified criteria in the proposed rule) and related surplus (net of any treasury stock);
Retained earnings;
Accumulated other comprehensive income (AOCI); and
Common equity minority interest.
2. Additional Tier 1 Capital
Noncumulative perpetual preferred stock and related surplus;
Trust preferred instruments traditionally issued by certain bank holding companies will not qualify as additional Tier 1 Capital.
The larger banks that have announced TruP redemption include Citigroup (NYSE:C) and JPMorgan Chase (NYSE:JPM). (I wrote about them earlier here.) These banks are getting rid of their higher cost TruPs as they will no longer qualify as Tier 1 capital and they should be able to raise funds (capital qualifying or not) at a much lower rate.
Specifically, Bank of America has announced that they will be redeeming the following issues: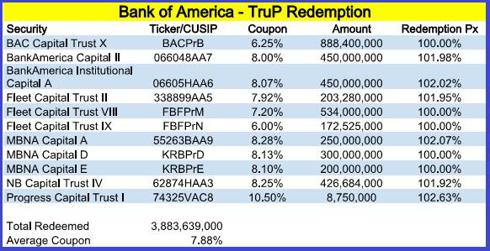 Click to enlarge
The reason given is similar to all the others that have decided to redeem their Trust Preferred securities (release here):
The trust preferred securities will be redeemed at the applicable redemption price (as a percentage of the liquidation preference) listed in the table below, plus accrued and unpaid distributions to the redemption date. All of the redemptions are being effected under the optional redemption provisions applicable to the trust preferred securities of each trust, and not pursuant to redemption provisions relating to the determination of the occurrence of a "Capital Treatment Event."
Now that Bank of America has announced the redemption of these trust preferred securities, what are the options of holders of these securities as well as income investors who would like to position Bank of America?
The following preferred stocks are available to investors who would like to roll their called positions within the name or investors who want to invest in Bank of America with a focus on income (if I have missed any, I apologize):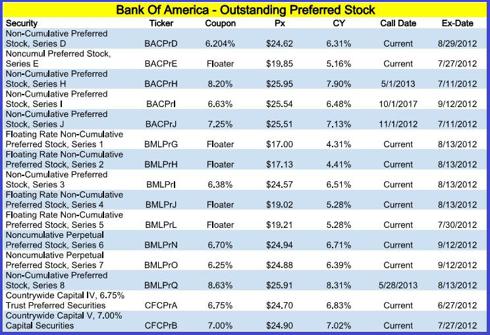 Click to enlarge
Source: Bank of America, Quantum Online and QuoteMedia
The table above includes $25 par securities that are exchange traded. A list of BAC preferred stock can be found here, and a list of their trust preferred securities can be found here. I have included the ex-date, as this will indicate how much of the price is accrued (the stripped price, which is the price minus accrued, as that is what you are really paying per share).
Bank of America has also recently called two series of its "internotes" which is exchange traded subordinated debt. These issues are:
| | | | | |
| --- | --- | --- | --- | --- |
| Issue | Ticker | Coupon | Amount | Call |
| Subordinated InterNotes | IKJ | 6.50% | $218,643,825 | 7/15/12 |
| Subordinated InterNotes | IKL | 5.50% | $100,277,850 | 7/15/12 |
A quick look at the equity alternative: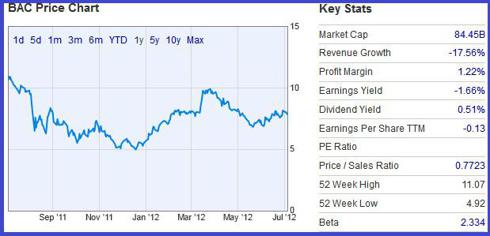 Click to enlarge
For income focused investors, BAC is a hard sell as its dividend yield is a paltry 0.51%.
Bottom Line: Having called nearly $4 billion in trust preferred securities, Bank of America investors are getting some money back at the worst time possible. There are, however, alternatives within the name that could help ease the pain of the call. Of the listed alternatives, my three top picks are:
BACPrJ - While it is trading at a premium of $0.51, approximately $0.45 of this is accrued, making the "net" premium approximately $0.06. With a 7.25% coupon (7.13% yield), redemption risk is elevated, but manageable.
BMLPrN - Yielding 6.71% and trading at a slight discount, the issue is attractive. Having a 6.70% coupon lowers the redemption risk as the issue is currently callable, but not higher up in the coupon stack.
CFCPrB - The 7.0% coupon trading at a discount ($0.10 on the face, but approximately $0.50 with the accrued stripped out) to yield 7.02% is attractive. This is a TruP, so a capital event could be used to call it, which would increase the return. One cautionary note, however, is that this is a Countrywide instrument which could get decimated should BAC pursue the "nuclear" option with Countrywide (filing the entity). This risk has reduced over time, but cannot be fully ignored.
As the equity of Bank of America has been going sideways, these securities are good income producing vehicles with some (very limited) upside.
Before being asked, I am long CFCPrA and BMLPrH as I bought them far lower than their current prices and need a tax offset to swap. Both are swap candidates once a sufficient tax offset is generated. These will be swapped into a combination of the above listed top picks unless there is a significant pricing/relative value change.
Additional disclosure: Author is also long CFCPrA, BMLPrH.This article is for informational purposes only, it is not a recommendation to buy or sell any security and is strictly the opinion of Rubicon Associates LLC. Every investor is strongly encouraged to do their own research prior to investing.