Everyone and their brother knows of the woes the housing market is facing – not exactly a new story. What I find remarkable, though, is how much interest there is in the homebuilders from an investment perspective. The wildly popular ETF, the SPDR S&P Homebuilders (NYSEARCA:XHB), which has declined over 50% in the past two years, has $184mm in trading on average per day. Interestingly, the volume has tripled over the past year as short-interest has increased about 60% (100% of float). For those not familiar with the ETF, it is rebalanced quarterly to have equal weighting of 23 names (most of which aren't actually builders but suppliers - see holdings).
click to enlarge images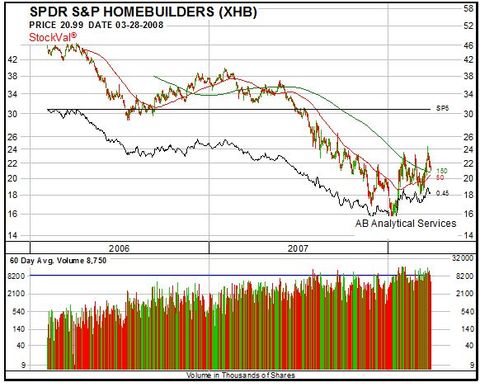 With the prices of the builders down so much, it isn't surprising that there is significant investor interest. While the point of this article isn't to detail why I believe both the bulls and the bears will be disappointed in the ultimate price changes in the builders over the balance of 2008, there is no doubt that they will be great trading vehicles. For long-term investors, I would caution trying to catch the falling knife, as the inventories are massive, the competition fantastic (from existing homes, foreclosed new and used homes and too many builders), and the off-balance sheet and on-balance sheet liabilities massive. With that said, though, I believe that there are many derivative plays affording remarkable entries. I wrote about Mueller Industries (NYSE:MLI) recently, and there must be dozens of home-related small-cap companies equally attractive.
Today, I would like to focus on a few of America's leading retailers with big exposure to housing that offer quite compelling valuations: Bed Bath and Beyond (NASDAQ:BBBY), Lowes (NYSE:LOW) and Williams-Sonoma (NYSE:WSM). Each of these well-known category-killers has a strong balance sheet, extremely depressed valuation, and tough near-term fundamentals. If it is tough for them, though, it must be even tougher for their smaller, more poorly capitalized rivals, and I expect that these companies will all be in a position to ultimately gain market share in the downturn and experience significant operating leverage improvement when the economy begins to recover in 2009.
I have followed BBBY (29.11, $7.6 billion) for years, never attracted to its "low PEG ratio" as I had believed that it was unlikely to be a 20% growth company any longer. Still, I always had tremendous respect for its operating metrics, its strong balance sheet and the consistency of its results. Well, the pendulum has seemingly swung the other way. Will BBBY never grow again? The company has no debt, $2.5 billion in tangible equity, and $377mm cash as of the seasonally-low Q3. Pre-tax margins have declined from 16% to 13% over the past two years and conservatively should be a minimum of 12% on a normalized basis. So, when they report their fiscal year in April, I wouldn't be surprised to see estimates come down again given the macroeconomic environment and the slightly high inventory situation, but we are at least getting close to a good normalized earnings power with a very low PE to boot. As you can see in the chart below, the stock has essentially been in a holding pattern for the past 7 years, as the PE has shrunk from the 30s to the low teens. The P/S ratio has declined from 4 to 1, and the EV/EBITDA ratio is 6.8.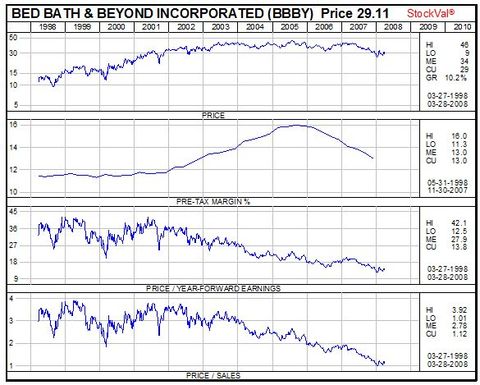 I am a huge fan of LOW (22.67, $33 billion), so I have to maintain my objectivity. While I know that they have a lot of exposure to construction and remodeling, they also sell light-bulbs, fertilizer, pool chemicals and other consumables. With housing turnover constrained due to tighter lending standards, perhaps consumers will engage in DIY projects to make do with their existing space. Just a thought! At year-end, the company had $6.7 billion debt and $16.1 billion of tangible equity. Pre-tax margins have shrunk from 11% to 9% and should normalize no worse than 8%. Inventory growth remains slightly above sales trends but has fallen dramatically. The stock has done a round-trip since the lows of the last bear market in 2002. The P/B ratio of 2 has fallen from 6 at the end of 2001 and compares well with that of rival Home Depot (NYSE:HD). The EV/EBITDA ratio is just 6.5, and the dividend yield is almost 1.5%.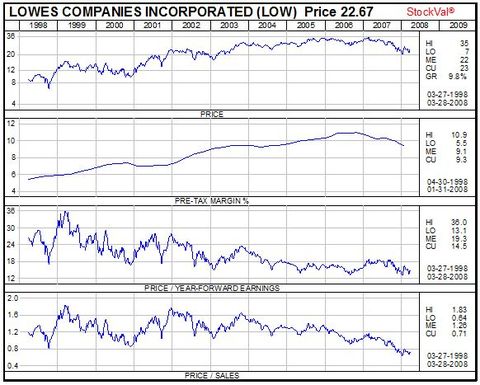 WSM (23.8, $2.5 billion), with its multi-branded strategy, has always been a great retailer. I'll never forget the "Friends" episode that was basically a salute to Pottery Barn. The company has no net debt and almost $1.2 billion in tangible equity. Unlike the other two, sales have recently accelerated, though inventory growth too remains slightly above sales trends. Like the other two companies, WSM is sitting about where it was at the bottom of the bear market in 2002. The PE is somewhat higher, but given that the earnings have come down already quite significantly, it is probably justified. The P/B ratio is at a 15-year low and down from 6 to almost 2 since 2003. The company has an extremely low 5.4 EV/EBITDA and a dividend yield in excess of 2%.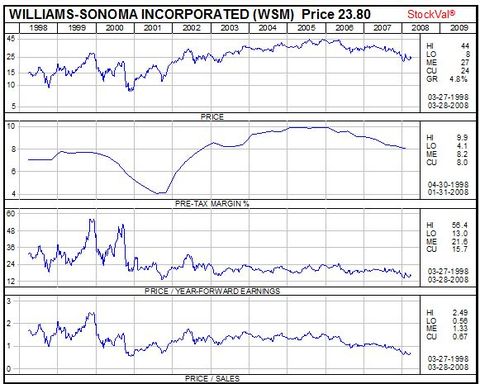 While I still expect the overall market to make new lows later this year (though rally sharply before then as I detailed in early March), I wouldn't be surprised to see these three stocks hold their January lows. Each of the stocks is outperforming the S&P 500 thus far this year, and LOW has a slightly positive absolute return. While timing is always a challenge, as I look out a year, I expect BBBY to trade to at least 38 (16X the 2.40 I project for FY10), representing a 31% gain, LOW to 29 (17.5X the 1.65 I project for FY10, representing a 28% gain and WSM to 29 (17X the 1.72 consensus for FY10), representing a gain of 22%. I expect that these returns will be much stronger than those of the average stock over the next year. In the meantime, accumulating positions and perhaps trading around them, as I have done with LOW, seems to make a lot of sense.
Disclosure: Long LOW, contemplating buying BBBY before it reports in April.