I got a piece of feedback from a reader asking about high yielding LatAm stocks. This totally rocks because:
1) It's good to get mail.
2) It's nice to hear people care enough about LatAm these days to consider buying and holding, not just splashin'n'dashin' with the hot money tide.
3) Short term trades are all fun and that (especially when they work out like the Bunge (BG) play last week), but the real money is made by long-terming the quality stocks. If the same stocks pay out a big dividend too, then I am all for it.
So here are three ideas for you. I've chosen these companies as they represent three different ways of playing the high yield concept down here, and all are good. Let's make it crystalline that there are plenty more like these, so you can either investigate these three a bit more and go with them*, or use them as a starting point to check out other plays on the same theme.
So on with the show.
The first one is the Latin America Equity Fund Inc (LAQ), a closed end fund run by Credit Suisse NY branch. If you check out the chart here....
click to enlarge images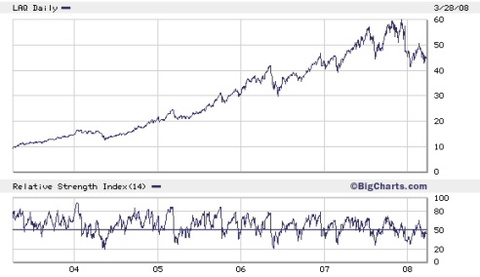 ...you might say, "Hey Otto...looks OK, but that was a big drop late last year! What's up there?"
That's when I'd answer, "Yeah, but check out this chart of the dividend payments...and tell me that last U$9.93 payment totally rocks."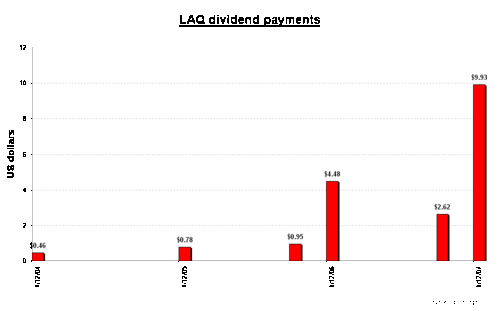 And that's when you'd say, "Hey Otto...that totally rocks."
And that's when I'd say, "You're right."
So there's an idea number one, a fund that specializes in the region, covers a whole range of stocks (U$282m under management) and isn't afraid to pay a cool or even very cool dividend every year.
Now for idea number two, my old pal Southern Copper (PCU). The chart is not news here (and kudos once again to bigcharts.com for the graphics)..........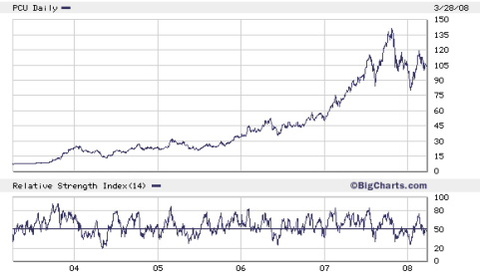 .....but here's a resume of the dividend yield since 2004, and you can see how this company takes care of the shareholder.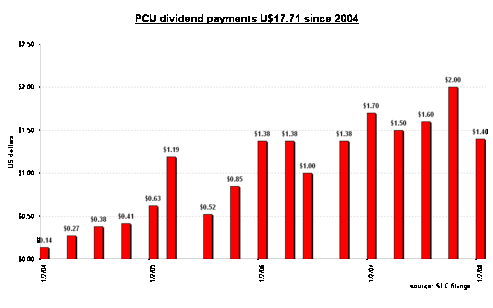 Well, in fact it's more like they're taking care of themselves, because the major shareholder is Grupo Mexico [GMEXICOB.MX] with over 75% of the stock. GMEX use PCU as its own personal cash cow, so the whole ballgame here is to coattail with the big money, buy'n'hold PCU and enjoy the generous dividends they pay out every quarter. As mentioned before, this is not rocket science investment. It's plain, simple and successful.
The last idea is a bit more exotic and off the beaten track, but those of you with flexible brokers can get a chunk of Mirgor [MIRG.BA] (MRGQF.PK), a very strong autoparts company in Argentina. Reasons to like the company are:
1) This chart. Rocks, no?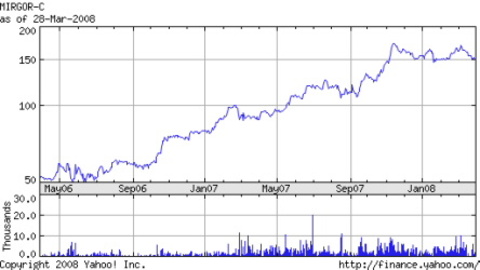 2) The company has just started paying dividends again after a 6 year break.

3) The 2007 results were blowoutly wonderfully strongly magnificent (up nearly 50% YoY), and MIRG now has ArgP$223m hanging around in cash. Now the company has said they're not paying out dividends before they've decided on the capex schedule for the year, but I reckon about P$60m of that could be paid out as a cash dividend after the dust settles, which works out at a juicy P$30 per share. Now check that share price again...yep, P$150. Got it?

The problem with Mirgor is that although it quotes on pinksheets, it's about as liquid as molasses at the North pole, so you'd probably need to go via the Argentina stock market to put some in your port. But I say it's worth the effort (but hey....that's just me).

So there we go, three ways to play high yielders down here. One big cap miner, one fund play, one small under the radar local stock. As a different chapter of the same book, I've already pointed out Ecuador sovereign bonds, and you could also consider that line.
* ALWAYS do your own DD on any play before investing.
Disclosure: Long PCU