We previously wrote a four-part research analysis report series articulating our thesis as to why we disagree with Berkshire Hathaway (BRK.B, BRK.A) with regards to investing in Ford Motor Company (NYSE:F) versus General Motors Company (NYSE:GM).
After researching, analyzing and evaluating Ford and GM on 24 different factors, we concluded that Ford scored better on all of the metrics and that Ford provided a better potential investment opportunity than GM. In light of the fact that Ford pre-announced weakness in its European operations and forecast a Q2 2012 pre-tax loss in its international operations that would be triple the $190M lost internationally in Q1 2012, we at Saibus Research decided to research and analyze the international operations of Ford and GM.
Ford's biggest market is North America. Because Ford's International Operations incurred losses in Q1, its North American market generated 116% of Ford's pre-tax automotive sector income. We were satisfied that Ford North America generated 4% increase in revenue, a 6% increase in units sold and an increase in its operating margin from 10.3% in Q1 2011 to 11.5% in Q1 2012. These results helped drive Ford North America's pre-tax income by 15.7% on a year-over-year basis. However, Ford International was not as fortunate as Ford North America:
Ford South America grew volumes and revenue by 4%, but saw its pre-tax results decline by 74% due to unfavorable exchange rate factors due to the strong US Dollar.
Ford Asia Pacific grew revenues by 10% in the quarter, but saw its Q1 results negatively swing from a profit of $33M in 2011 to a loss of $95M in 2012, due to increased spending on new product development growth initiatives.
Ford Europe saw a volume decline of 14%, a revenue decline of 17% and a negative swing in Q1 profitability from a profit of $293M in 2011 to a loss of $149 in 2012. This was due to the European debt crisis paralyzing the European economic environment.
Click to enlarge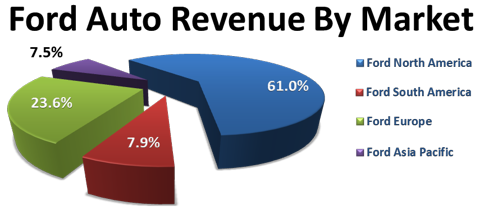 Click to enlarge
Source: Ford Q1 2012 10-Q Report
GM's biggest market is also North America. GM saw a similar strong performance in North America as did Ford, a similar weak performance in Europe consisting of a sharp revenue decline and loss as Ford, and lower sales growth but higher South American performance than Ford. The one area we can certainly see GM outpacing Ford in is in its Asia Pacific and other International operations.
GM International enjoyed an 11.67% growth in revenues to existing customers in Q1 2012 versus Q1 2011. GM International's profit grew by a slower rate of 5.625% in comparison to its revenue growth and was primarily due to reduced impairment costs on business segment assets, offset by increased material, manufacturing and warranty costs.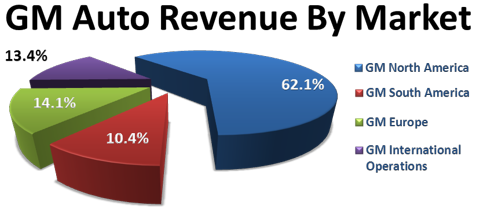 Source: GM Q1 2012 10-Q Report
In conclusion, we believe it is too early to declare a winner in the international automotive market between GM and Ford. Ford has a bigger presence in the relatively wealthy, but mature and declining European market than GM. GM has a bigger presence in South America than Ford. However, despite the highly touted potential of Latin America, particularly Brazil, we have found that market to have a volatile and mercurial performance for businesses and investors.
We also believe that while GM may be well ahead of Ford in the Asia, Pacific and other international markets, we believe that GM and its shareholders should not be ready to take a victory lap just yet. We also believe that GM will not be immune to European weakness in Q2 and also note that GM Europe has typically incurred bigger losses than Ford Europe. Finally, we believe that GM, Ford and automaker investors should be cautious of the Chinese market for the following reasons:
China's growth is being stimulated by government intervention in the form of a weak currency and massive pump-priming pork-barrel spending programs.
Globalist hedge fund manager James Chanos is shorting stocks with high Chinese exposure, partly due to China's Potemkin Villages.
GM's acquiesced in bequeathing automotive technology to SAIC.
China's economy benefits from its predatory mercantilist trade policies in which China subsidizes exports shipped from China and puts tariffs and trade barrier on finished goods and services imported to China. At some point, the US and other countries will realize that China is taking advantage of those countries.
Disclosure: I am long BRK.B.
Additional disclosure: Saibus Research has not received compensation directly or indirectly for expressing the recommendation in this report. Under no circumstances must this report be considered an offer to buy, sell, subscribe for or trade securities or other instruments.