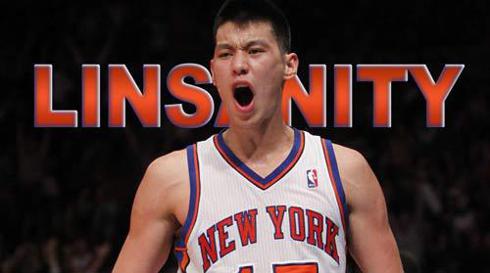 Click to enlarge
It's no coincidence that Madison Square Garden (MSG) shares are up 28.7% since February 6th. That Monday marked the first trading day after Linsanity had begun taking over the National Basketball Association. With multiple teams interested in Jeremy Lin's talents and the Houston Rockets offering a new deal to Lin
NBA free agency officially begins on Monday July 11th. On that day, players can officially sign and put their "verbal agreements" on paper. Jeremy Lin has been linked to the Dallas Mavericks, Phoenix Suns, Houston Rockets, and Toronto Raptors.
Even if he doesn't score 30 points per game, Lin is a solid contributor on the court. He scores over 10 points a game and adds over 5 assists. As point guard, he also directs traffic and makes sure the Knicks two stars Amare Stoudemire and Carmelo Anthony. For the Knicks the importance of Jeremy Lin is marketing and sales.
Jeremy Lin's emergence as a NBA starter helped ticket sales as fans bought and sold tickets to Knicks games at an unusual pace in the 2011-2012 season. The Madison Square Garden sold out home games and made additional revenue from merchandise and concessions inside the stadium. Jeremy Lin's jersey became one of the hottest around the world. As one of the few Asian Americans playing in the NBA and the first of Taiwanese descent, Jeremy Lin became an icon around the world. He was on the cover of Time Magazine and Sports Illustrated. Coca-Cola (KO) even added billboards in Chinese characters around the arena to capitalize on a growing Asian fan base.
The company's media segment saw a big increase as ratings soared on the Madison Square Garden network. Viewers excited to see Lin play against Kobe Bryant and other NBA stars tuned in to the MSG channel and helped Madison Square Garden win a much needed battle. Time Warner (TWX) dropped the MSG channel from its lineup. Time Warner couldn't have picked a poorer time to drop the MSG channel, as Linsanity had begun to take over the state of New York. Cablevision ended up paying more than they ever would have before and as a result Madison Square Garden locked in good rates thanks to Jeremy Lin. At one point, the attorney general of New York stepped in to make sure both parties reached an agreement. The involvement of a state official was due to the heightened popularity of the Knicks, thanks to Jeremy Lin.
The trend here is pretty simple, Jeremy Lin helped Madison Square Garden make money. Madison Square Garden makes money on sales of tickets, merchandise, advertisements, and television viewers. Lin helped the company achieve higher marks in all these areas. The team doesn't want to spend the money on Lin for a long term deal. The company however would be smart to sign this highly marketable NBA player.
As a New York Knicks fan and Jeremy Lin fan as well, I am hoping the Knicks match any deal given to Jeremy Lin. I run the Jeremy Lin Fan Page, an official fan site, and have listed several different possibilities for the Knicks and for Lin. Interestingly enough, two publicly traded teams own the Toronto Raptors and their arena. A deal to bring Jeremy Lin to Canada could have a big impact on Rogers Communications (RCI) and Bell Canada (BCE). I previously wrote about Rogers in an article about their undervalued sports segment. If you own or are thinking about owning Rogers or Bell, consider staying closely updated on the Jeremy Lin free agent drama.
Since spun off from parent company Cablevision, shares of Madison Square Garden are up 98%. The shares could be due for a fall. The investing community will be a little behind on the Jeremy Lin news, but once it hits expect some selling. The Knicks have three days to match a deal for Jeremy Lin, so there is a chance that shares could trade right back up by next Friday. I have written about Madison Square Garden before and think the stock is a great long term investment. With diversification across several sports, an exciting media business, and a leading entertainment business at one of the most famous arenas of all time, the company has great staying power. Investors looking at getting in to Madison Square Garden could find themselves a great entry point prior to the 2012-2013 season.
Disclosure: I have no positions in any stocks mentioned, and no plans to initiate any positions within the next 72 hours.