For anyone who has ever been to an air show, or seen an accident almost happen, there's that moment when two objects are about to collide when you hold your breath just for a second as it appears catastrophe is about to ensue. The result is an exhale and a sigh of relief when there's a near miss, and a collision doesn't happen. Averted disasters can often be more exciting than disasters themselves, especially when casualties are avoided.
It appears that Sirius XM Radio Inc. (NASDAQ:SIRI) may have been saved in the nick of time by the recent share price appreciation, which has had a three-day gain of 13.6%. What appeared to be a technical breakdown covered by more than a few authors and articles, referred to as a "death cross", is unlikely to happen if share prices appreciate by just a few more cents and hold those levels for a few days.
A death cross using simple moving averages is when the 50-day average crosses below the 200-day average price. As recently as last week, the 50-day average was on a crash course plummeting towards the 200-day average, setting Sirius XM up for what could have been catastrophic to the share price. But at the very last moment, a large buyer has stepped in and completely turned the tables. That buyer, I assume, is Liberty Media (NASDAQ:LMCA).
Consider the following chart to see how the recent rise has almost turned the 50-day moving average (blue line) positive. A close call, for sure, but it's not quite time to exhale yet. A few more days of confirmation are required to put all technicals into bullish territory.
Click to enlarge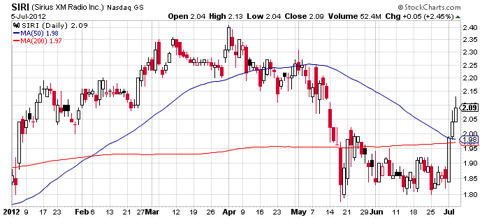 The great thing for investors now is that if this cross can be averted, it appears that it's all systems go for the new, bullish technicals to take the old bearish technicals' places. Consider what can be seen in the next chart, where I have added the 20-day moving average in green, which has now turned sharply up. Assuming the share price remains at $2.09 or even better, appreciates further, the 20-day moving average will pierce the 200 and 50 day moving averages on its way up. Instead of a major bearish event, suddenly investors are facing a potential major bullish event.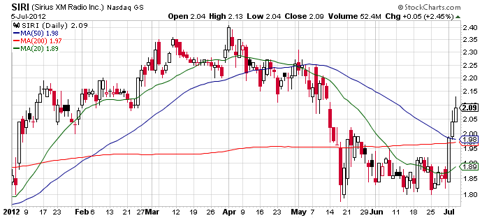 With only three days of positive activity under the belt, it's hard to say with certainty how everything will play out. What investors need to keep an eye on is if the current share price can be maintained or if it appreciates. If these gains are not held the stock can quickly return to bearish territory. Crisis is not averted yet, but it looks like the day may very well be saved.
It's my sentiment that this buying is by Liberty Media and is being done in part to acquire what it needs for a majority stake in Sirius XM. I think it is more than mere coincidence, though, that it has come at a time which causes a technical breakdown to be averted. As I mentioned in my article from Thursday linked above, now that Liberty has most or perhaps all of its shares it needs of Sirius XM, it gets little benefit from a lower share price. The game is changing, and higher share prices seem to be the new calling, benefiting Liberty Media's value through its stake in Sirius XM, and benefiting shareholders of Sirius XM directly.
Disclosure: I am long SIRI.
Additional disclosure: I may initiate a long position in LMCA at any time.