Recently North American smartphone sale growth has slowed, prompting many to think that the smartphone war is completely over, and the future is written in stone. The idea is that much like the desktop and laptop world became fixed on mostly Microsoft (MSFT) Windows based computers, and a much smaller Apple (AAPL) Mac OS X, then smartphones will follow the same path. The difference is that Microsoft has faltered with smartphones, while Google (GOOG) Android came out of nowhere to dominate. So the idea is that all remaining smartphone vendors will move to Android, and only have the Apple iPhone with which to battle. To further cement this idea, some analysts and writers claim that a fully locked in ecosystem, and walled app stores, eliminates the ability of any new system to succeed.
There is another way to look at the smartphone wars, which is the numerous lawsuits between the major players. Some claim this is from a broken patent system that creates barriers to innovation, with Google seeming to complain the most as it has increasingly become a target. These patent wars are nothing new in the mobile industry, and each holder of a patent tries to monetize that holding through licensing. While it can be possible to block the usage of some patents, there are some considered to be essential for devices to function. Under that idea, there is a standard of fair, reasonable, and non-discriminatory intent by which licensing disputes are judged; this is sometimes referred to as FRAND licensing. Google have been pushing for patent reform in the United States, though so far without much success. I hesitate to side with Google on this, though the implication is that either some patent challenges will fail, or cross licensing will increase. When more licensing costs occur, those are passed on to the end users, which ultimately makes smartphones even more expensive. Google did bid on Novell and Nortel patents, but lost out to several other companies, though they then purchased Motorola mostly to gain a patent advantage. After experiencing some FRAND issues through Motorola licensing agreements, now the Federal Trade Commission is investigating Google and Motorola for FRAND abuse. Of course not all lawsuits go the way companies might expect. Recently Judge Richard Posner blocked an injunction in a case between Apple and Motorola. Just the twists and turns of smartphone legal battles could fill an entire novel of content, so investors should regard these battles as ongoing legal expenses, at least for the next several years.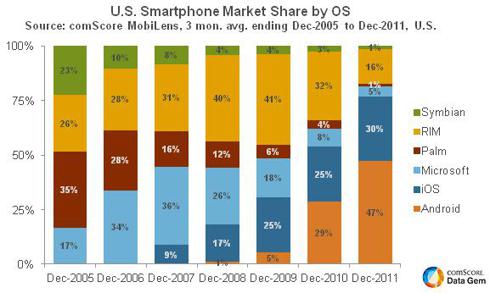 Android was developed using a Linux base, and purchased by Google in 2005. Google started the Open Handset Alliance in 2007, with the idea of providing an open and free "ecosystem" for mobile development. There are currently 84 companies in that consortium, most of which are mobile phone vendors. This consortium is different than the Open Mobile Alliance established in 2002, with the main idea of easier FRAND licensing for network communication protocols. Both alliances want to increase the world-wide user base of mobile phones, and both acknowledge the need for licensing of patents to accomplish that while allowing innovation and differentiation. Despite the promise of a free and open Android operating system, many vendors pay licensing fees to Microsoft, which impacts their profit potential. Android is not nearly as free as many would like to think, and given the legal battles smartphone vendors may have more incentive to look at other choices.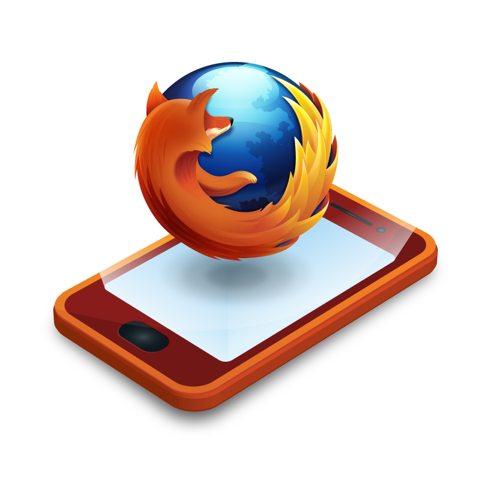 Recently the Mozilla organization announced plans for a FireFox Mobile Operating System, based in part around the ideas behind the successful FireFox web browser. Microsoft (MSFT) Internet Explorer is still dominant amongst web browsers, with FireFox a close second, and Google Chrome recently gaining some ground. The user base for the FireFox browser is large, but it remains to be seen if Mozilla can shift some of that user base towards a new mobile operating system. At this early stage of FireFox Mobile OS, it appears to deliver on the original promise behind Google Android, that of an open and free to develop platform for mobile content and devices.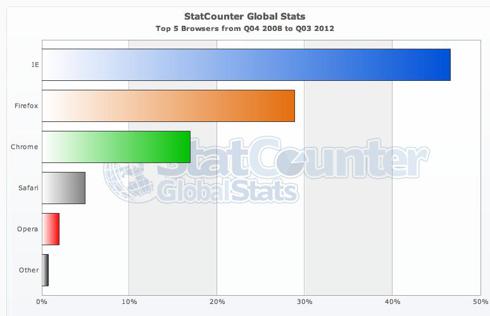 The first Mozilla FireFox Mobile OS devices are slated to be made by China based ZTE and TCL Telecom, which is part of Alcatel-Lucent (ALU). Those unfamiliar with ZTE may be surprised with the number of devices they offer in the United States, though many are carrier branded handsets. ZTE is the fifth largest mobile phone vendor by shipments. TCL is a much smaller mobile phone vendor with sales mostly concentrated in China. Qualcomm (QCOM) stand to benefit from the usage of Snapdragon processors in these future smartphones. Carriers still have a huge influence on development of smartphones, and potentially enough leverage to make or break any platform. Success in smartphones can only happen with the support of carriers, who decide what devices to offer to their customers. Notably Sprint (S) product chief Farad Adib spoke highly of Mozilla FireFox Mobile OS coming to the United States market:
Sprint continues to support an open mobile ecosystem that enables choice for Sprint customers and a healthy competitive ecosystem for the technical community. FireFox Mobile OS can help us drive an HTML 5-based platform for creating lower cost smartphone options for prepaid, postpaid and wholesale customers.
The main concept behind FireFox Mobile OS is to create an HTML5 application environment, using a completely open and standards based development environment. It's a concept not unlike the Open Handset Alliance put forward by Google for Android, and there is some potential for companies to avoid some of the patent and legal issues. The bigger idea behind FireFox Mobile OS is that easier development of apps can lead to a more affordable device, and perhaps a more profitable device for content developers. I point out some of the content and app development issues in my article about Adobe (ADBE), with many software products moving more towards enabling easier and more accessible content creation for HTML5.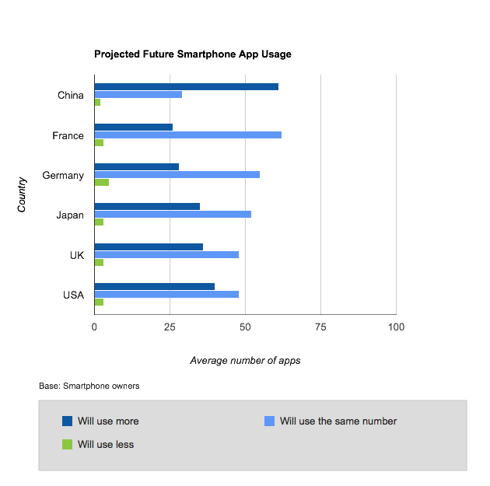 Mobile browser usage was already one of the top trends by 2010 in smartphones. Keep in mind that Mozilla is trying to enable the low end smartphone market in emerging markets, and for pre-paid smartphones in developed markets. This is the bastion of many Android smartphone vendors. So for Mozilla to gain ground would likely be at the expense of feature phone users upgrading, and current smartphone users moving towards a lower priced platform.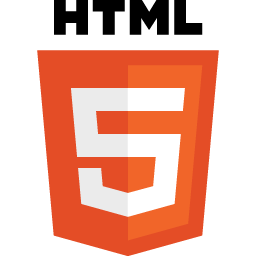 In the longer term hybrid apps developed using HTML5 tools could make a serious impact on the native app market, though not all analysts are convinced of the disruptive potential. The current app store environment is becoming limited by the growing volume of apps on some platforms, as users need to search more to find apps. Some developers are not happy with recent search changes in the Apple App Store, growing frustrated at the lack of analytics, and feeling like Apple treats them poorly. Even considering the complaints, trends at the Apple App Store do not match trends seen in Android Apps, with most Android users downloading free apps. My feeling is that if HTML5 has a big impact on future app development, or even app store revenue potential, Apple may be able to avoid any decline in revenues for a longer time than other platforms, especially with games dominating app downloads. Of course a recent app corruption issue in the Apple App Store, if repeated in the future, might put some people off downloading apps. There is also an issue of updating apps, so far not a huge issue, but may become one in the future.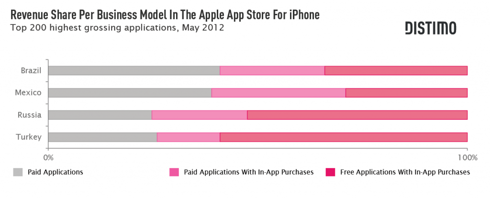 The U.S. smartphone market has grown substantially over the last five years to over 110 million users, but may experience slower growth over the next several years. That puts world-wide smartphone growth moving at a faster pace in emerging markets into the future. With less affluent users in many of those parts of the world, the paid app model may struggle to generate revenues. The chart above shows app trends in some emerging markets, and that in-app purchases may prove a more lucrative revenue strategy for app developers. Other than strong app growth in China, trends indicate an expectation of more mobile browsing in the future.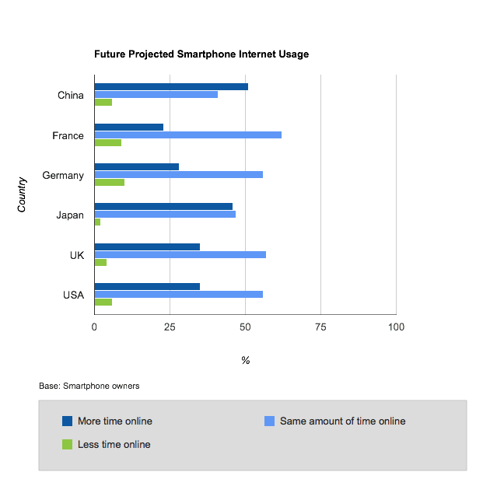 Pure HTML5 based apps will not appear in app stores, which largely still require a native code wrapper. Building in HTML5 and adding a native wrapper allows hybrid apps to appear in various app stores. These web apps bypassing walled app stores, could still generate revenues through in-app purchases, while not generating revenues for the companies running app stores. Skilled platform specific programmers are well paid compared to web development specialists, though that comparison points towards the higher cost to develop native apps, compared to web content development.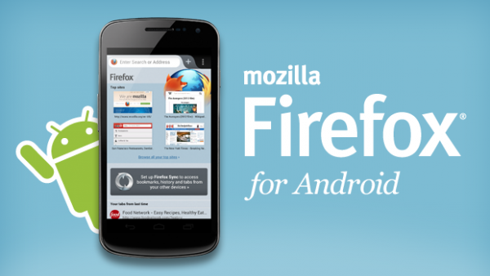 Mozilla recently launched a version of the FireFox browser that runs on Android smartphones. Mozilla point out that developers can create rich web apps and mobile friendly websites that take advantage of existing open web standards. Oddly enough FireFox for Android is available for free download through Google Play.
Every smartphone vendor now launching Android devices, especially at the low end, should be concerned about the disruptive potential of HTML5 tools, especially if FireFox Mobile OS becomes a hit in emerging markets. ZTE already has solid market penetration in China, which could hinder the ability of other companies to profit from the worlds largest potential smartphone market. Success in China, or emerging markets, for ZTE, would limit potential smartphone growth of already established titans Samsung (OTC:SSNLF) and Apple in those markets. I would not expect much market impact in North America and Europe, except in the pre-paid smartphone market.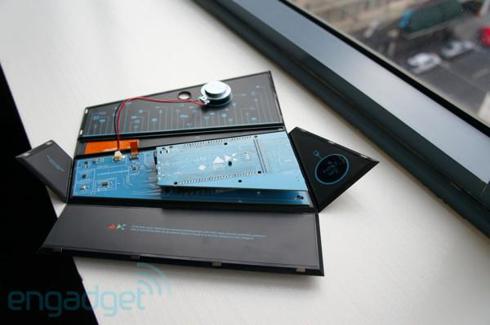 Google is certainly not complacent in the face of these developments. While Android in smartphones, at least at lower average selling prices, might pressure some smartphone hardware vendors, Google recently released an accessory development platform (pictured above) to address another growing trend. The smartphone accessory market is currently valued around $20 billion annually, and expected to grow to around $36 billion by 2017. This is an interesting trend that may place greater profit potential on accessories, and away from pure hardware profits on smartphones. Google may be able to retain enough Android smartphone vendors, and maintain market dominance, if smartphone vendors can find profits in accessories.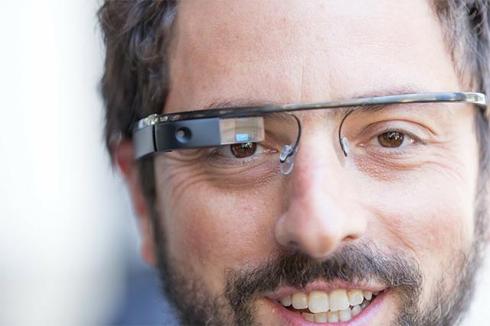 Google's Project Glass might be seen as the ultimate Android accessory, though other than some earlier developer units available in 2013, this is not expected to be available to the public until mid 2014. Already Apple have filed a patent for similar technology, though if you follow the link in that image you can read more about why it may not result in more lawsuits. Potential early adopters may be interested in a newly announced Bluetooth accessory eye level display from Olympus. It would not surprise me to see Apple, or several other companies, develop wearable computers in the future. At the moment they seem geeky and there may be some aversion to people actually wearing and using these in public. However, if they prove popular we may see an entire shift in devices once again. Wearable computers, much discussed in the late 1990s, could become the technology that eventually disrupts the smartphone market.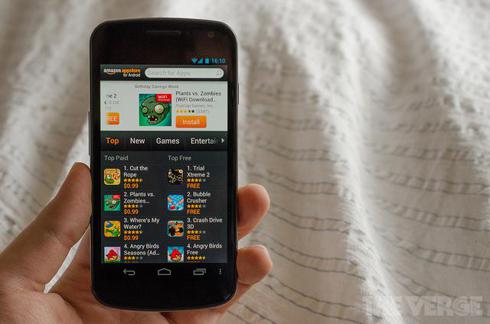 Amazon (AMZN) are rumored to be working with Foxconn on a new smartphone. If Amazon follow the pattern of the Kindle Fire with this smartphone, then it may launch as a low cost device. This would place more pressure upon other Android smartphone vendors to seek other sources of revenues and profits. Amazon might be willing to sell a smartphone at a loss, on the potential of end users being enticed to make more purchases through the Amazon Store.
So should Google investors, or potential investors, be worried about the potential smartphone market disruption of Mozilla FireFox Mobile OS and HTML5 web app development? Some investors who feel that the smartphone market is now locked in stone and cannot change in the future, will resoundingly respond no. Those same investors will easily dismiss any other development platform as too little and too late. Rather than easily dismissing the potential of FireFox Mobile OS, investors should investigate more into ZTE Corporation, the Chinese smartphone market, and look into the first launch location of FireFox Mobile OS through Telefónica's (TEF) Vivo brand in Brazil. If these early devices gain market traction next year, then I would expect Google to move Android to be more HTML5 development friendly. The disruption potential is there, though I feel that Google are flexible enough to quickly address any potential threat. Investors may see an upper limit reached in market share, or even a decline, but should consider that with the overall smartphone market still growing, Google Android should continue to be present on even more devices in the future. The Google Nexus 7 tablet and Project Glass do more to enhance the Google brand than they do to directly generate revenues. Google continuously proves that they want to be on the bleeding edge of technology, and want to push innovation. Despite the potential for some short term doubts about competition, or doubts on the outcome of litigation, long term investors should feel comfortable that Google will continue to remain competitive and profitable.
Disclosure: I have no positions in any stocks mentioned, but may initiate a long position in GOOG over the next 72 hours.
Additional disclosure: I previously held shares in ADBE and may initiate a new long position this summer.