Amarin Corporation PLC (NASDAQ:AMRN) awaits a key approval decision on its drug, AMR101, from the FDA. The decision is expected July 26, 2012. The drug, AMR101 is an ethyl ester of eicosapentaenoic acid (>96%). This is similar to GlaxoSmithKline's (NYSE:GSK) Lovaza made by Pronova Biopharma (OTC:PVNAF), which contains ethyl esters of two of the major ingredients in fish oil (eicosapentaenoic acid and docosahexaenoic acid).
There are a couple of reasons, discussed below, that suggest the approval of AMR101 is substantially priced into the share price. And there is also a much overlooked bit of evidence that the market for EPA and DHA prescription drugs for reducing cardiovascular risk, rather than just reducing a clinical endpoint of high triglycerides, may not be as large as many anticipate.
For starters, what is great about the drugs AMR101 or Lovaza? FDA approval, coupled with good manufacturing processes, is a big advantage over the use of fish oil. The prescription drugs provide confidence in what you are getting. While most fish oils claim to have removed mercury, the pharmaceutical grade drugs do not have mercury. Many fish oils also contain a small amount of residual cholesterol, which could be disconcerting if you are taking it to reduce overall cardiovascular risk. But the obvious advantage of fish oil is it is cheap. Price, of course, for some depends on their healthcare insurance. The recent Supreme Court ruling on the insurance mandate bodes well, perhaps, for prescription drugs as more people get healthcare insurance. Alternatively, eating fatty fish, such as Salmon or Tuna, is enjoyable for many.
Amarin's current market capitalization is already high, about $2.08 billion, which would require annual earnings of nearly $150 million to achieve a PE of 15. Depending on the gross margin, revenue would need to be substantially higher to achieve these earnings. That seems possible, given that Lovaza sales are around a billion dollars. But it is speculative to expect sales for AMR101, sold by a small company and the second drug in class to market, to achieve sales substantially greater than $200-$300 million in the near term. And, there are also over the counter fish oil products to compete with in this market. There has been a substantial run up of Amarin's share price in 2012.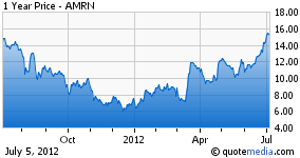 The drug will only be approved, initially, for a smaller market. Amarin is seeking approval fro treating patients with very high triglyceride levels. Lovaza (and it is anticipated AMR101 will be), according to the FDA labeling is indicated for treating "Very High Triglycerides: LOVAZA is indicated as an adjunct to diet to reduce triglyceride 92 (NYSE:TG) levels in adult patients with very high (>500 mg/dL) triglyceride levels". Lovaza and AMR101 will not be FDA approved for treating residual cardiovascular risk for patients on other therapy, such as statins. Both fish oils and Lovaza, off label, are used for that indication currently.
Approval is anticipated and this is substantially priced in to the current share price. AMR101 is effective and relatively safe. That is one of the considerations undoubtedly already priced into the current share price of Amarin. Note the recent approval of Locarserin developed by Arena (NASDAQ:ARNA) was not accompanied by an increase in share price and an article in Seeking Alpha indicated Arena was trading at fair value before approval.
But treating residual cardiovascular risk with drugs that lower triglycerides is controversial, indeed, evidence is lacking showing a reduction in risk. Fenofibrate, which is probably the market leader for reducing patient triglyceride levels, may not reduce risk of major cardiovascular events. The FDA required labeling changes for Fenofibrate, which is sold by Abbott Laboratories (NYSE:ABT). These changes were driven substantially by the ACCORD trial.
The FDA required labeling changes state the drug may not lower the risk of major cardiovascular events, "The agency notes that its review found that there was no significant difference in the risk of experiencing a major adverse cardiac event between the fenofibrate/simvastatin group and the simvastatin-alone group in the trial". Amarin is seeking approval for treating high triglyceride levels in patients, which is fine. To Amarin's credit, it is conducting a trial where the primary outcome is major adverse cardiovascular events.
From ClincalTrials.gov, the primary outcome for the REDUCE-IT trial is "Composite endpoint of CV death, MI, stroke, coronary revascularization, and hospitalization for unstable angina". The point is that it is not clear at all whether Lovaza, AMR101, or for that matter fish oil reduce cardiovascular risk. A Cochrane review, although a bit dated now, came to a similar conclusion regarding fish oil. "There is not enough evidence to say that people should stop taking rich sources of omega 3 fats, but further high quality trials are needed to confirm the previously suggested protective effect of omega 3 fats for those at increased cardiovascular risk".
On my part too, I am not suggesting anyone quit taking their fish oil or Lovaza - they are relatively safe and may have other benefits. Information seems to come out weekly touting the benefits of fish oil for things such as dementia risk. It seems information on coffee having multiple benefits is coming out weekly also, I may write an article touting Starbucks (NASDAQ:SBUX) as a pharmaceutical play.
But I am suggesting, unless evidence becomes available, these fish oil drugs may not have this huge market involving reducing residual cardiovascular risk in patients taking statins. This will impact the odds that sales of AMR101 will be blockbuster. Moreover, it is up against sales of approved Lovaza and cheaper fish oil products. Contrary to my opinion, I really do hope for the sake of patient health that the outcome of the REDUCE-IT trial proves that AMR101 reduces cardiovascular risk for patients taking statins. From the Amarin website, this chart depicts the different potential patient population sizes.
Click to enlarge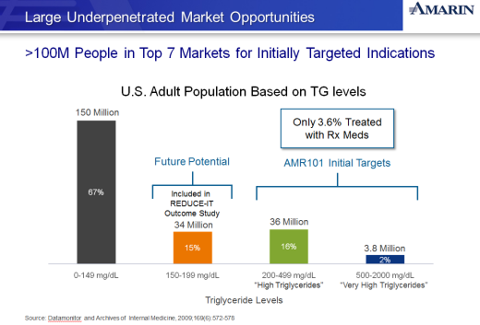 Click to enlarge
The current approval is based on the MARINE trial for patients with very high triglycerides. Next, Amarin will seek approval for patients with high triglycerides based on the Anchor trial. But the key to long-term market success and patient benefit rides on the outcome of the REDUCE-IT trial, which will test whether AMR101 reduces cardiovascular risk.
There are other companies developing drugs to reduce residual cardiovascular risk (discussed in another Seeking Alpha article). Drugs for raising HDL cholesterol by targeting cholesterylester transfer protein are in Phase III trials, anacetrapib by Merck (NYSE:MRK) and Evacetrapib by Eli Lilly (NYSE:LLY).
There is little evidence to support speculation of a takeover of Amarin. Lovaza sales, no doubt due to successful marketing by GlaxoSmithKline, are around a billion dollars. This would be difficult to match for a small company like Amarin. That has fueled speculation that Amarin is a takeover target, although there is little information supporting this speculation. There is better information on companies that are takeover targets, such as Human Genome Sciences (HGSI), described in another Seeking Alpha article. Notably, very recently, Amarin has announced "Notice of Allowance for Additional U.S. Patent Covering AMR101" which adds value to Amarin and fuels takeover speculation.
The current share price, around $15 per share, likely incorporates anticipated approval and reasonable sales. The odds of AMR101 being a blockbuster or Amarin being acquired are speculative. This first approval is for a relatively small market and faces competition with Lovaza. The best time to acquire shares or add to holdings in Amarin has passed, the current price is at best fair value.