There is a common misconception that stocks that trade in the single digits may be poor investments. This is because investors may believe that single-digit stocks have fallen due to poor operating performance. However, this is not the case with many companies. The following four companies are trading under $10 per share and are a great buy.
Ford Motor Company (NYSE:F) has enjoyed a nice turnaround under the leadership of Alan Mulally. Last quarter, Ford made nearly $1.4 billion. The company is expected to earn $1.62 in 2013. This puts the company's forward P/E at 5.93.
Click to enlarge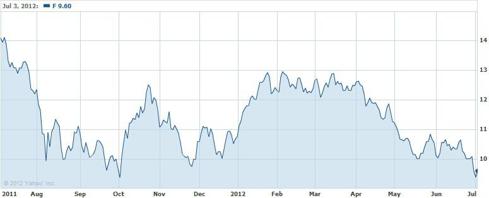 Ford's stock has recently been in decline due to the concerns of sales in Europe. However, its important to note that even with Ford's losses in Europe rising, the company is still generating plenty of cash flow in its North American segment.
Ford is in a very good position right now. The company is de-risking its pension plan and lowering its long-term debt. Ford pays a 2% dividend, which might be due for an increase in a couple of years. With a forward P/E of 5.93, I expect Ford's stock to rise even if problems in Europe persist.
Bank of America (NYSE:BAC) is one of the hardest hit banks in the entire financial sector. The bank has been trying to offset its toxic assets from its Countrywide acquisition. While it seems the market is cautious on the future of BofA, I believe the shares present tremendous value here.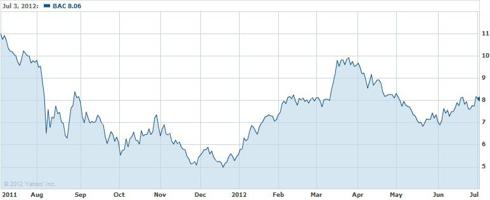 The stock is trading at nearly 50% of its net tangible assets. The market is predicting there will be significant writedowns in asset value or an increase in liabilities. However, I do not believe this to be the case. Bank of America has already eliminated a large portion of its toxic assets and it has settled large lawsuits.
Bank of America has already passed key stress tests by the Fed. BofA also stated that it has excess capital of $1.10, this capital could be used in the future to absorb mortgages losses or even pay a dividend. Bank of America has a forward P/E of 8.2 and pays a .5% dividend.
Xerox Corporation (NYSE:XRX) made nearly $1.3 billion last year. Xerox has dedicated a significant amount of cash flow to be returned back to shareholders through repurchases. This year alone, Xerox plans to repurchase $1.1 billion worth of shares. That's nearly 10% of the company's current market cap. In addition to these repurchases, the company pays a 2.2% dividend.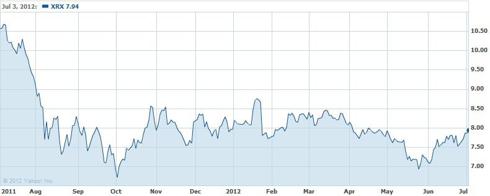 Xerox is making plenty of free cash flow and trades at fairly cheap multiples. The stock has a forward P/E of 6.56 and trades at P/B of .87. Cheap valuation, massive repurchases, and strong free cash flow make Xerox a great investment.
Alcoa (NYSE:AA) has been under pressure mainly due to weak aluminum prices. However, even with aluminum prices low the company made $611 million last year. However, I believe Alcoa has strong upside potential when aluminum prices begin to rise. Aluminum production cuts are beginning to happen in countries such as China. This should cause prices to rise. Goldman Sachs is already saying that aluminum will be a good bet in the future.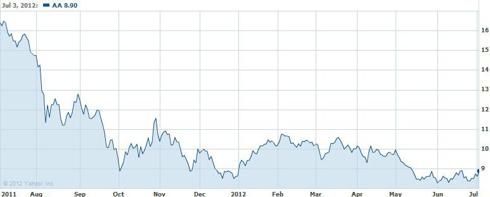 Alcoa is not only a good turnaround play, but it trades at very favorable valuations. The stock has a forward P/E of 9.67 and a P/B of .65. If the company is able to generate a decent profit with low aluminum prices, imagine how well Alcoa will do when prices recover. This is a great turnaround investment at a great price. In addition to this, Alcoa pays a 1.4% dividend.