In my previous article on precious metals "Where are precious metals headed in 2008?", I talked about the bullish prospects of Gold and why it is expected to continue to rise in coming quarters.
The recent market sell-off has created more opportunities to accumulate this precious metal. In particular, I'll discuss the prospects of a company which I own – European Goldfields (OTC:EGFDF).
Company Background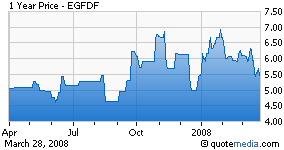 Based in London and listed on the Toronto Stock Exchange, the London Stock Exchange and traded on the pink sheets in the U.S., European Goldfields was formed in 2000 as a mining company with operating focus in South-Eastern Europe, particularly in Greece and Romania. According to certain experts, EGU's mines are located in some of the richest mineral areas of Europe. The company currently produces zinc, lead and silver from its 95%-owned Stratoni mine in Greece and sells gold-rich concentrates to third parties for processing.
Mining Assets
Stratoni – zinc/lead mining complex with both mineral processing and ship-loading capabilities. There is substantial exploration potential at this site, with many opportunities in surrounding areas. The total reserves at this site is estimated to be over 2.18 Mt with 10% Zinc, 7% Lead and 172 g/t Silver.
Skouries – The largest copper/gold deposit so far to have been discovered in Greece. This site was discovered over 30 years ago, but the project never moved into permitting state due to low metal prices of the period. Recently, this mine has been approved for production with initial production rate aimed at 8Mt/yr – this amounts to 40,000t of copper and 200,000 ounces of gold over a 21 year mine-life. With an initial investment of $270Million, the mine is expected for production by the end of 2009. Certain capital items have already been ordered for this mine.
Olympias – Located several km to Skouries, the mine was originally discovered mined almost 40 years ago but was subsequently stopped in 1994. Currently, EGU plans on reopening the existing mine and infrastructure in a three stage process. First stage involves reopening the mine. Second stage involves ramping annual production up to 400,000 tonnes, and third stage involves increasing the capacity to 900,000 tonnes. Feasibilities have shown that the mine contains approximately 11.35 Mt of ore, with 6.4% Zinc, 4.8% lead and 9.3 g/t of Gold, and 144 g/t of Silver.
Certej – This is European Goldfield's principal asset in Romania with four mineral properties. The company has 80% interest in this project. This particular area has been mined at intervals for several hundred years. EGU plans on redeveloping the mine. Extensive feasibility studies have shown gold recoveries in excess of 90% from the concentrates, with an overall 81% gold recovery. The reserve includes 33Mt of minerals with 2.0 g/t of gold and 11.4g/t of silver. Final project development approvals expected in Q2 of 2008, followed with production in 2010.
Investment Thesis
European Goldfields Is a Junior Producer
Unlike a majority of junior mining companies that are solely in the exploration business, EGU is a producer of zinc, lead, silver and gold. EGU mined approximately 215,000 tonnes of ore and plans on mining 290,000 tonnes in 2008 (from the Stratoni mine only). The company plans on becoming a mid-tier producer by 2011.
Production Ramping Up Very Quickly
With four positive development projects in the pipeline (Skouries, Olympias, Certej, Ariana), the company is expected to have gold production in excess of 300,000 ounces by 2010. Additional to the gold reserves, EGU has significant amount of copper, zinc, lead and silver. Recent operational highlights include:
Stratoni – production up 27% over 2006
Skouries – fabrication of long lead-time equipment has commenced
Olympias – six-fold increase in gold sales over 2006
Certej – key feasibility studies completed and permit process underway
Strong Operations Have Translated Into Great Financial Results
2007 revenues of $86M were up 65% over 2006
Operating cash flow of $44M up 125% over 2006
Net profit of $33M up 178% over 2006
Net profit margin of 39% up 69% over 2006
EPS of $0.16 up 433% over 2006
European Goldfields Is a Junior Company
Junior commodity plays, as I've seen over the years, tend to lag their senior and mid-tier counterparts. What I mean is that as a commodity bull market develops, the first stocks that tend to ride the bull are the senior companies; once the seniors finish riding, then the mid-tier companies get on the bull; junior companies have last dibs. There are many reasons why this trend happen so often.
One of the simplest explanations is that when a bull market begins, investors tend to buy the most well-known companies (Gold Corp. (NYSE:GG), Agnico-Eagle (NYSE:AEM), Newmont (NYSE:NEM)); this limits risks, allows investors to gain confidence in the market and gives a chance for them to get to know the industry. As the bull market continues to develop, senior companies becoming increasingly expensive due to the heavy buying. When this happens, investors realize that there may be more value in more junior companies that have not appreciated as much as the seniors. Hence, investors now put their money in juniors. I highly believe this is what we are about to see in 2008. It is now the junior's turn to shine.
February 2008 Partnership With Ariana Resources In Turkey
In this Joint Venture, EGU will begin the exploration program of multiple properties covering 168 square kilometers of copper-gold terrain. EGU will own 51% of the properties transferred by Ariana into the joint venture, and will then fund all development costs of these initial properties and any future properties located within the area. This adds yet another project into EGU's pipeline.
European Goldfields is in a stage of rapid growth. Coupled with the bullishness of gold and base metals in the coming future, EGU is in the perfect spot to pick up share growth. I expect EGU to be trading around $10 by the end of the year.
Disclosure: I own this company.