TheStreet.com ran an informative article on the current state and potential of clean energy ETFs. The securities discussed are (NYSEARCA:PBW), (NYSEARCA:PBD) and (NYSEARCA:GEX). The article mirrors my position that clean energy stocks have had their share prices driven down from unrealistic valuation levels and that long term, they are good growth prospects.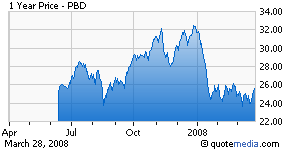 Of the three ETFs discussed, my pick, PBD has fallen the least so far this year, down 25.3% according to the article. My calculations show the fund down 18.9% as of March 28. As I have discussed here before, I like PBD for its global exposure and balanced portfolio.
One item that caught my eye, the Market Vectors Global Alternative Energy ETF (GEX) has 23% of its assets in 2 securities: Vestas Wind Systems (OTCPK:VWSYF) and First Solar (NASDAQ:FSLR). The total portfolio is only 30 securities and I think being that top heavy reduces some of the risk distribution advantage of an ETF. The PowerShares Global Clean Energy Portfolio (PBD), on the other hand, has 86 securities with a max weighting of 2.09% (source: NEX fact sheet, 12/31/07).
The article also discusses the pros and cons of holding individual stocks in this sector, but I am definitely a fan of the ETF approach here.
Note: I currently do not have a position in PBD.